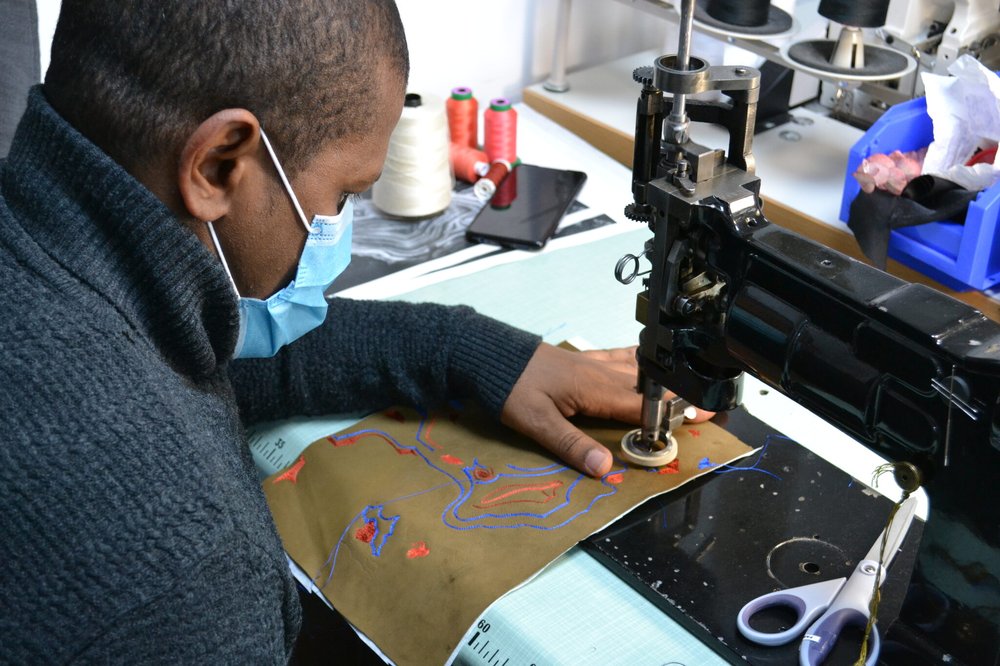 This collection of scarves and aprons represents more than a project with renowned brands for the team of the Parisian association. It is also proof by example that its approach meets a need in the French textile industry.
"Until now, we produced small quantities of 10 to 30 pieces for collections created with designers. This time, that constitutes more than 3,400 pieces in total," explains Inès Mesmar, the founder of the Fabrique Nomade […].
Since 2016, the Fabrique Nomade, in connection with the structures of reception and support of migrants and refugees in the Paris, allows people who were jewelers, markers, embroiderers or seamstresses in their home countries to revive the craft.
The workshop, located in the 12th arrondissement of Paris, can thus accompany about ten people per year. "Since the launch, we have accompanied more than 50 people with 20 know-how and 28 nationalities," explains Inès Mesmar […]. The support also includes French lessons, discovery of the sector's environment with exchanges with professionals and workshops visits, as well as job search techniques. In the end, we have a 76% insertion rate." […]
For next March, the Fabrique Nomade intends to grow from four people trained in textiles to about 20. "Of the 80 profiles that come to us each year, more than half are seamstresses with at least three years of experience. But most of them started working at 14 or 15 years old and have at least ten years of experience. The most complex thing is to be able to identify the people who have these skills because very often they are oriented towards industry or construction. On the other hand, we have more and more companies that contact us because they want to have a social impact in their activity. That's why we want to create this textile integration workshop."
Thus, if the training in arts and crafts will remain on Avenue Daumesnil, this new workshop, which is currently sought in Paris, will offer textile services to companies on some 300 square meters. If the association has the already validated support of several foundations, it also initiates a campaign on the platform of participatory financing Kiss Kiss Bank, with several endowments for contributors.
We have a first level of 15,000 euros to collect until mid-November," explains Inès Mesmar, "and the last level is 115,000 euros. These amounts will allow us to fit out the premises, buy the furniture but also the equipment to be able to train 20 people each year."
The workshop, which has been approved by the Ministry of Labor, will of course provide services, but its status gives it above all an integration objective. And the seamstresses will benefit from 1,200 hours of support, 85% of which will be spent in the workshop making clothes for both ready-to-wear and luxury goods, in order to be as operational as possible.
Read the full article on Fashion Network