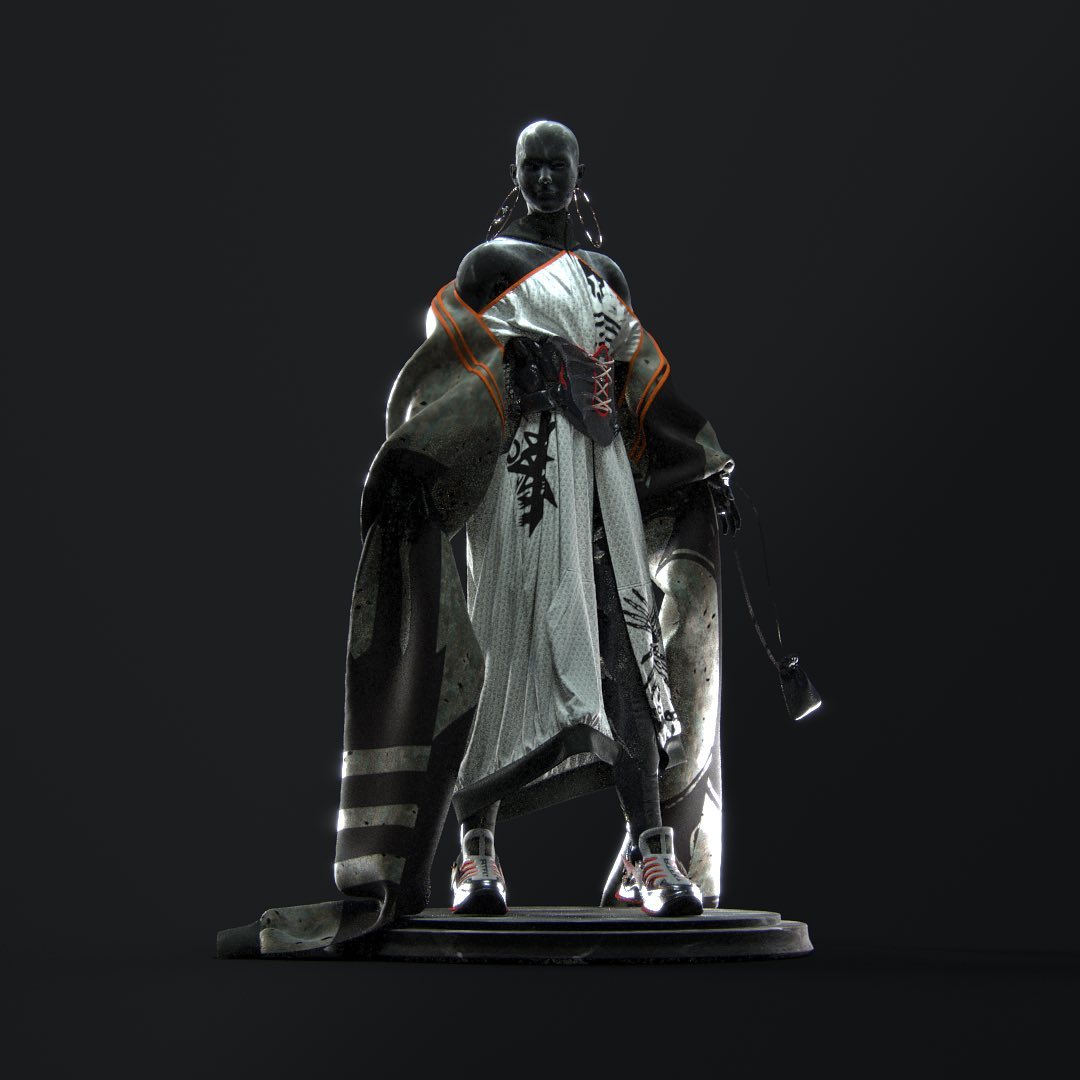 The Fabricant and digital-shoe designer RTFKT's RenaiXance collection was informed by clothing from the Renaissance period and plays with the theme of rebirth. It features pieces – including robes – that nod to the styles of the era, but were made purely for a digital universe and minted as Non Fungible Tokens (NFTs).
"Our work exists purely in the non-physical space, meaning our pieces are always digital, never physical." The Fabricant's head of content Michaela Larosse told Dezeen.
The collection comprises platform trainers designed by RTFKT, a corset that took cues from the trainer design, a trio of Renaissance-style robes, large hooped earrings and a ring. "For this collaboration with RTFKT, we wanted to present a collection with a clear vision of digital fashion's capacity to be fluid and move beyond preconceived gender norms," Larosse said.
The garments can be worn virtually, for example on social media platforms and by avatars in games, allowing users to express themselves in gaming and digital environments that are typically more limiting when it comes to clothing options. All the pieces were designed with a digital centre of gravity, which allows the garments to drape and move as if physical items of clothing.
The digital garments were minted as NFTs and available to purchase on the site The Dematerialised, an invite-only online marketplace for digital fashion, where they sold out in 11 minutes. Blockchain technology enables NFTs to act as digital certificates of ownership that allow digital works to be bought, sold, traded and collected. Larosse explained that through minting the items at NFTs, the digital garments have an entire life beyond The Fabricant. Purchasers can choose to wear, collect or trade the clothes.
"The garments have utility to be worn in VRChat and Sansar, so we hope to see avatars wearing our pieces in the metaverse," said Larosse.
Read the full article on Dezeen