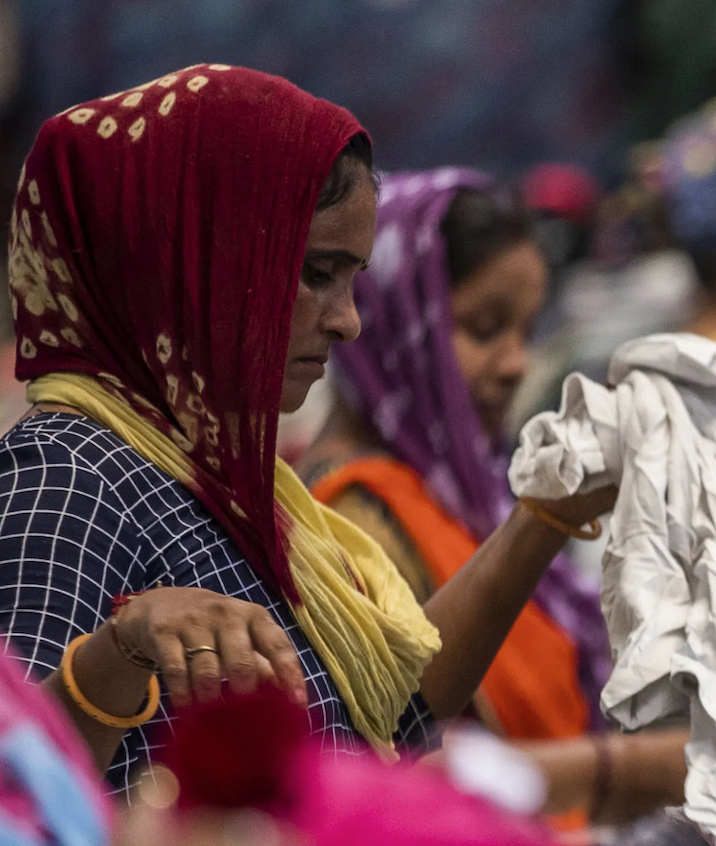 The pandemic cast a harsh light on the need for a just transition in fashion, as brands and retailers cancelled orders, refusing payment and leaving global suppliers unable to pay wages. Since then, increased attention on the treatment of garment workers – from consumers as well as activists – has forced the industry to reckon with its social impact, bringing the idea of a just transition, where social impact becomes a top consideration in the move to low-carbon economies, into the mainstream. Experts say it must be at the centre of the conversation as fashion continues to embrace circularity, and changing models of production. For brands, this means a radical mindset shift.
While the concept of a just transition is relatively new to fashion, the issues underpinning it have been plaguing brands for decades, says Clíodhnagh Conlon, associate director of consumer sectors at nonprofit Business for Social Responsibility. "Essentially, we're talking about how workers and communities in the supply chain are treated."
Today, definitions vary. Dr Hakan Karaosman, assistant professor at Cardiff University, and Donna Marshall, professor of supply chain management at University College Dublin (UCD) — who together lead the EU-funded research centre Fashion's Responsible Supply Chain Hub (FReSCH) – define it as "inclusive, holistic, and equitable actions led by people and communities to disrupt and transform market-based, capitalist systems that perpetuate social and environmental problems". For the ILO, it means simply that "nobody is left behind" as industries decarbonise.
This is a big step-change for fashion, which has a notoriously secretive and fragmented supply chain, says Marshall. But, the solutions can be surprisingly straightforward if brands adopt the right mindset. "Stop chasing ridiculous schemes like carbon offsetting and pie-in-the-sky technologies that will be here 10 years too late. The two things we have to get right are decarbonisation and living wage — these will unlock the biggest impacts and they should go hand-in-hand."
Brands should share the significant financial burden of decarbonising the supply chain, says Elizabeth Cline, director of advocacy and policy at nonprofit Remake. The 2022 Remake Fashion Accountability Report ranked brands based on their commitment to a just transition, assessing their supply chain investments, efforts to decarbonise and their support for stricter legislation. Only 19 per cent of companies were able to demonstrate financial support for factories decarbonising: American Eagle Outfitters, Columbia Sportswear, Gap Inc., Kering, Levi Strauss & Co., Lululemon, Puma, Ralph Lauren, Reformation and Target.
Perhaps most importantly, brands need to redress the power imbalances permeating supply chains, Cline says. "Without more systemic and structural changes, the race to decarbonise industries will simply replicate current industry dynamics."
Redressing the power imbalance
At its core, a just transition is about power – the way power has historically been held in the Global North, by those at the top of the supply chain, and perpetuated cycles of inequality, poverty and injustice for those at the bottom, often in the Global South. There is a risk that initiatives to solve the climate crisis fall into the same patterns, says Cline; a criticism also levelled at the loss and damage fund introduced at COP27. "Currently, most climate initiatives in fashion are led by big brands, NGOs and policymakers in the Global North. This approach is not inclusive of the communities already ravaged by climate change, on whom the burden of transition will fall. Often, brands require factories to meet certain social and environmental standards without actually creating the economic conditions that make this feasible. Instead, brands have continued to push down prices, which results in lower pay, longer hours and an inhumane pace of work."
Read more on Vogue Business