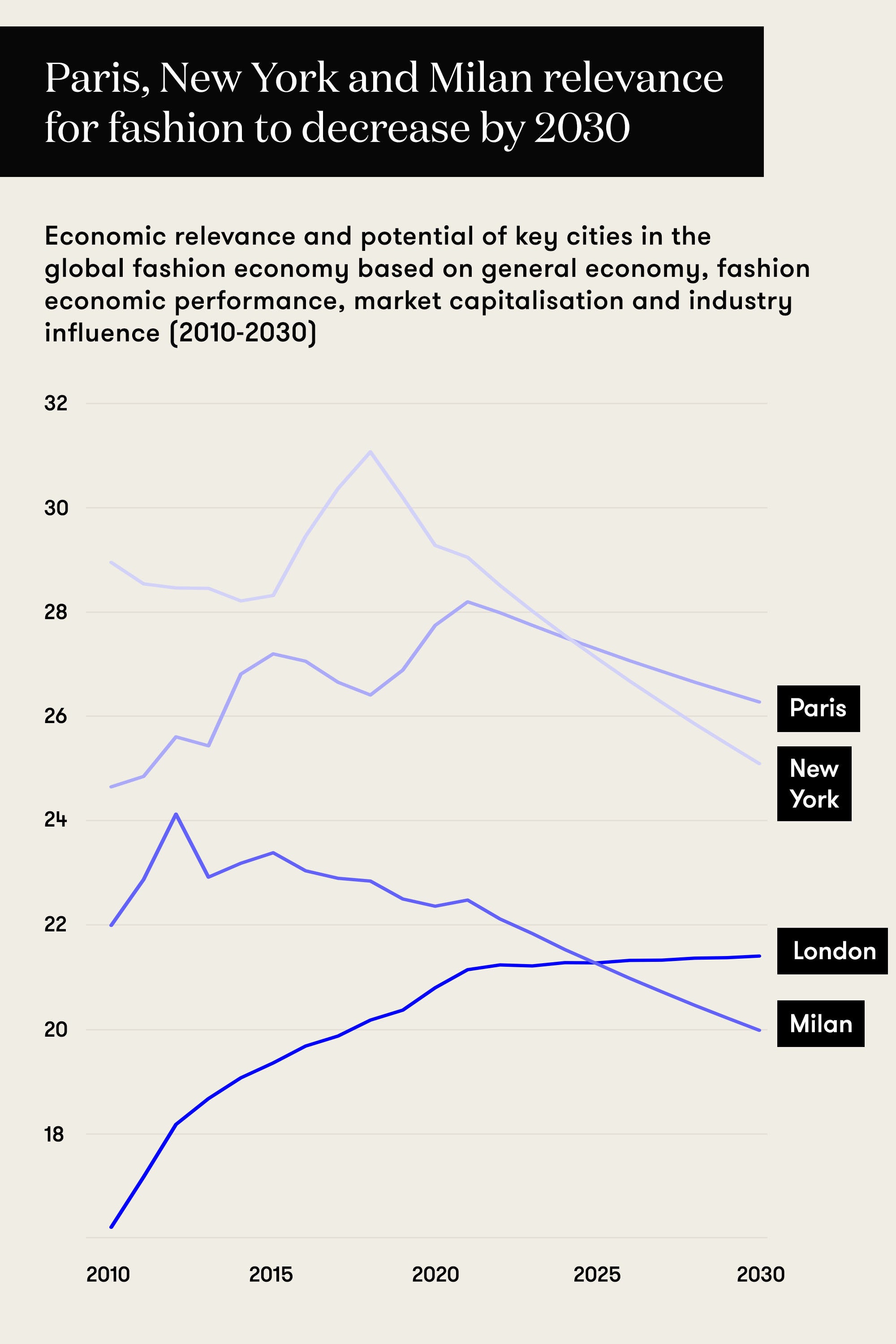 Paris is expected to overtake New York to become the number one city for relevance and potential in the global fashion industry by 2025, according to IFDAQ Global Cities Consumer IPX (Index). The likelihood is that London will rise to third place, surpassing Milan, the research says.
IFDAQ Global Cities Consumer IPX (Index), exclusive to Vogue Business, evaluates global cities according to four dynamic-weighted key factors, including general economy, fashion economic performance, market capitalisation and industry influence. These factors take into account infrastructure, GDP, brand presence, wealth, consumption power and creative power.
Paris is likely to reap the benefits of Brexit, including faster European Union integration and less competition from London, according to Frédéric Godart, co-CEO of IFDAQ and associate professor of organisational behaviour at INSEAD. "The competition with London was fierce, but now that London is out, Paris is going to be the de facto economic capital of the EU," he says. New York is losing traction economically, partly because of the US-China trade war, says IFDAQ co-CEO Daryl de Jorí.
A further boost for Paris, defining it as the world centre of luxury, is the ever-increasing dominance of Paris-based conglomerates LVMH and Kering. Godart makes the comparison with Silicon Valley's dominance of technology. "It's a classical capitalist concentration dynamic, a clustering effect."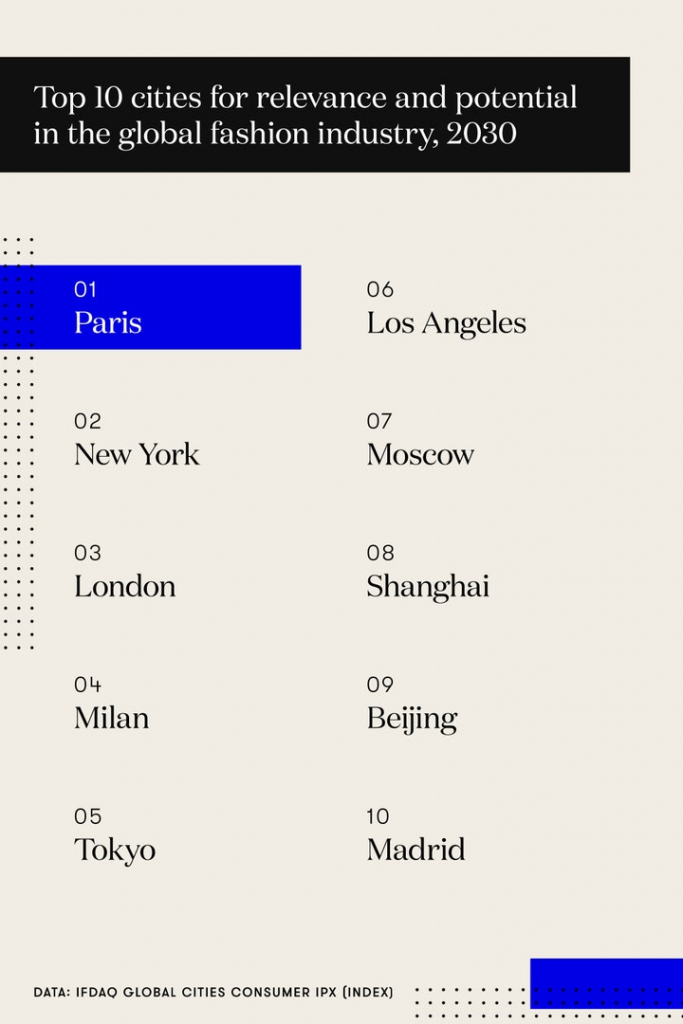 London versus Milan
The rise of London over Milan is a less straightforward story and might reflect a progressive weakening of Milan's status rather than a strengthening of London's role, says Godart. While both cities are facing economic uncertainties ranging from the impact of Brexit to the economic hit of the Covid-19 pandemic, London has a more dynamic economy. "For London, it's much more of a temporary [challenging economic] state and we believe it will soon recover, while Milan never really recovered from the economic crisis of 2008," says de Jorí. "The Italian economy is too weak to build more traction and interest from brands."
The Italian fashion industry and the country's wealth are also distributed among different cities, including Florence, Venice and Rome, rather than concentrated in one place, as in London and in Paris. Godart says that the "concentration effect" is absolutely critical for the relevance of cities such as Paris, London, Tokyo and Moscow. Besides Italy, Spain, Germany and China are all examples of countries where power is shared between two or more cities.
The role of fashion weeks
In the IFDAQ Index, Paris, New York, London and Milan will maintain their dominance until at least 2030. But the Index predicts a gradual decrease in importance as other cities step up their influence — including Tokyo, Los Angeles, Shanghai and Moscow.
A key factor is the likely continuing global impact of the four cities' fashion weeks, says Godart. These will endure despite current industry debates over the fashion calendar and the future of fashion weeks. "To some extent they will evolve: there will be more diversity and other fashion capitals, but you don't change institutions in one year," Godart says. He notes that the four fashion capitals retain the necessary infrastructure and organisational experience — as well as the luxury brands — to trigger the most interest on a global scale.
Moscow: City to watch
Moscow may be a significant city to watch. It is forecast to grow in importance for the fashion industry, surpassing Shanghai in 2026, according to the IFDAQ Global Cities Consumer IPX (Index). De Jorí says the core reasons why Shanghai will plateau in the Index include a decrease in Chinese consumer purchasing power as population growth slows as well as likely slower growth patterns both in salaries and in GDP.
The concentration of wealth and consumption in Moscow will boost its rise in prominence. In Russia, the capital city accounts for more than 70 per cent of luxury consumption, contrasting with China where luxury consumption and wealth are spread among many first-tier cities. Anna Lebsak-Kleimans, CEO of Fashion Consulting Group Russia, adds that luxury brands rarely open stores beyond three cities in Russia — Moscow, Saint Petersburg and Sochi.
Read the full article on Vogue Business