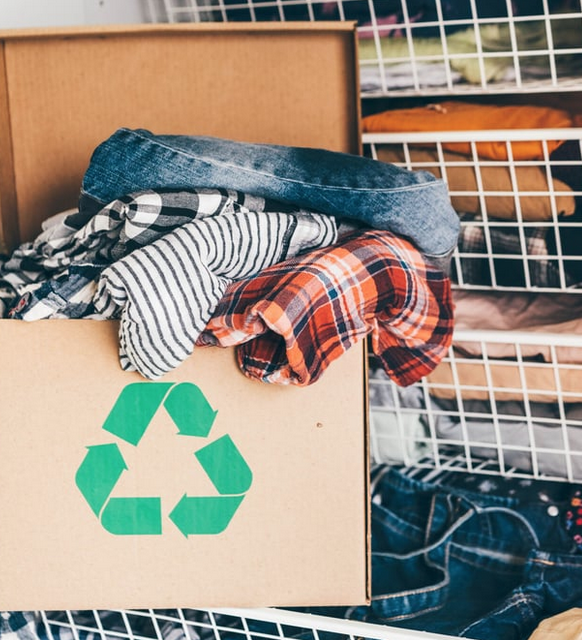 The study was carried out in Belgium, Germany, Poland and Spain, as well as in the Netherlands and the United Kingdom, where 21 tonnes of end-of-life clothing were observed during the autumn-winter 2021 and spring-summer 2022 seasons in order to understand seasonal variations. The results show that the most observed fibre is cotton (42%), ahead of fibre blends (32%), of which 'polycotton' (12%) dominates: a mixture of cotton and polyester.
Leaving aside the problematic elements of buttons and zips, as well as the recycling difficulties associated with dyes, 21% of the observed stocks can be exploited by mechanical recycling, while 53% can be managed by chemical recycling. And that is the whole point of Fashion for Good's study, because at present only 2% of end-of-life garments go to fibre-to-fibre recycling.
"While fibre-to-fibre textile recycling commitments and policies are increasing, as well as the amount of textile waste collected, the infrastructure needed to drive the shift to circular systems requires significant investment to scale up," says Fashion for Good director Katrin Ley. "To make informed investment decisions, as well as to assess the business case for monetisation through recycling, a deeper understanding of the characteristics of the current European post-consumer textile landscape is needed. This project provides the knowledge base for key players to get moving.
In its twelve-chapter report, which can be consulted freely, Fashion for Good estimates that 264,000 tonnes of cotton could be available annually in the countries studied, as well as 67,000 tonnes of polyester and 78,000 tonnes of polycotton. As recycling still comes up against the problem of product dyeing, the study points out that the majority of stocks available for mechanical recycling are white (25.1%), blue (20.8%), black (14.1%) and grey (10.3%).
Another obstacle to recycling is the "disruptive" elements such as zips, buttons and other metal details, which are a key issue. In fact, on 48.7% of the single-layer garments observed, these disruptors proved to be irremovable. And only 32.4% of the pieces have no disruptors. These are elements to be taken into account by brands in search of circularity: these disruptors are still a challenge for automated sorting and recycling of clothing.
Six recommendations for more circularity
At the end of this report, rich in figures for manufacturers, brands and designers, Fashion For Food formulates five proposals. In particular, it is proposed to encourage the design of products that foresee their recyclability, at a time when 26% of clothing is not recyclable for various reasons. It is also suggested that recycling should be seen as a last resort: brands should prioritise the longevity of their products to give them a "proper life cycle". FFG also points out that the sorting stage, which is not very automated, remains costly, which should be taken into account when calculating the price of fibres for recycling.
Finally, the organisation appeals to the consumer himself, encouraging him to favour parts made of a single material, or a mixture of two materials only. But also to repair, resell or even exchange these clothes and accessories before thinking of entrusting them to the collection networks.