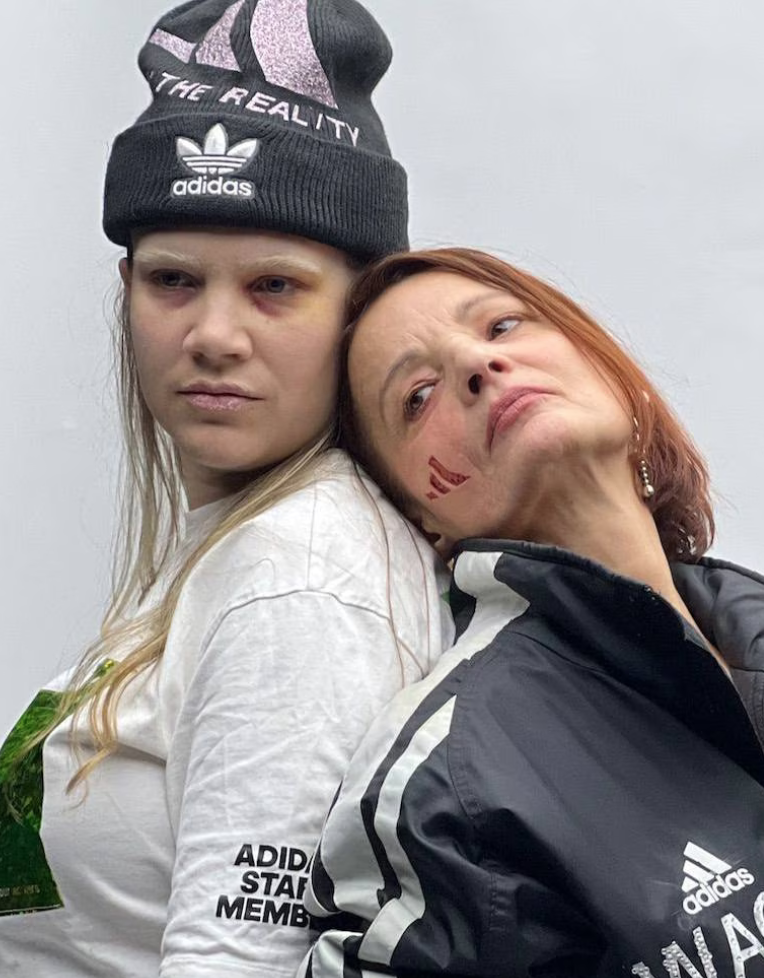 On Monday, an announcement that Adidas was radically restructuring its leadership dropped into reporters' inboxes. In a startling move, the German sportswear giant appeared to have appointed a former Cambodian garment worker and union leader to serve as its co-CEO and oversee efforts to ensure ethical manufacturing practices.
The press release wasn't real. It was sent from a fake Adidas email address by stunt activists The Yes Men and labour rights group Clean Clothes Campaign, part of an elaborate hoax that also included a "derelicte"-style fashion show during Berlin fashion week. Several fashion news outlets and blogs fell prey to the stunt, speeding to report the story before it became clear the announcement was fake.
The goal of the whole thing was to draw attention to alleged rights violations in Adidas' supply chain and pressure the sportswear company to address them.
The stunt is part of an escalating wave of disruptive, confrontational and sometimes controversial activism — from soup throwing to traffic stopping — fuelled by a growing sense of frustration and anxiety over inaction on increasingly urgent topics like climate and social justice.
Fashion is far from exempt. Activism in the space has been growing since before the pandemic, alongside increased awareness of the industry's negative environmental impact. Covid-19 leant a dark momentum to labour advocacy in the sector, as pressure on workers grew and incidents of wage theft and union busting increased.
Campaigners say new tactics are needed because nothing has changed, and things are getting worse.
"This is a life and death issue," said Ilana Winterstein, urgent appeals campaigner at Clean Clothes Campaign. "We need to resort to tactics that really take people by surprise and say, 'This is the reality. You can't ignore it any more.'"
To be sure, the impact of such initiatives is rarely as explosive as the headlines they generate — systemic change is never fast or simple. But such punchy tactics can help shift the popular narrative, set the agenda for action and boost momentum for ongoing campaigns.
Beyond publicity, Clean Clothes Campaign is angling to pressure Adidas into signing a binding agreement that would commit the brand to address wage theft in the industry and protect workers' right to form a union. The proposed Pay Your Workers agreement is widely supported by labour groups and unions, but a major brand has yet to sign it.
Adidas denied allegations of union busting and wage theft in its supply chain and said it has established standards and monitoring processes to ensure fair and safe working conditions in the factories it works with.
The spotlight on the brand comes at an awkward time, with former Puma CEO Bjorn Gulden just starting his tenure with a mandate to restore the company's fortunes and reputation after a bruising breakup with long-time collaborator Ye (formerly known as Kanye West) and setbacks in the key Chinese market. Investors seemed unconcerned by this week's hoax, with the company's share price closing slightly up the day it made headlines.
Nonetheless, the industry will likely need to brace itself for more creative and hard-hitting efforts to drive accountability around its environmental and social impact. Regulation is also adding new tools to campaigners' arsenals, raising the prospect that advocacy groups could bring legal action against brands.
Winterstein was coy about what else Clean Clothes Campaign may have planned.
"I can confirm it doesn't end here," she said. "The plan is to continue calling on all brands to take workers' rights seriously, and continue using all methods available to raise the pressure."
Read more on BOF