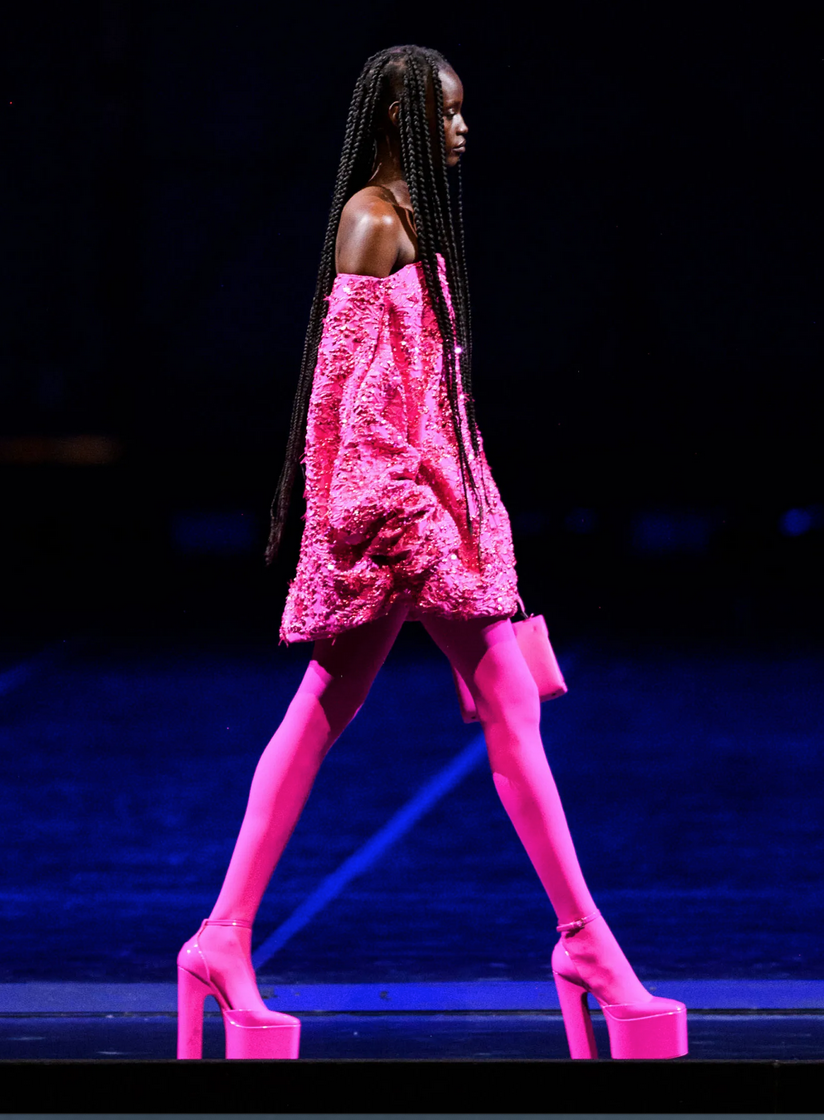 Fashion has ambitious sustainability goals. So why aren't they showing up on the runway?
"Fashion, at the moment, is looking very exciting — it's captivating, and that's amazing to see. But, it feels like the system side of things hasn't really caught up," says Patrick McDowell, London designer and the first designer in residence at the Jimmy Choo Academy. "We need to see more innovation from the systems the clothes are sitting in, rather than just the clothes themselves."
Throughout fashion month, some brands experimented with alternative, more sustainable materials or sent old, repurposed ones down the runway. In Paris, Botter used fibres made from algae and kelp, while Balmain put banana fibres and other innovations on display; in New York Peter Do used a leather alternative from Brooklyn-based material science company Tomtex, Collina Strada upcycled old clothes and Maryam Nassir Zadeh showed collections made with fabric scraps.
More brands are experimenting with materials such as post-consumer recycled cotton and mushroom leather to reduce their manufacturing footprints, but they're often released as capsule collections to capture sustainability-minded consumers — distinctly separate from the big fashion moments seen on the runway. When collections made with alternative materials do make it into shows, sustainability is still often missing from the message — a choice to keep the focus on style, but a missed opportunity for fashion to promote sustainability explicitly as a value it's embracing.
"The job of a fashion house is to communicate its brand on the catwalk, which should also include sustainability at this point," says Rachel Kibbe, CEO of sustainability consultancy Circular Services Group and co-host of the podcast Hot Buttons. "Not only was a clear focus on sustainability missing, diversity of models in age and body type was also lacking. Fashion week is an opportunity for brands to push the envelope. Given the state of the world, in the context of a climate emergency and rapidly changing consumer sentiment, it left me wondering why brands were playing it so safe."
Some attention has been paid to the runway sets themselves: brands have made an effort in recent years to reduce the impacts generated directly by their runway shows. Some sets may be built from repurposed materials or recycled into something else after. However, with so many people — designers, consultants, models, influencers, editors and more — travelling from country to country, and racing across cities from show to show, efforts to minimise or offset carbon footprints seemed a thing of the past.
Less was also visible from fashion's biggest brands despite declarations in January that 2022 would be a year of "concrete actions" and "maturity" for fashion's sustainability work, and despite calls throughout the pandemic for the industry to slow down. Experts say it's the system itself that needs changing — regardless of how clothes are made, there's the question of overproduction that today's fashion shows feed into, when such moments could instead be used to showcase new ideas entirely. Leaving the fashion calendar behind, or adapting it to accommodate different priorities, could help brands to operate on more sustainable timelines and avoid the rushed cycle of overproduction-overconsumption that is responsible for so much of the industry's total impact, from supply chain emissions to end-of-life waste.
With fashion weeks back in full force and little evidence of those commitments on display, the promises start to look empty, critics say.
"With Black Lives Matter, there was all this promise of more Black people on the runway, [promise to] not appropriate from other cultures, and there are the meta issues of climate change, human rights. Garment workers are still hurting so badly from Covid and the economic collapse that's looming. Where are all those conversations?" says Ayesha Barenblat, founder and CEO of the non-profit Remake.
In Milan, the CNMI Sustainable Fashion Awards were held on Sunday; it was the awards' fifth year, but, with the United Nations' Ethical Fashion Initiative, the Ellen MacArthur Foundation and others as partners helping to guide the process, the most rigorous. The awards put a greater spotlight on sustainability in fashion than possibly any other mainstream fashion event, and recognised individuals and brands widely recognised as leaders on sustainability, such as Eileen Fisher, who received the Pioneer award; and Gucci, which received the Climate Action award for its work with Nativa on regenerative agriculture.
Carlo Capasa, president of the Camera Nazionale della Moda Italiana, which oversees Milan Fashion Week, says the awards were designed to have strict criteria. One category — equity and inclusivity — went unawarded because none of the entries rose to the jury's standards. He says they offer a model for what bold action can look like and are "revolutionary" for the industry, and that the collaboration with the Ellen MacArthur Foundation will also lead to change within brands. "We are establishing with Ellen MacArther all the processes, all the guidelines for brands to apply the circular economy more and more in their business model. This is an agreement we have with the foundation."
Still, with the exception of the Circular Economy award, created with Ellen MacArthur Foundation-approved criteria (and given to Timberland's Timberloop Trekker, a brand not on the fashion calendar), the awards largely recognised efforts that sit within the existing business model, rather than attempting to change it.
"Lots of the things that brands are doing are great, but they always seem to avoid talking about actually the production of the clothes, or they're talking about the fabric or their shipping supplier — but the core of it, that business model, remains," says designer McDowell. "Investing $50 million in ocean cleanup projects and other stuff is amazing and needed and really useful — but you need to look at your main business model, too."
Where brands did use the runway to showcase new materials or ways of producing, the education and awareness-raising component was still missing — despite being where, for all of the work remaining to meet its existing promises, fashion has been criticised for falling especially short.
"Brands say they want customers to demand sustainability. Why don't they use fashion week — when press and customer attention is turned to your brand, their most engaged consumer base in particular — to do that education that is in your own sustainability commitments?" says Remake's Barenblat.
Kibbe adds that brands should be louder about their efforts on the runway. "There's a creative opportunity being missed for sustainability elements to be more clearly defined in the fashion show medium."
Some argue that luxury fashion inherently sits outside of the overproduction cycle, which is more heavily linked to fast fashion. CNMI's Capasa says that luxury goods are produced in smaller volumes, are durable and people keep them for a lifetime. "More and more brands don't make sales anymore. They release more collections, but production for each [matches consumer demand]," he says.
Indeed, the purpose of the runway show is to preview collections for buyers and test demand, and not all of what is shown gets made. That is an important distinction from the fast fashion model — which tests styles by producing them, and rapidly moving on to the next — but it still relies on a substantial amount of guesswork. Forecasting is an imperfect science and virtually all brands and retailers have some quantity of unsold goods on their hands at the end of each season. More to the point, using the fashion show to release new styles as frequently as brands do is meant to encourage consumers to buy those new styles, which means they're adding items to their wardrobes that they don't need or replacing old ones that are still functional but — specifically because of the new release — simply less on-trend.
Advocates say fashion needs to go further to change the existing system. All the major fashion weeks have put sustainability on the agenda in some capacity, but away from the runways. In London, the British Fashion Council's Institute of Positive Fashion is meant to position the UK as a pioneer for a circular fashion economy. And in New York, the Council of Fashion Designers of America has organised events focused on sustainability between fashion shows.
There's no blueprint for what it could or should look like for a fashion show to integrate or define sustainability more clearly, which is not a coincidence; fashion brands have built their business models on selling new goods all the time, and fashion shows are a key way that companies keep that machine running. But that's where critics see room for fashion to put its greatest asset, creativity, to use — and only by experimenting with new ideas and approaches will it find ones that can work. One way could be for brands to detail the sustainability credentials of a new material in the show notes, or to find a way to integrate messaging about fashion's impact on the planet or what they're doing to mitigate it — without greenwashing — into the set itself.
New business models that reduce production and consumption should also have a bigger role during fashion month, McDowell suggests. A few styles in a collection could be only available made-to-order, or some made available with a rental service. The potential scenarios to explore are virtually limitless; the point is to get started, he says. "I think we have to, very quickly, get to changing the systems, and using fashion week as the means."
The dissonance is, increasingly, weighing on other designers' minds, too. "We all are going through climate change, we all saw the fires around the world. And coming back with a fashion show in September and just thinking, 'Are our pants going to be high waisted or low waisted?' To me, there's a bit of frivolity," Balmain creative director Olivier Rousteing said following the brand's Wednesday night show in Paris. He says fashion brands should be working with their suppliers to change the landscape. "I don't want to fire a supply chain that doesn't know sustainability — I want to teach them. I'm not telling you my collection is 100 per cent sustainable. It's not," he said. "But you need to start from somewhere."