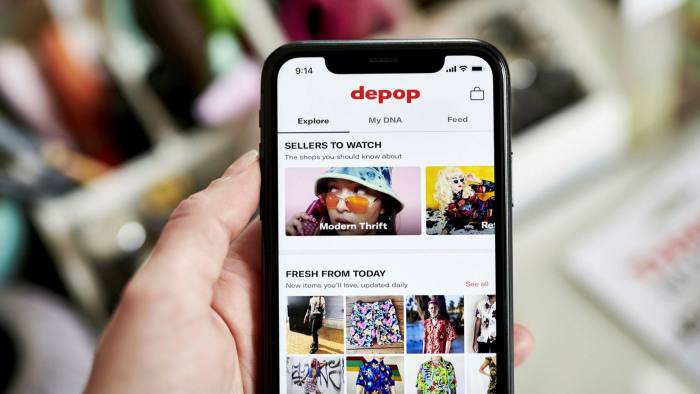 For decades after the dawn of mass consumerism, shoppers had a fascination with newness — buying goods that were, literally, newly-made, part of the latest range or trend. Thrifty habits such as darning fell into disuse; items were thrown away when worn out, or long before. "Fast fashion", or mass-producing catwalk designs at low cost, is the apogee of the throwaway era. But disposability means huge waste — anathema to an eco-conscious younger generation. So today's youth have embraced and popularised a different idea of newness: buying things that are new to them, but have been owned before — and which they may quickly sell on, largely on online sites.
A $1.6bn deal this week epitomised the trend. Etsy, a US online business specialising in vintage or handmade goods and popular with millennials — the median seller's age is 39 — is buying Depop, the second-hand fashion app. Some 90 per cent of Depop's active users are Generation Z, or under 26. It is a sign, too, of how the pandemic has accelerated the shift — Depop's commission revenues more than doubled last year to $70m — and expanded it to older generations. Surveys suggest lockdown prompted consumers to re-examine their habits and values, and sometimes to clear out their closets.
Shopping for what the fashion industry somewhat cutely calls "preloved" clothing can be a way of getting hold of Gucci or Burberry at a fraction of the original price. It combines the thrill of the bargain with the desire for individuality (buying a vintage rather than a current-range garment makes bumping into someone else wearing the same thing less likely) and the feelgood factor of being planet-friendly. Depop, like some rivals, adds a contemporary social element. It enables sellers to curate apparel selections, in essence becoming their own online brand, and attract what can be lots of followers.
The result is rapid growth in the second-hand or "circular" economy. In reality, this is also a form of rental economy: clothes are not so much owned as hired and then passed on. As McKinsey has noted, there are parallels with the shift from buying CDs and DVDs to renting or subscribing to content from Spotify or Netflix. The latest annual resale report from ThredUp, another used clothing site, forecast the total US resale market for second-hand clothes could grow from $28bn in 2019 to $64bn in 2024.
This poses strategic dilemmas, especially for luxury brands. Some have avoided getting involved in resale, wary of eroding their cachet and margins. Since the second-hand economy is more a phenomenon of mature consumer markets, the trend is likely to leave top brands even more reliant on markets such as China for full-price sales growth. Yet reselling their own goods can give them more control of their brand and the problem of counterfeiting. As Stella McCartney has shown through a partnership with The RealReal, the online luxury consignment shop, it can also boost a brand's social responsibility credentials.
Brands such as Patagonia and The North Face have begun selling used and repaired pieces collected from customers. But the trend affects retailers well beyond clothing. Ikea has launched a furniture buyback and reselling scheme, offering customers vouchers to spend in-store if they return preloved items such as Billy bookcases or Hemnes sideboards. In the Netherlands, Sweden and Switzerland it is trialling leasing as a payment option. When shoppers are in effect renting not just clothes but the wardrobes they store them in, that reflects perhaps the most profound shift in consumerism since the birth of online shopping.