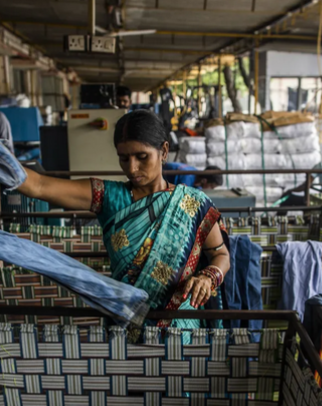 The Pakistan Accord — a new, legally binding agreement spanning factory safety and improved working conditions for fashion's supply chain — is the first regional successor of the Bangladesh Accord, paving the way for the evolution of the historic agreement signed following the 2013 Rana Plaza disaster.
The Pakistan Accord, also referred to as the Pakistan Accord on Health and Safety in the Textile and Garment Industry, is set to go into action in the spring of this year and will address working conditions and safety within the textile and garment supply chains of brands sourcing in Pakistan. It's the first country-specific accord to be rolled out by the new International Accord for Health and Safety in the Textile and Garment Industry, the renewed and expanded version of the Bangladesh Accord that was signed in 2021 by more than 200 brands and was intended to provide a model that could be adopted beyond Bangladesh. According to the International Accord, 110 of its signatory brands are currently sourcing from Pakistan. The plan is to introduce similar agreements in more countries.
The initial goal of the 2013 Accord was to create a safe Bangladeshi garment industry, where workers did not need to fear fires, building collapses, or other major hazards or accidents that are prevented with reasonable health and safety measures, says Joris Oldenziel, executive director of the International Accord. Since then it has evolved to introduce training programmes for safety committee members to monitor local factories, as well as create a space where workers can file complaints for issues relating to health and safety. "These components all contributed to the main goal: to avoid a Rana Plaza or factory fire that could be prevented with reasonable health and safety measures," he says.
Expanding the Accord to other locations is part of their aim to create safer factories in garment-producing countries. Conversations with brands and retailers who have signed the Accord highlighted key sourcing locations and areas of interest. The Accord is currently hiring a chief safety officer who will oversee operations in Pakistan.
Although similar to the Bangladesh Accord, Oldenziel explains that the scope of the Pakistan Accord is different. Unlike Bangladesh, Pakistan has significantly more fabric and textile mills, he says, meaning the scope of the Accord will later expand to also cover fabric mills. Home textiles and accessories will also be covered. However, Oldenziel explains that how the Pakistan Accord would be implemented across fabric mills is yet to be determined, as "many brands do not have direct relationships with fabric mills, and we will need to analyse how that would work in terms of the leverage that the brands have; [as well as] the application of protocols and procedures under the Accord".
For now, the focus remains on improving health and safety, says Oldenziel. The umbrella of health and safety is broad, with many concerns falling into this category — for example, he notes excessive working hours can have a subsequent impact on the workers' health causing increased fatigue which in turn could cause a potential accident in the workplace. Other issues such as sexual harassment, gender-based violence and harassment are also covered by the Accord.
The next location for a region-specific Accord is yet to be decided. "We did feasibility studies in a number of countries that have been nominated by the brands," says Alke Boessiger, deputy security of UNI Global Union, one of the key negotiators behind the Pakistan Accord (the Pakistan Accord is an agreement between trade unions, UNI Global Union and IndustriALL, and brand signatories to the International Accord). "We identified Pakistan as the first country in terms of priorities, and there are a number of other places. We just have to go step-by-step, one-by-one. It's simply a capacity issue in terms of being able to roll out these programmes." She explains that brands and retailers are tightening their budgets due to the state of the global economy and are less willing to invest funds to ensure their supply chains are safe. Fees range from $185,000 for heavyweight retailers and brands, to $2,500 for small brands.
Pakistan was one of the priority areas — along with Sri Lanka, Morocco and India — identified by the International Accord for potential expansion of the agreement. (The Accord itself still applies in Bangladesh.) However, the varying political landscape has made expanding the Accord a long and challenging process, says Boessiger. In Pakistan the "power lies within the provinces and not centrally with a national government", she explains, which means discussions are required with each provincial government, who hold the political power in their own respective province. "You have to work with many different organisations, which of course makes it more difficult to create a local governance structure," she adds, noting that the formula that worked for Bangladesh cannot easily be recreated across other countries, and subsequently requires a lot of time.
Experts argue that the regulations that transformed the garment industry in Bangladesh are not expanding to other countries fast enough. "Workers have been made to wait too long for progress," says Theresa Haas, director of global strategies at the labour union Workers United. "Brands should do everything possible to ensure that expansion of the Accord's protections continues."
Read more on Vogue Business