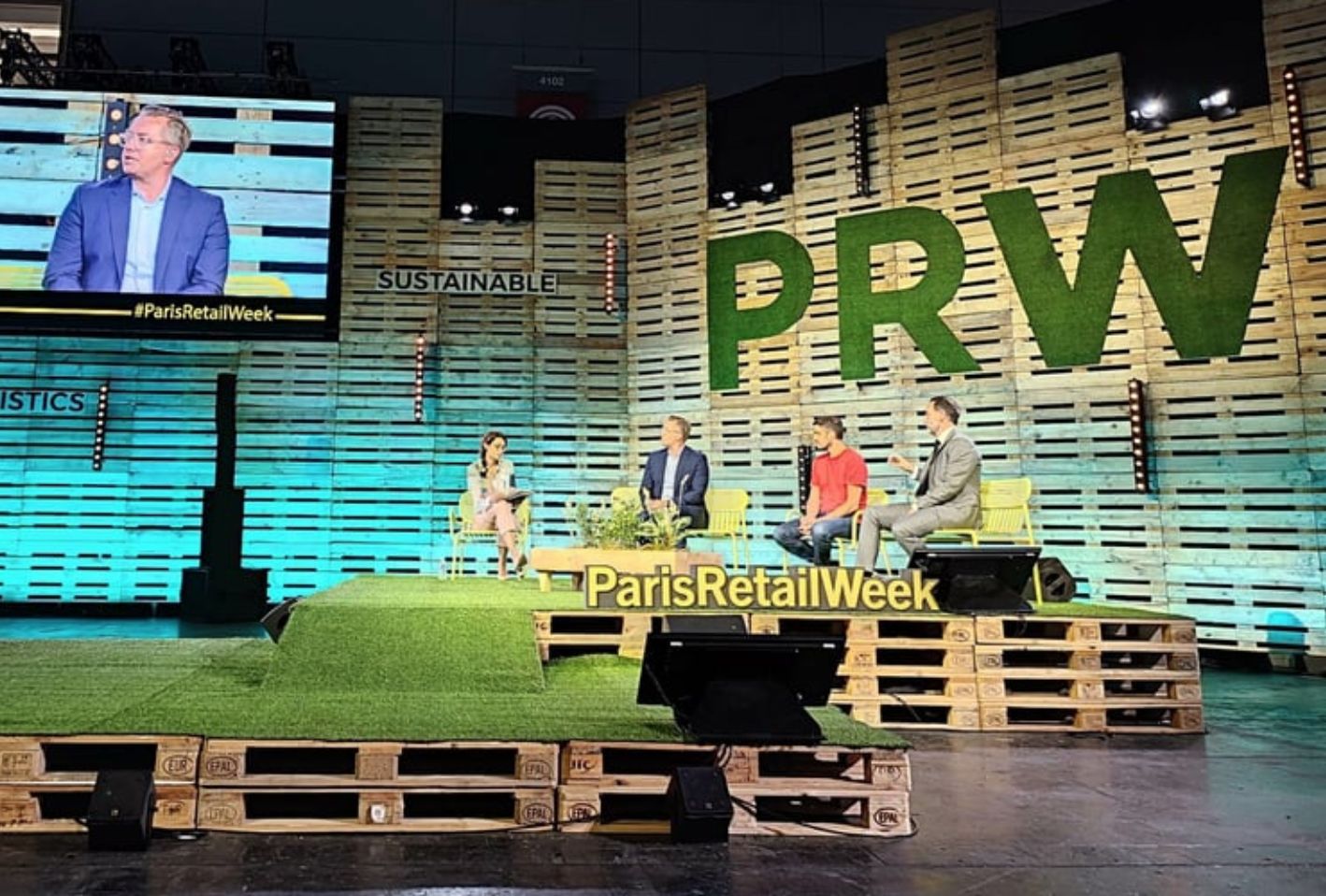 The conference, which also featured Laurent Moisson, co-founder of the Forces françaises de l'industrie association, was moderated by Sophie Baqué, editor-in-chief of Mind Retail. The aim was to contrast the Shein bulldozer and its technology-led production model with the local, integrated and responsible approach of the French brand, which is preparing to produce its first pair of jeans using French cotton.
But there was no radical confrontation. From the very first exchanges, the tone was set, leaving a slight feeling of unease in the room. Sales figures? Growth? Return rates? The balance between production zones? While the founder of 1083, in his unmistakable red T-shirt and denim, announced sales of 12 million euros, conceded a return rate of 18%, talked about his targets, his production costs and his profitability of 5% last year, Peter Day, always with a smile, added a redundant comment: "As a private company, we don't give details of our figures". All he said was that Shein is profitable and that its "core customer base is identified as GenZ and is aged between 18 and 25. But we are seeing strong growth in the 30 to 45 age group, particularly since we launched a higher line called Motf."
"I pity you for not having the answers to your questions, Sophie, and I don't envy you Peter for not having the freedom to answer. I salute the professional," quipped Laurent Moisson, pointing out the gap between a model "with sales of 20 to 30 billion dollars, and a much smaller company with a philosophy of transparency. There is a meaning and everything is done to respond to that meaning. In Shein's model, there is a degree of opacity, although we don't know the recipe for the very high level of industrialisation that enables very low prices. This is also a response to the pressure on purchasing power. The fact that the figures are so opaque makes it very difficult to believe in commitments or intentions".
Peter Day, however, has made his own contribution. On the subject of production, the head of the company, billed as the world's third-largest fast-fashion player in terms of volume, confirmed his intention to step up the pace of regionalization. While Shein has begun working with workshops in Turkey and Brazil to serve the European and American markets, Peter Day suggested that by 2024-2025: "we will try to have more local operations. I think our aim is to strengthen our production base in Turkey, but in fact the majority of our production remains in China". Although the two companies were born around the same time, their approach is therefore poles apart. "We have more demand than production capacity, which allows us to create local jobs. We have our own website, five shops and 130 retailers in France who we accept as and when we have the capacity to deliver. Our approach is local. Since people no longer want to buy jeans produced on the other side of the world, exporting makes no sense to us. What would make sense would be to develop other local supply chains in the United States, Portugal or Ethiopia…" says Thomas Huriez.
While Shein sells products for an average of between $7 and $20, 1083 sells its jeans for between €100 and €130. The difference was all the more striking when Thomas Huriez unfurled a metre of fabric, explaining that "for the price of a Shein product, you get at best a piece of organic cotton woven in France. The cutting, weaving, finishing and making are all done in France, which means we can claim to be Origine France Garantie".
At Shein, several thousand workshops are called upon by the group's algorithms to optimise production times and organisation. Aware of the criticism, Shein's management is highlighting its technological investments to defend a model of progress for the industry. And Peter Day highlights the first initiatives to recycle Shein products and develop second-hand goods in the United States.
"Even if you were doing everything right. That everything was environmentally friendly. The issue is that you are so good at making your consumers want to buy as much as possible and as regularly as possible, that overproduction is a real problem.
To read – Fashion Network