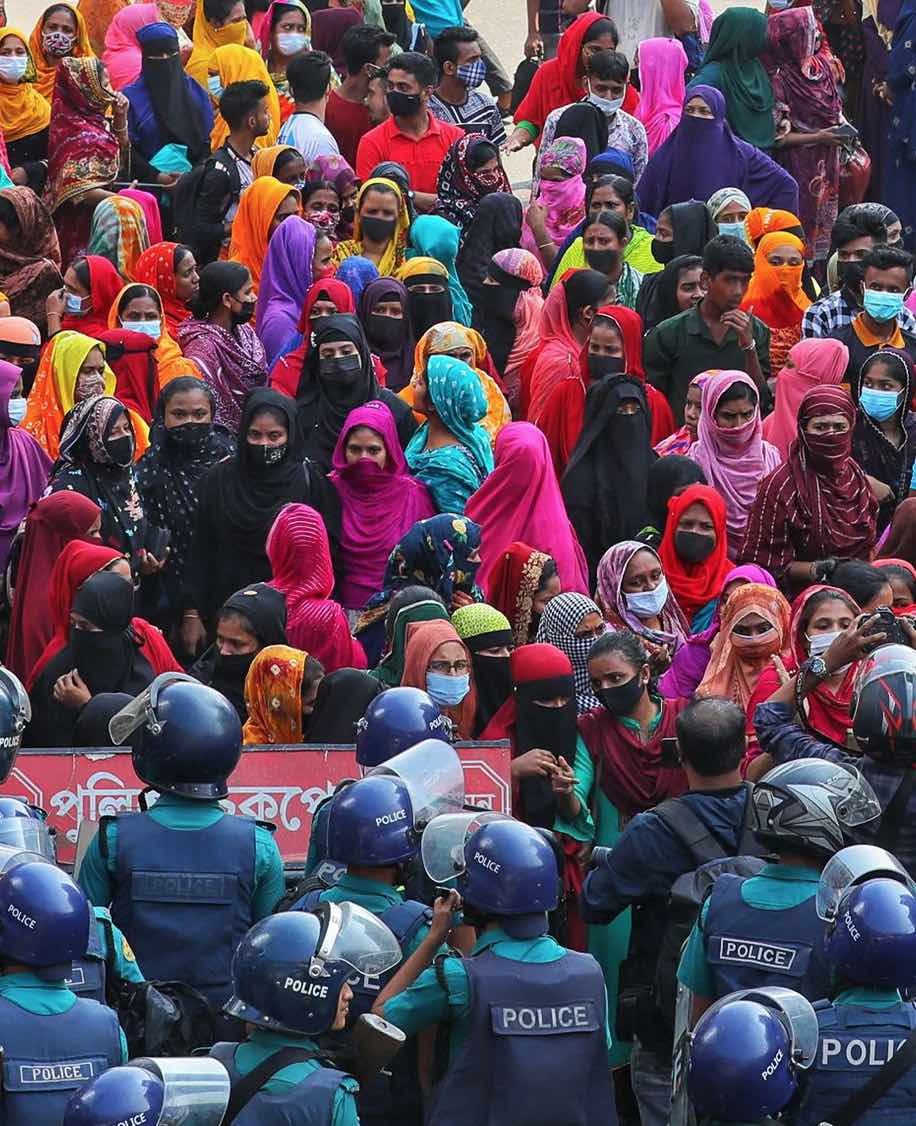 Garment workers continue to face violence and threats from factory owners and police in Bangladesh as they protest for higher wages, and what shocks labour activists most is the continued silence from fashion brands that keep those factories running.
"They are not a bystander in the situation in Bangladesh. They are in the driver's seat," says Thulsi Narayanasamy, director of international advocacy at the advocacy group Worker Rights Consortium.
On 7 November, the government announced a new minimum wage of 12,500 taka (approximately $113) per month, up from the current 8,000 taka. Unions, workers rights organisations such as Remake and others say that is still far from enough to meet their basic needs — inflation has already reduced the real-world buying power of what garment workers earn, and the proposed increase barely puts workers on track to earn what they did in 2018 in real terms, researchers say, while basic living costs have risen dramatically. Living standards have declined for many as a result, particularly since the onset of the pandemic, which hit Bangladesh hard. Workers' demand for 23,000 taka ($208) is the bare minimum they can live with, they say.
Brands that buy from manufacturers in Bangladesh have the power to sway negotiations by increasing what they pay factories for their orders, ensuring that workers' wages increase as a result, and taking material action against the violence that is playing out against workers. It's not too late: the 12,500 taka wage hasn't been finalised; the wage board is expected to issue its ultimate decision on 26 November. Advocates stress that brands still have a role to play in ensuring the final wage is adequate to meet workers' needs. "Brands both can and should be writing into the minimum wage board and rejecting the wage. How can they not reject a wage that they know is guaranteeing their workers' starvation?" says Narayanasamy.
Jafar Iqbal, a PhD researcher in Canada who previously served as a programme officer at the International Labour Organisation's Industrial Relations and Social Dialogue programme, has been studying the spending power of garment workers in Bangladesh (his home country) and the implications the current wage negotiation process will have on it. "With this minimum wage, how much calories [can] they afford? We estimated that workers will work with a deficit of close to 1500 kilocalories, and 60 per cent of the women are workers — then think about the rate of child mortality. Child mortality will grow among garment workers," he says.
Outsourcing production means "outsourcing responsibility"
The stakes are growing higher. With a national election coming up and with soaring tensions across socioeconomic groups in Bangladesh, there are multiple economic and political interests playing out in how tense and violent the garment worker protests have become. To date, reports have surfaced of four workers being killed and hundreds injured in clashes with police; Iqbal says the real number of both deaths and injuries is likely higher.
First Information Reports (FIRs) are being filed, which are essentially accusations of violence against large groups of workers that open the door "at a later date to any worker that was allegedly in the vicinity to be arrested and charged under that FIR with very little evidence", says Narayanasamy. "The idea that there are outstanding claims of unnamed workers, that's really concerning to us. What is the pathway through which you're going to identify those workers? There's just no transparency, there's no accountability." Reports have emerged of factories engaging in lockouts, workers being blacklisted, and the Bangladesh Garment Manufacturers and Exporters Association (BGMEA) has asked member factories to halt all new hire.
BGMEA did not comment on what tactics it has recommended or endorsed or its role in the violence that has played out, but vice president Miran Ali said he believes the police in Bangladesh have acted with restraint.
BGMEA is taking these steps, Narayanasamy says, because it is protecting an industry it knows cannot afford to pay higher wages if brands don't also pay higher prices.
"We have already written to our valued buyers, urging them to recalculate the pricing for orders scheduled to be processed starting from December," says Ali. Faruque Hassan, BGMEA president, has said that global brands are to blame for the standoff in Bangladesh, and in September the association issued a response to Action, Collaboration, Transformation (ACT), a coalition of brands — after the coalition had sent a letter about the minimum wage setting process — asking it to "engage with global brands, retailers and their representatives" to encourage "fair price and ethical sourcing".
Hasan repeated a request for brands to take the wage increase into account in their pricing, in a letter issued on 17 November. "I have already appealed to you to consider its impact on the cost and factor it in in your negotiations… I cordially request you adjust prices to cover the cost increase and leave some margin for the factories," he wrote. He also addressed the impact of the labour protests. "I have also appealed to you during the meeting that during the unexpected labour unrest in the past three weeks, factories which were forced to close down (some of them were vandalised), they were not able to continue their operations during those days. You have assured us that the factories will not be penalised, and I hope you will support your suppliers as much as possible."
With no indication that brands are going to pay more, BGMEA is left to exert pressure on the only part of the equation it has power to influence — workers. "Outsourcing production to Bangladesh is also outsourcing responsibility," says Narayanasamy, adding that BGMEA has been emboldened by international brands' inaction. "Workers are risking their lives to protest against a wage they can't live on. But their exploitation isn't accidental, it's the cornerstone of an industry where brands don't pay enough for workers to survive."
…
Read more – VOGUE BUSINESS