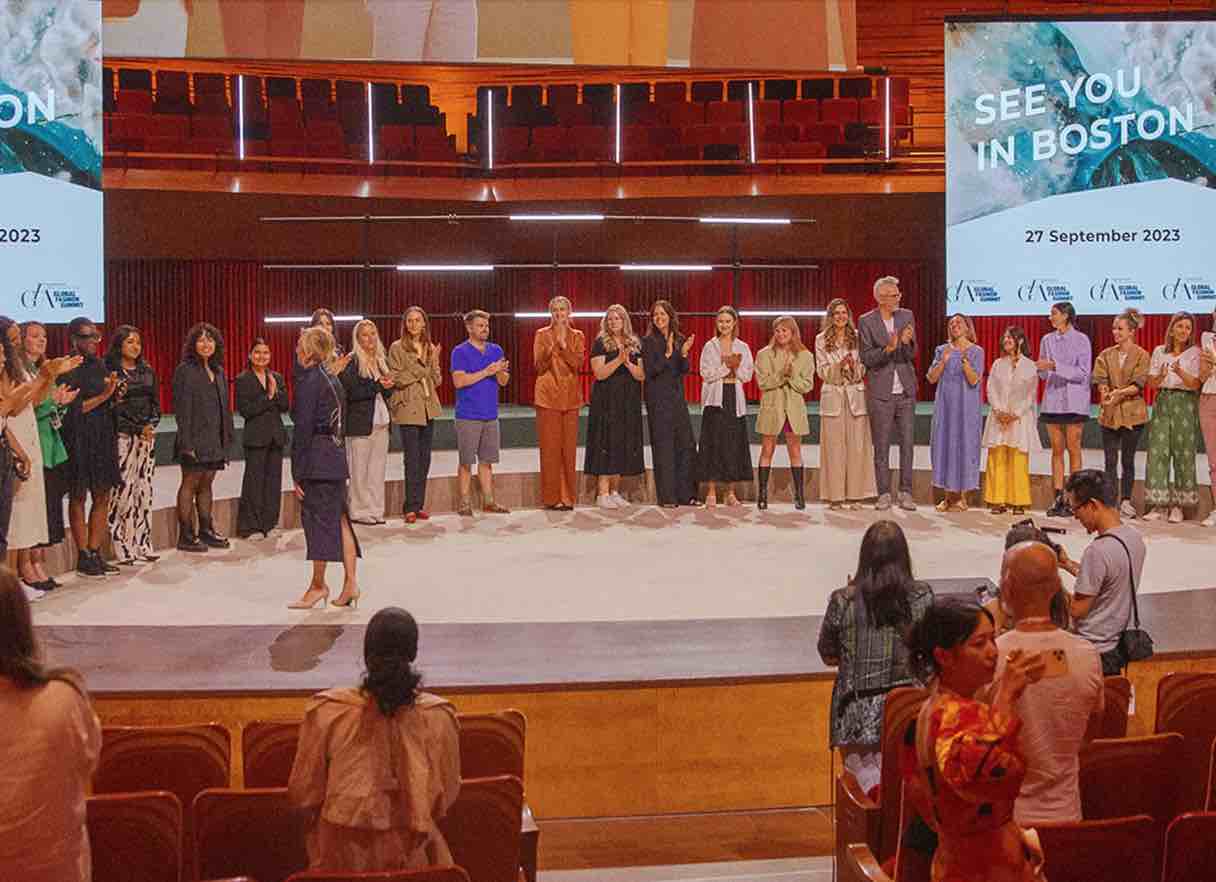 This year's Global Fashion Summit took place amid a year of seismic change for the industry, during which a slew of regulations from the EU and the US promise to raise the bar for production and consumption, crackdown on greenwashing, and drive meaningful action towards social and environmental goals. However, while incoming legislation was a central focus, a bigger issue overshadowed the conference: how to make sure those most impacted by climate change — in the Global South — are being heard.
For many brands present at the summit in Copenhagen last week, the legislative changes pose an existential challenge, and they were looking for clear guidance. For others, the last year has simply started to level the playing field, and they were primed for more radical action. Either way, expectations were high, and reflections from attendees say a lot about the current state of play in fashion.
The overarching theme for this year's summit — organised by non-profit the Global Fashion Agenda (GFA) — was "ambition to action", a nod to the anticipatory mood, as well as the widespread critique of sustainable fashion that progress has been stuck in the pilot phase, and promises left largely unfulfilled. There was plenty of news to note, as brands and industry organisations came prepared with actionable case studies, step-by-step guides and attempts to decode complex issues such as new global policy.
"Turning ambition to actions requires a unanimous mindset shift from leaders," says CEO Federica Marchionni. "This year, we redesigned our traditional programme to present content across multiple stages. In these stages, we demonstrated solutions that are being implemented, bringing together leaders to share learnings from their actions, and creating constructive collaboration through meaningful dialogue. Beyond the stage, we also hosted strategic roundtables to bring together executives and policymakers for productive discussions about pressing sustainability issues. There is no finish line, but I see great acceleration."
Industry attendees had mixed feelings towards the summit, which is now on its 12th edition. "The 'ambition to action' theme was spot-on, because we truly do need to act," says Sarah AlHamdan, founder and creative director of independent brand Mood of Thought. "The mindset shift needed in organisations — especially at senior leadership level — was not covered significantly enough," counters François Souchet, global head of sustainability and impact at communications agency BPCM.
A truly global summit
There was much discussion about how global the Global Fashion Summit actually is — a criticism that was levelled at GFA last year, and has picked up steam.
The next summit, planned for September, will take place in Boston in the US. "If you judge us simply on Copenhagen, it won't be fair," says Marchionni. "We would host a summit in a different location every quarter if we could, but we don't have that kind of funding. Africa may be the next frontier," she says. "In the meantime, we have made our summit available to NGOs at lower price points, and we have a hybrid summit for the first time this year. We also have lots of free resources on our website for those who cannot attend the summits."
This became a point of friction on the panel about textile waste in the global circular economy, which included US- and Ghana-based non-profit The Or Foundation. "While clothing flows from countries across the Global North into my country, passing borders with ease, my Ghanaian colleagues and I do not enjoy the same freedom of movement," says Daniel Mawuli Quist, founder of De Forty Five and a member of The Or Foundation's delegation in Copenhagen. "To secure a visa we are scrutinised, the value of our participation is weighed and, even when we do secure the visa, there remain many dehumanising barriers along the way. We come to these spaces having had to prove that we should be here, carrying the knowledge that we represent people who were not given access, and knowing that we may never come back." The Or Foundation is planning its own convening in Ghana soon, he adds.
Quist voiced his frustration at the lack of detail and commitment from some on stage. "The very least we expect from our colleagues from the Global North is to show the same respect for the time we have together, to come ready to do the work and to answer questions honestly," he said after one of the panels.
Other delegates noted that the representation of speakers from the Global South had improved. "I was happy to see many of the panels had a representative from the Global South who articulated some of the ways the industry needs to rethink its approach to sustainability," says Dr Sanchita Banerjee Saxena, professional faculty at University of California Berkeley's Haas Business School and author of Labor, Global Supply Chains, and the Garment Industry in South Asia: Bangladesh After Rana Plaza (2020). "Organisations, communities and factories in the Global South may already be pursuing sustainable practices, but they may not be termed as such."
Like Quist, however, Banerjee Saxena would like to see future events shift the power dynamic and dissolve barriers to entry. "Going forward, we should not just invite representatives from the Global South, but we should engage with them and support their efforts, keeping their constraints in mind. We need to move this from a Global North conversation and recognise other voices and what kinds of innovations are already taking place."
One of the most compelling keynotes was delivered by Dr Hakan Karaosman, co-founder of the EU-funded research centre Fashion's Responsible Supply Chain Hub (FReSCH), chair of the Union of Concerned Researchers in Fashion, and assistant professor at Cardiff University. Weaving between the just transition, degrowth and supply chain decarbonisation, Karaosman speaks on behalf of the supply chain stakeholders he studies.
"Supply chains need to be understood as dynamic, socio-ecological systems where we undertake holistic actions to empower supply chain communities, rather than coming up with ways to reduce reputational, financial and economic risks," he says. "We have no patience or appetite for top-down conversations and we do not want passive participation mechanisms; on the contrary, we want to participate, ask questions and have a say in these conversations. This is my call for action: I encourage and invite GFA to organise workers' summits, farmers' summits, mills' summits where we can truly see how these communities have already turned ambitions into actions."
It's not just activists and academics calling for more supply chain representation. "More representation and visibility from the supplier side and Asia as the main manufacturing region would be desirable," says Anne-Laure Descours, chief sourcing officer at Puma. "Many suppliers have invested and continue to do so. They have made good progress over the past years, implementing solar energy, air-conditioning for workers and so on. It would be fair to recognise their commitment and actions. These positive stories were a bit lost in the overall debate about the slow progress our industry makes."
Addressing growth
For many, the topic of degrowth was missing from the agenda — though they recognise it's a difficult one to tackle in a summit sponsored by large corporations.
One of the stand-out speakers was Dr Lewis Akenji, managing director of Berlin-based public interest think tank Hot or Cool Institute, whose landmark report Unfit, Unfair, Unfashionable went viral last year for its direct take on degrowth.
"We are fast exhausting our carbon budget to stay under a 1.5°C increase in global warming," he tells Vogue Business. "Every fashion business leader now should be asking themselves the question: in a future with a highly constrained carbon budget and competition over it from essential products and services, which industry would be prioritised, and what business model will survive? At an oversized contribution of up to 10 per cent climate-warming carbon emissions, and on course to double by 2030, there is no alternative to reductions in volumes of production. Recycling and technological efficiency improvements would hardly cut it. Discussions at the summit showed just how much leading voices underestimate the urgency and scale of the sustainability challenge."
Policy takes centre stage
Policy was a key theme this year, with several members of the European Union in attendance, including European commissioner for the environment Virginijus Sinkevičius and MEP (member of the European parliament) Pernille Weiss. The roundtable on policy included participants from the European Fashion Alliance, the Danish Ministry of Foreign Affairs and the American Apparel & Footwear Association alongside other international policymakers and sustainable fashion organisations.
Attendees appreciated the focus. "Policymakers are moving fast on the topic [of sustainable fashion] and recognise that self-regulation does not work. This is creating a sense of urgency, but also uncertainty, across the industry," says BPCM's Souchet. "I was particularly encouraged to see the opportunities GFA created for engagement with policymakers on the future of legislation," adds Devon Leahy, head of sustainability at Ralph Lauren.
Sinkevičius gave a keynote alongside the US Fashion Act instigator Dr Anna R Kelles. Speaking afterwards, he addressed ongoing concerns about the EU's approach to sustainable fashion regulation. The long-awaited Product Environmental Footprint (PEF) methodology is due by the end of this year, he explained, end of life recycling options will be prioritised over durability — which might incentivise the use of synthetics — and enforcement tactics will be decided by individual member states. He also addressed the critique that regulation won't include product volume: "Limiting the volume brands produce would be a major market intervention, which politicians have not been successful at in the past. Where we will address it is in exposure information for unsold goods, and we may ask brands to disclose total product volumes in the future."
From GFA's perspective, it was important to debunk incoming policy and give fashion brands a chance to have their voice heard by policymakers. "It can feel like the sustainability agenda is under attack," Marchionni said in her opening address. She called out the emerging trend for "greenhushing" — brands staying silent about sustainability efforts to avoid accusations of greenwashing — amid the influx of new regulations and restrictions around progress, production and communication. "Accurate and robust data is key to substantiate claims, but it should not be a prerequisite to progress. We need to support those making changes."
Encouraging younger voices
The Next Gen Assembly is a new iteration of the Youth Fashion Summit that GFA used to run alongside its main event, explains head of innovation and academy Christina Iskov. Several participants of the old iteration returned this year as speakers and exhibitors, now having founded their own companies. This includes Hemp Bio Leather founder Yea Marcela Turns, Kno Global's Marianne Hughes, and Circular.Fashion's Ina Budde.
"One of the key roadblocks is people not feeling heard, so we have made a lot of effort to be more inclusive on the scale we can afford," says Marchionni, pointing out that the eight Next Gen Assembly participants — who travelled from the Philippines, Brazil, India and beyond, and took part in panel discussions throughout the summit — were funded by GFA.
Read more – Vogue Business