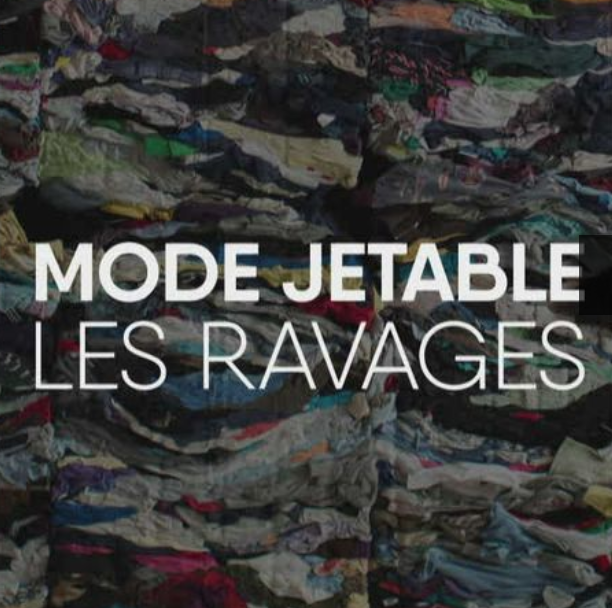 In 20 years, clothing production has more than doubled. The low-cost fashion giants have created an ever more attractive and profitable consumption model that wreaks havoc on the environment and working conditions.
Produce more and more cheaply. Fast fashion is a rather lucrative model. The heavyweights in the sector see their turnover rise almost every year. The Spanish firm Inditex, the parent company of Zara and Bershka, among others, earned 27.7 billion euros in 2021. Its main competitor, the Swedish giant H&M, earned 19.3 billion euros.
The sector has become a master at reproducing luxury collections at knock-down prices. Constantly renewed ranges at very attractive prices, especially for young people. These brands are the champions of a frantic consumption model: an item that is barely spotted, quickly bought, barely worn, quickly discarded. More than 100 billion items of clothing are now sold each year, twice as many as in the early 2000s. This buying frenzy has been amplified in recent years by online sales applications, especially since home delivery and returns are almost always free.
"We are now in a fashion of excess," deplores Géraldine Viret, spokeswoman for the Swiss NGO Public Eye, who was a guest on Géopolitis. "The ephemeral fashion is a strategy that was put in place by brands several decades ago to continue to grow in a saturated sector," she said. "And then people are led to believe that there are no consequences, when we are all paying the price today."
Shein, the ultra fast fashion
With dresses and T-shirts sometimes priced at less than 3 or 9 euros, the Chinese brand Shein is a hit with teenagers. For over a year, Shein has been the most downloaded fashion app in the US. This spring, the group reached 100 billion in valuation, more than the two leaders Inditex and H&M combined.
"Shein is a bit like fast fashion on steroids," says Géraldine Viret. "That is to say, it takes the same recipes and pushes them to the extreme. So very cheap items, a gigantic catalogue, which we produce almost in real time. And then we use formidable marketing strategies to get young people hooked. The group has relied on online shopping and collaborations with influencers to attract younger people. "Shein has succeeded in integrating marketing, the act of buying, into the social interactions of young people, especially on TikTok. And that is obviously extremely dangerous. There is a fundamental lack of transparency about the role and status of influencers," says Géraldine Viret.
>> Read also: Shein, the fashion ogre conquering the Swiss market
Sweatshops
Public Eye has been investigating this new Chinese low-cost fashion giant. In 2021, the NGO revealed "deplorable working conditions" in the Guangzhou workshops that work for Shein. "On paper, the wages look good. They even look good to be honest. But in reality, we see that to earn this salary, people have to work for two. This means 11 to 12 hours a day, more than 75 hours a week, for only one day off a month," says Géraldine Viret, who also mentions the very alarming safety conditions in the workshops.
"The spokeswoman said, "75 million people live off the textile industry, but under what conditions? "This great promise of economic and social development, thanks to the globalised textile industry, has never been fulfilled, she believes. Today, in the producing countries, wages would have to be doubled or even multiplied by five to reach a minimum standard of living (…) Given their profits, these big brands have ample means to do better.
Ecological disaster
The social and environmental costs of low-cost fashion are growing. Every year in Europe alone, 4 million tonnes of clothes end up in the bin. Only a tiny fraction of used clothing is recycled or reused. The vast majority ends up in huge open-air dumps, such as in the Atacama Desert in Chile or on the coast of Ghana. When burned, they generate toxic gases for the surrounding populations.
"This promise of recycling or the circular economy, in the context of fast fashion, is really an illusion," Géraldine Viret says straight away. "The fast fashion garment is almost already a waste product in itself (…) Synthetic mixed fibres that are extremely difficult to recycle. And above all, no system can absorb such a large quantity of clothing. The problem is really overconsumption."
In Bangladesh, rivers around textile factories are increasingly polluted with chemicals. Synthetic textiles, the favourite materials of disposable fashion, also pollute when they are simply washed. With each wash, millions of microfibres are released. This would represent more than a third of the microplastics present in the oceans. Considered one of the most polluting industries, fashion is responsible for 10% of greenhouse gases, as much as international air transport and maritime traffic combined.
What regulation?
Nearly ten years ago, the collapse of the Rana Plaza in the suburbs of Dhaka in Bangladesh killed over a thousand people and injured at least 2,500. The tragedy prompted some thirty Western brands to improve factory safety and working conditions at their suppliers. But the fashion industry is a sector that remains poorly monitored and regulated.
"What is clear is that we cannot expect these large companies to act responsibly on a voluntary basis," says Géraldine Viret. France and Germany have already introduced a duty of care for multinationals into their legislation. "Forcing large companies to respect human rights and the environment throughout the supply chain, as France and Germany have done and as the European Union is about to do, is extremely important," she continues, regretting that Switzerland is not following suit.
Mélanie Ohayon
To be viewed and explored on RTS