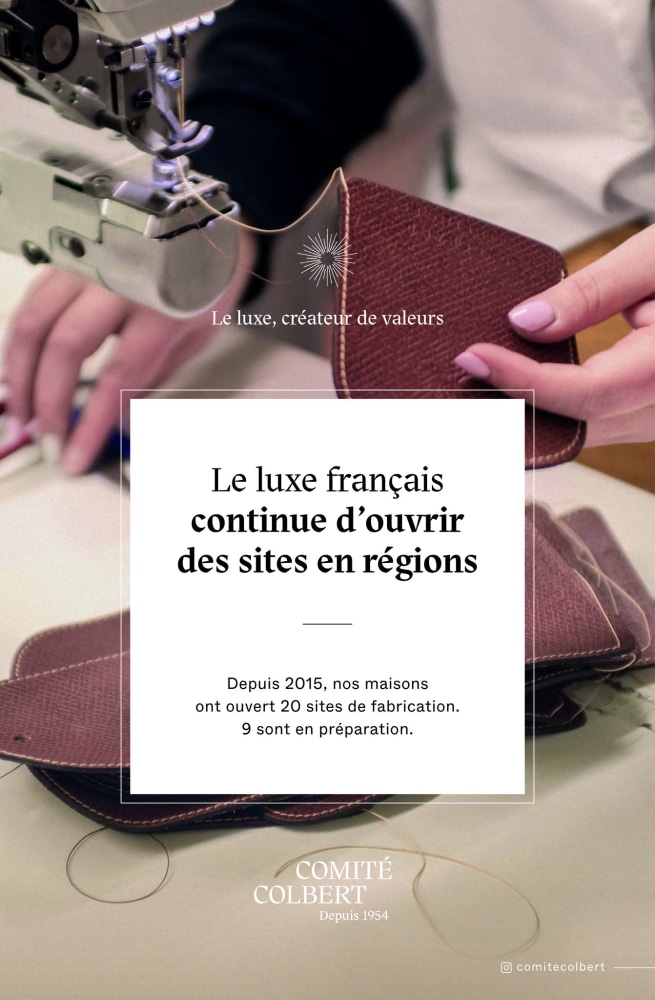 Founded in 1952, the Colbert Committee brings together more than 80 French companies (Chanel, Cartier, Guerlain, LVMH, Hermès, Kering but also the Hotel Ritz or Château d'Yquem) and has never run before an advertising campaign in its own name. Echoing the government's France Recovery Plan, three visuals will be published in the press to defend the role of French luxury.
The committee's member companies represent fourteen professions located throughout France (leather and leather goods, gastronomy, design and decoration, publishing, haute couture and fashion, earthenware and porcelain, jewelry and watchmaking, music, goldsmiths and silversmiths, automobiles, perfumes and cosmetics, glass and crystal, hotels and palaces, and wines and spirits).
Some 20 sites have opened since 2015, the committee recalls, representing "about 3,500 direct jobs," and nine sites are in the process of opening for leather goods and crafts.
"No other industry in France, directly and indirectly employing a million people, displays such an anchoring in the territories while continuing to invest massively in them with nine site openings in the coming months and the hiring of thousands of employees with or without qualifications," insists to AFP Bénédicte Epinay, general delegate of the Colbert Committee.
"With fourteen schools within our companies, the luxury industry is fully mobilized for the preservation and transmission of know-how of excellence facing a lack of training facilities. However, every year, more than 10,000 production positions are not filled," she adds.