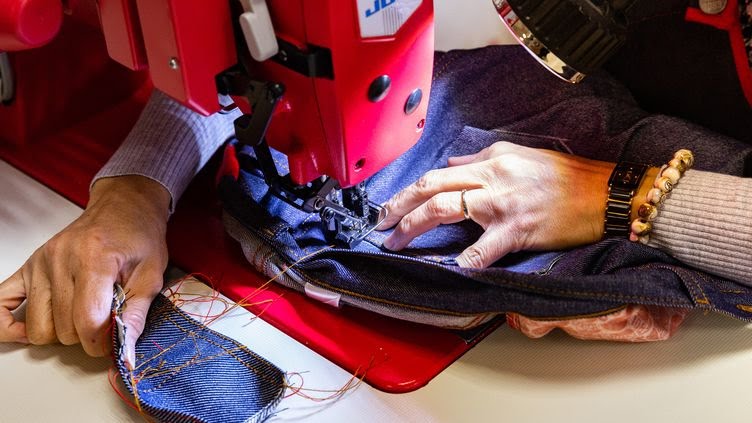 Anchored in France, a number of fashion brands have opted for the short circuit, which allows them to revitalize territories while revalorizing local textile know-how. But in order to perpetuate them, Le Slip Français, Broussaud, 1083 and B. Solfin have had to train, most often internally because many training courses have disappeared. Each company has its own method, and the four directors have given fascinating explanations.
"For 30 years, the French textile industry has decreased a lot. In the 90's, there were 460 000 jobs in France, today it is stabilized around 60 000, so 80% of the textile jobs are gone and 1/5th of the workshops remain. But the machines are still there, the know-how too. There is still an ecosystem of people who have the know-how but they are aging.", says Guillaume Gibault, founder of the brand Le Slip Français.
Le Slip Français: "a former factory owner was our trainer"
Founded in 2011 by Guillaume Gibault, Le Slip Français works, among others, with eight certified Origine France Garantie manufacturer-partners and eight labeled Entreprise du Patrimoine Vivant.
"As much as in our underwear business, there are still textile factories with production units on which we can rely and accompany our growth for 10 years, on some products like the slipper, there is no one left." With Covid 19, the charentaise has become a fashion accessory, and faced with demand that has exceeded the production capacity of the Slip Français, the brand – which already collaborates with the last four French slipper manufacturers – opened La Manufacture de pantoufles in October 2021.
The workshop produces 5 to 600 pairs/week and expects 20,000 pairs by 2022. For Guillaume Gibault, finding equipment is easy: "We invested in five old machines with the desire to train people. But we structured the project by partnering with a leather goods workshop with whom we were already working", the Léon Flam brand relaunched in 2011 by Louis Epaulard and Guillaume Gibault (his great-grandson). This manufacturing line is integrated into the Léon Flam factory in Châtillon sur Indre, which knew a trainer specialized in footwear with 40 years of experience. "This former factory owner was our trainer. He worked with us on the whole project for six months. Now, he is finishing his mission of accompaniment and we are becoming autonomous. He helped us in the purchase of the machines and in the training of the workers (5 people) but also in all the operations throughout the production line. Afterwards, he will continue to follow us and will intervene punctually".
Broussaud: "we have set up an internal training plan"
With the Origine France Garantie certification and the Entreprise du Patrimoine Vivant label, the Broussaud factory is a reference for socks made in France. Located in Haute-Vienne, for three generations, it manufactures for 150 brands and launched its own in 2020. But its director Aymeric Broussaud – who took over his parents' company in 2006 after it went into liquidation – is having difficulty hiring due to a lack of training at the national level.
For him, the observation is clear: "There was already a return to the made in France and with the Covid 19, there was a phenomenon of acceleration for the French who have the means, because the made in France is expensive but the sock is a product that remains accessible. But to meet the demand for socks with hole patterns, a product that surfs the trend, machines are needed. The manager eligible for France Relance (a government scheme to help industries) has submitted a file on automation and productive investment and "on our investment of 1.4 million euros, we have a 30% aid".
Read the full article on France Info (French)