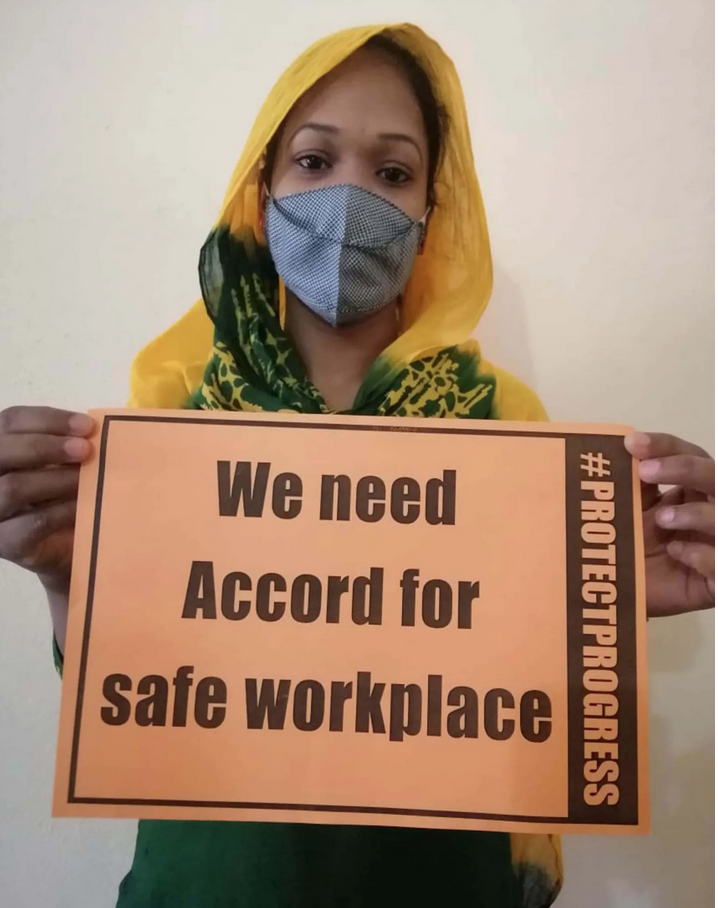 An agreement that led to meaningful progress in reforming fashion's supply chain is at risk of being abandoned after less than a decade.
The Bangladesh Accord, the legally-binding agreement between brands and trade unions established after the Rana Plaza collapse in 2013 killed more than 1,100 people, is set to expire next month. Its impact is virtually undisputed, with measurable safety improvements completed — and fewer disasters — at factories throughout Bangladesh. However, after being extended temporarily beyond the initial expiration in May, negotiations for renewal are ongoing and a long-term deal remains elusive.
While poor factory safety and substandard working conditions have a long history in the garment industry, the scale of devastation from the Rana Plaza disaster shocked the world, created a public relations crisis for the industry and cultivated the conditions that led to the Bangladesh Accord. The binding nature of the agreement — in which brands are responsible for ensuring safety in their factories, and can be held liable in court if safety violations are not resolved — is what made it historic and also what made it effective, according to experts. The trade unions party to the accord are unequivocal in their call for it to be renewed; there's less certainty from brands and retailers. Unions have promised not to sign a watered down version, meaning the accord is at risk of disappearing all together.
"If there is no accord, there is no safety. There is no accountability, no responsibility," says Nazma Akter, founder and executive director of the Awaj Foundation, a labour rights organisation in Bangladesh, and co-chair of IndustriALL Global Union's Asia Pacific Women's Committee.
Throughout the industry, improving both environmental and social standards in the supply chain has been a struggle largely because neither brands nor suppliers have a clear path for recovering the expenses they often entail. And while brands face increasing pressure from consumers and potentially regulators to improve, they are also struggling to compete on cost. The pandemic escalated the situation, as virtually all of the industry's underlying tensions were exacerbated, with order cancellations and steadily falling prices leading to layoffs, unpaid wages and soaring hunger rates reported among garment workers. It's also why the Bangladesh Accord is now at risk, according to observers, who say there would have been adequate time for negotiations, but brands asked unions to postpone while they navigated the crisis.
What sets the Bangladesh Accord apart from other industry initiatives and collaborations is that it both holds signatory brands legally accountable for safety violations in their supply chain, and requires them to invest some financial resources for fixing them. The specifics of the financial commitments are determined on a case-by-case basis and are still weaker than they should be, say critics, but the mere existence of the mechanism for accountability has been groundbreaking.
"Before the accord, every year there were so many accidents, fire incidents, every year people were dying, got severely injured," Akter says. "After Rana Plaza, there are also incidents, but our workers are not dying. Our factories are safe."
The cost of the Bangladesh Accord
The improvements tied to the accord come with costs, and that's a key reason critics say brands are now shying away. "It's always been true in the industry that it costs more to produce under safe conditions than bad conditions, but the brands have never factored that basic truth into their price setting. The accord makes them do that," says Scott Nova, executive director of the Worker Rights Consortium, a signatory to the accord.
Vogue Business contacted over a dozen brands; most did not respond or would not agree to interviews, citing ongoing negotiations. Trade union officials contacted by Vogue Business declined to comment for the same reason. H&M and Inditex both issued statements saying they are committed to building safety. "Inditex strongly supports establishing a new agreement with clear accountability on all parties, which is enforceable for individual brands, and has independent oversight," says a spokesperson, but did not specify whether the company does plan to sign the new agreement.
"We will continue to collaborate with trade unions, suppliers and other brands to push the work forward," an H&M spokesperson says. "We will continue our close dialogue with trade unions and are confident we can come to good solutions. Regardless of any future decision about organisation or governance of the accord, our position on and commitment to this extremely important area will stand."
Asos says it plans to sign a renewal of the accord. PVH, which in January reaffirmed its commitment to sustainability and human rights around the world and was one of the first brands to sign the initial accord, did not respond to requests for comment. Neither did Gap, which participated in the 2013 negotiations but ultimately did not sign the accord because of the dispute resolution mandate it contains.
Some brands point to their involvement in or support of other efforts outside of the accord as evidence that they are committed to workplace safety, regardless of whether the accord is renewed. H&M, for example, says: "We strongly support tripartite structures, involving trade unions, employer organisations and the government". Inditex says it sees an opportunity for the Ready-Made Garments Sustainability Council, or RSC, "to become an industry standard to ensure worker safety throughout Bangladesh's garment sector now and in the future".
Christie Miedema, campaign and outreach coordinator at the Clean Clothes Campaign, says these measures lack authority to hold companies accountable. "The problem with the RSC is it is not legally enforceable with brands," she says. (The RSC declined to comment, saying it would be inappropriate to do so during the ongoing negotiations.) "It can have inspectors go to factories, but nobody can tell brands: 'You now need to make sure that the supplier carries out this remediation'. That, for us, is a major problem, and that is what the accord was all about."
Global unions IndustriALL and UNI announced in May that they were withdrawing from the RSC. In July, IndustriALL said in a statement: "What is at stake is the balance of power: the RSC can only be successful as long as the brands are bound by their commitment to the unions through the health and safety agreement that is currently being negotiated as a successor of the accord."
The level of commitment required from brands, and that they are held accountable, is the fundamental difference between the accord and everything else the industry has done on environmental and social sustainability before, says Ayesha Barenblat, founder of the advocacy group Remake. "Thirty years of voluntary efforts haven't taken us anywhere. Brands have been stalling when it comes to having anything binding," she says. "In Covid in particular, when brands have to think about garment workers versus their own bottom lines, it's their own bottom lines that always win."
While the accord did not address all the labour rights issues that advocates would like to see improved — wages and the right to unionise, for example — Barenblat emphasises that it did improve more than building safety alone. It has also given workers more of a voice, because it establishes a protocol of workers being able to escalate complaints to brand level, if managers fail to address them, and the brand accountability mechanism kicks in.