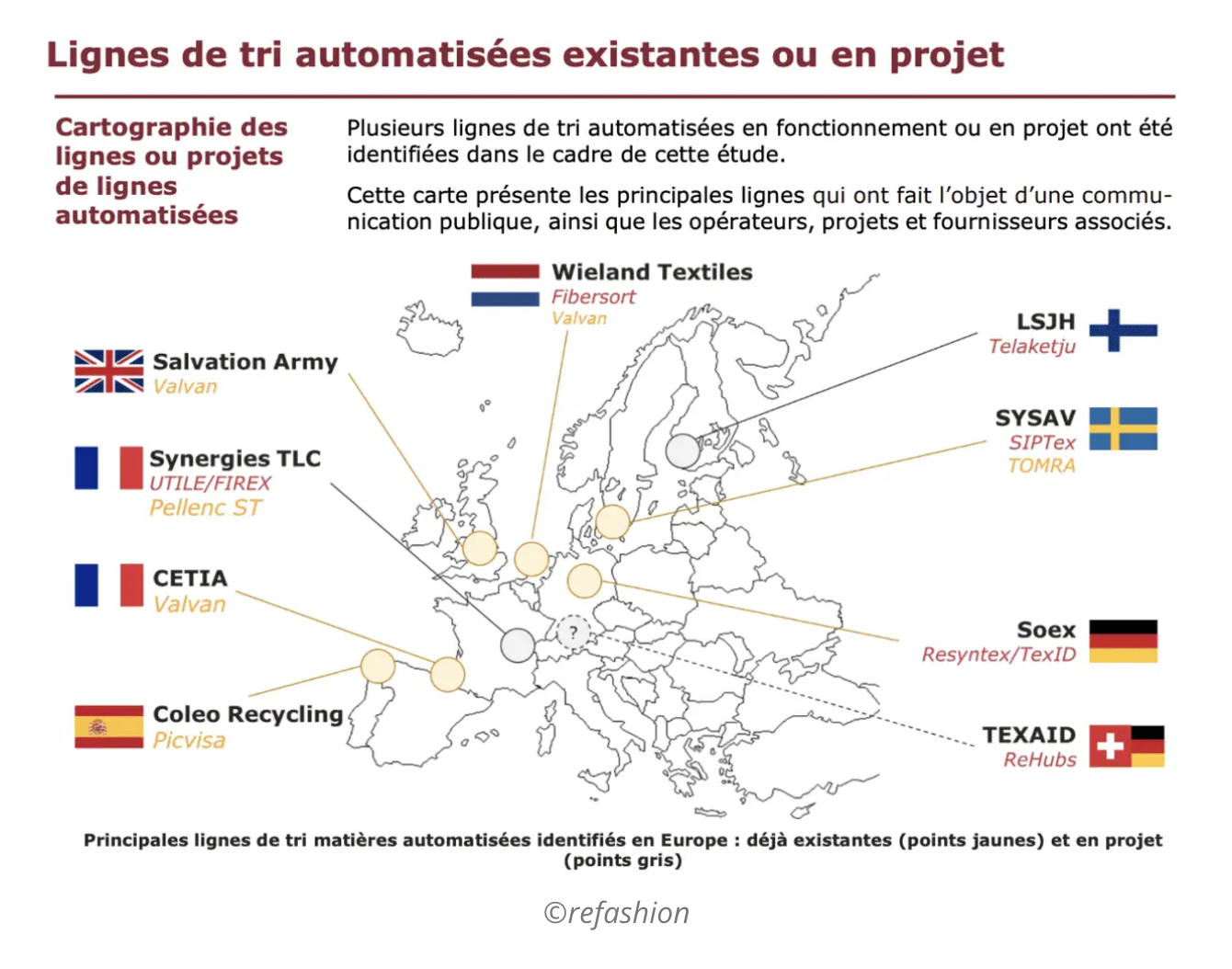 To increase productivity, technologies are constantly being perfected: spectrometry, which was still under development 3 years ago, is gradually replacing the human eye and touch. Several automated sorting lines have already been installed in Europe. What is the current state of recycling automation in the textile sector, and what are the related projects?
The second hand is on trend, and all the better for it: in 2021, 58% of used textile products deposited in approved sorting centres could be reused (source: Ministry of Ecology).
After an initial manual sorting process to separate the "wheat from the chaff", the fraction of products that are genuinely at the end of their life cycle (torn, damaged and therefore recyclable) represents 42% of textiles "recovered" by recycling companies.
This figure is set to rise significantly in the coming years, as product quality declines. What's more, from 2025, European environmental laws will require professionals to sort and collect their textile waste separately. In addition, the development of platforms for the sale of second-hand clothes to individuals is likely to reduce the proportion of clothes collected in good condition.
Refashion, the French eco-organisation for the TLC (Textiles, Linen and Footwear) sector, recently drew up a report on the automation of textile recycling, processes that facilitate selective sorting by material and colour, in order to recycle textile waste to the best of its ability.
Textile recycling automation: a growing number of innovative European platforms
Material sorting machines, conveyor belts, cameras and spectrometers can now save precious time and sort large volumes of textile waste, up to 1 tonne/hour.
6 automated sorting lines are already operational in Europe: COLEO Recycling (Spain), Salvation Army (UK), SYSAV (Sweden), Wieland Textiles (Netherlands) and SOEX (Germany). In France, these innovations are supported by CETIA (Basque Country), an innovation platform for textile and leather recyclability.
Other projects will soon be launched: Synergies TLC in France, LSJH in Finland, TEXAID in German-speaking Switzerland… On these new-generation recycling sites, near infrared spectrometry (NIR), already used for several decades to sort household packaging, has been adapted to the specific characteristics of textiles.
A high-performance system, but with room for improvement
Technologies for identifying and sorting non-reusable used textiles have evolved, but the Refashion study points to their current limitations.
A spectrometer is very effective at identifying cotton and polyester, but much less so when it comes to recognising a mixed material. It is incapable of doing so unless the precise composition of the fabric has first been entered into its database. What's more, the identification process is limited to the surface of the textile, which poses a problem in the case of appliquéd, laminated, lined or padded parts, etc. The most appropriate solution would be to generalise the use of an "identity card" incorporating all the information for each textile part (type of product, materials, etc.). Envisaged in the form of labelling (QR code, RFID chip, NFC device, etc.), such a project seems complex to put in place, as Refashion notes.
There is also the problem of 'hard points': rivets, press studs, zips, buttons, but also the bottoms of pockets, linings, and so on. The operation of unravelling, which consists of removing these 'disruptive elements' so that the fibres can be recycled, is costly when carried out manually using scissors or punches… At present, automated processes consist of unravelling textiles by fraying. Other automated solutions are in the R&D phase (unravelling on chiquettes, automated made-to-measure cutting). More costly, these processes, which allow large areas of textile to be cut, could be applied to top-of-the-range materials. In the meantime, why not take a different approach by anticipating the recycling of a product right from the initial design stage?
Renaissance Textile, a fine example of French-style textile recycling
For Renaissance Textile, France has no shortage of resources. Reducing our dependence on new fibres is not a problem, because "there's a field of cotton in our wardrobes"!
The only one of its kind in France, this industrial textile recycling platform is committed to Circular Textiles®, which it has made its main focus. The aim is to reduce the carbon footprint of each kilo of fabric by a factor of 10, and to create jobs in spinning mills, weaving mills, knitting mills and finishing plants. Automated processes for cutting, unravelling and mechanically fraying garments produce a premium-quality "secondary raw material" from textile waste.
The company, which is currently targeting the recycling of professional clothing, is already working with the Nantes Hospital laundry. 85% of the textiles recovered are transformed into fibres, which are then sold at the same price as natural fibres and used to make new professional clothing or ready-to-wear garments. Renaissance Textile is already planning to open 3 new production lines between now and 2026.
Reserve Resources, a global interface for textile recycling
The Reserve Resources SaaS digital platform has set itself the task of precisely identifying and mapping textile and post-consumer waste flows around the world, in order to channel them more effectively. Its aim is to make it easier for all those involved in textile recycling (collectors, sorters and recyclers) to link supply and demand. Offered free of charge, the platform is intended as a digital interface for the circular economy, to speed up recycling processes and reduce costs.
On a French, European and global scale, solutions are being put in place to intensify the "recycling of textiles into textiles". All these initiatives are paving the way for mass industrial recycling, with the aim of turning textile waste into a reliable, sustainable and high-quality source of supply.
Read more – Textile Addict