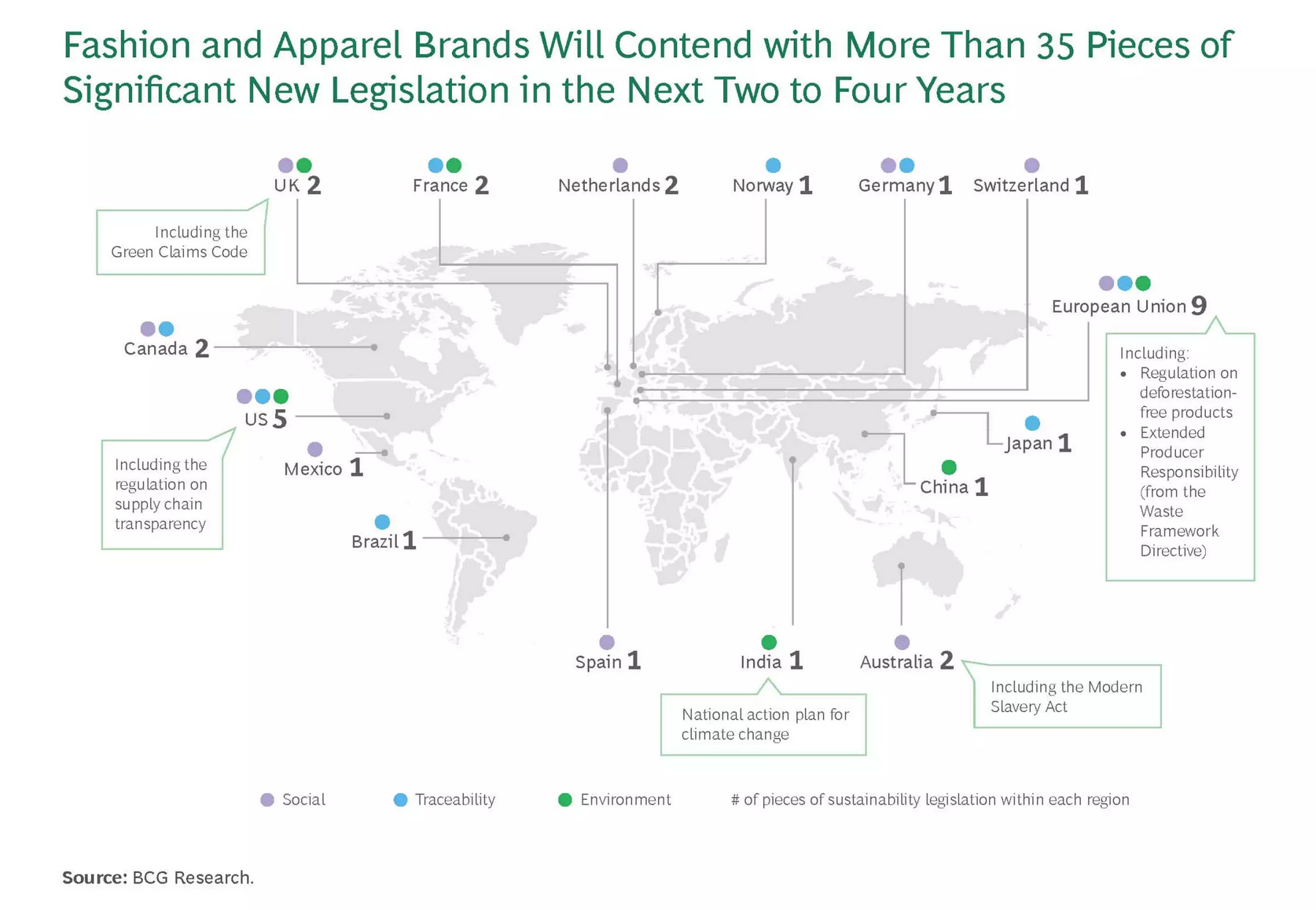 Getting raw materials right, from a sustainability perspective, can support regulatory compliance—and lead brands to a new source of profitability. Failing to do so can leave them at a competitive disadvantage, especially given that a product's final cost is largely determined by its raw materials.
The industry's impact has not escaped the attention of key stakeholders, including consumers, investors, and legislators.
Never before has the industry found itself the target of such intensifying regulation focused on the environmental impact of products and their materials. Over the next two to four years, more than 35 new pieces of sustainability-linked regulation are expected to go into effect around the world, targeting import restrictions, product design guidelines, labeling requirements, and more.
Fashion and Apparel Brands, Get Ready
Fashion and apparel brands must prepare to meet these upcoming regulations. The need is urgent, and the industry knows it: more than 85% of leading brands have publicly declared decarbonization targets for their supply chains.2 To deliver, they need a strong raw-materials strategy. Where, they ask, do we place our bets when selecting the right raw materials, especially given that supply is often precarious and will remain so?
(Although there are many valuable elements related to sustainability in the fashion industry, this report focuses on climate impacts and the authors have chosen to use the term preferred raw materials to refer to lower-carbon-impact materials.)
Brands must drive carbon reduction and prepare for upcoming regulations. They need a robust strategy for preferred raw materials—one that helps them lock in a supply of sustainable materials for the future. Putting that strategy in place—and into immediate action—promises to pay off. Brands that act now to secure a preferred-raw-materials supply for the future will be positioned to capture an estimated average 6% profit uplift after five years. In fact, at the high end of the range in our model, a fashion brand with $1 billion in annual revenues has the potential to tap a cumulative opportunity of approximately $100 million over five years.
How, Exactly, Can They Do That?
For the last century, the industry has focused on driving down the cost of raw materials—often at the expense of the most vulnerable people, their livelihoods, and the planet.
The world is now at a turning point. The underlying resource and regulatory parameters that have shaped the industry's thinking over the last hundred years are transforming. Potential losses loom:
Upcoming regulations could put 8% of EBIT at risk for brands that do not comply by adjusting their materials portfolio mix.3
Changing ecosystems, as a result of climate change, jeopardize the availability, accessibility, and price of raw materials.
Brands that act today by setting clear procurement targets and significantly increasing the share of preferred raw materials in their portfolio stand to capture a significant upside, as the exhibit below shows.
If brands pursue cost reductions without considering the ramifications of doing so, they can leave innovators, farmers, and growers unable to provide the necessary supply of preferred materials; consequently, brands face a materials gap and can't adapt to the new regulatory landscape. Indeed, based on modeling from BCG and Textile Exchange, the preferred-raw-materials gap will rise to as much as 133 million tons by 2030.
And, inevitably, brands and the industry at large will significantly miss their climate targets.
We Offer Six Principles for Action
The Materials Manifesto (developed by BCG, Textile Exchange, and Quantis) outlines six principles that demonstrate how, in a space fraught with questions, some answers are in place to guide no-regrets moves.
Invest in and Embed Full Traceability to De-Risk Supply Chains and Fully Understand Materials' Impacts
Use a science-based approach to strengthen decision-making and shareholder satisfaction
Diversify the Materials Portfolio to Spread Risks and Future-Proof Operations
Build a Business Case That Leads to a Triple Win—for Brands, for Suppliers, and for Nature
Supply Chain Relationships Will Make or Break Brands Going Forward. Strengthen Them Diligently.
Ensure That Knowledge, Tools, and Incentives Are Engrained Throughout the Company
---
It will take years to seed and grow the supply of preferred raw materials that fashion and apparel brands need. Why not act boldly now to stay ahead of regulators, win over investors, wholesalers, and consumers—and make a true impact on the climate crisis?
Access to full report – BCG, Textile Echange, and Quantis