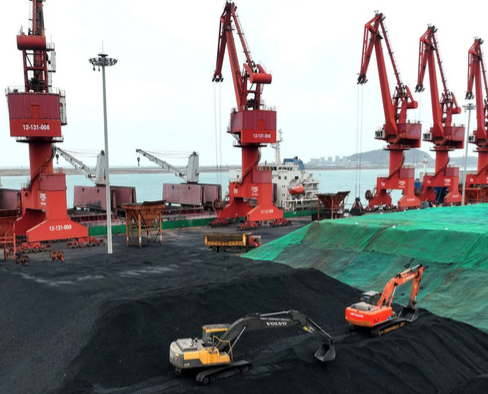 2022 was full of milestones for an industry working on sustainability. More brands have set climate targets than ever, alternative materials are on the rise, and resale has gone mainstream.
What's still missing? Major progress resulting from those efforts. The industry transformation that experts say is necessary — towards fashion companies reducing their total emissions and not just making products more efficiently; where brands source all of their materials in ways that respect both people and planet; and more clothes get recycled into new clothes than end up as waste overseas — is nowhere in sight.
"We are still stuck in the pilot phase," says Bel Jacobs, former fashion editor and co-founder of the Islington Climate Centre. "The major players still believe that voluntary agreements and the tweaking of fabrications will be enough to address the crisis, despite all evidence to the contrary. Fashion needs to engage in a huge structural shift before it comes even close to appropriate action."
With brands taking steps from investing in renewable energy, to launching products made with next-gen materials, to committing to reduce plastic waste, the last year has been a busy one for sustainability in fashion. However, intent does not necessarily equate to success or effectiveness. Experts say fashion's efforts do not add up to the scale or pace of change that is so clearly needed. While the industry is launching initiatives and running pilot projects here and there — even though some are legitimately promising — it is, at the same time, carrying on with business as usual in the rest of its operations. The latter undermines the former, in the minds of climate scientists, environmental advocates, small brands and emerging designers focused on sustainability, and others pushing the industry to do better.
"Fashion only wants us to see its potential, not its core. They are showing us only what they will evolve into, trying their level best to keep hiding the reality of what they are," says Orsola de Castro, co-founder of Fashion Revolution and author of Loved Clothes Last. "Why? Because change is uncomfortable."
Whitney McGuire, attorney and co-founder of community consultancy Sustainable Brooklyn, is more blunt. "I was a little dismayed [this year] by the emergence of cause-related marketing, and companies throwing money at the problem without addressing the root," she says. The industry's reliance on voluntary efforts is not only ineffective, she adds, it also risks undermining potential for real change. "You can't have a self-regulated industry in the time of the apocalypse."
The prospects and limitations of material innovation
Innovative materials gained a real foothold in the industry this year. Ganni and Stella McCartney released products made with Mylo, a mycelium leather alternative; while Hermès-backed Mycoworks said it is ready to scale production of its material Reishi. Agricultural waste has turned up in products from Ganni (using Pyratex, which is also the startup behind Mara Hoffman's polyester- and nylon-free swimwear launch), Zara and others; and Neiman Marcus said it's looking to apple leather as it phases out fur. And startups including Renewcell, Infinited Fiber Company and Natural Fiber Welding that recycle existing textiles into new ones — a necessity for a circular economy — picked up momentum.
Yet, next-gen materials can only help fashion to reduce its impacts if they are used to replace conventional materials — and, as of now, material innovation has added to fashion's repertoire but not fundamentally changed it.
"Over the past year we have found that many executives, designers, and decision-makers believe the pathway to sustainability is through alternative materials. I'm thrilled there is an emphasis on new origins and we're rethinking what products are made from — this is a must," says Beth Esponnette, former designer and co-founder of custom denim startup Unspun. "But, I think we are missing the bigger picture that the current fashion and supply chain system is set up incorrectly. We need to rewrite methods for selling, manufacturing and recirculating the products we create."
Meanwhile, fashion has shown no sign of abating its use of virgin materials. In reports published this year, Textile Exchange found the industry is slow to adopt more sustainable materials — and not focused on what's really needed, which is less production overall.
Synthetic materials are a particular threat because of their reliance on fossil fuels, say critics, and fashion is not only still using them — some companies are using them more. Of 55 global brands and retailers analysed by nonprofit Changing Markets, 25 per cent — 14 of the companies — have increased their use of synthetics, both in terms of the percentage of total fibre mix and total volume over this period, according to a report published this week. "Thus, amid an accelerating climate emergency, with many other industries scrambling to decarbonise, one quarter of the fashion sector's largest companies are recording a heavier reliance on fossil-fuel-derived fabrics," the authors write.
Only one brand, Reformation, landed in its Frontrunners category, for its commitment to reducing all synthetics, both virgin and recycled, to less than 1 per cent of total sourcing by 2025 and phasing out virgin synthetics entirely by 2030. (A number of smaller brands, such as Mara Hoffman and Eileen Fisher, have similar commitments or have already eliminated synthetics in most of their product lines, but they were not ranked by or mentioned in the report.)
Emissions still climbing
While material choices are important, they are not likely to matter much if the industry does not address overproduction and transition away from fossil fuels for powering its supply chain — where the overwhelming majority of the industry's carbon footprint actually comes from.
Brands are proud when they are able to produce individual garments more efficiently, but that's irrelevant as a climate solution when total volumes continue to increase. "Many [lifecycle assessments] and impact metrics are based on the unit (in our industry, this unit is a garment), and forgo evaluating the full system," says Esponnette. "If we only evaluate the unit, we ignore overproduction — which is a mistake."
 And most of the industry's manufacturing is done in countries — China, Bangladesh and India among others — where the grid is powered almost entirely by coal and other fossil fuels. Promises of decarbonisation and transitioning to alternative energy sources are increasingly common in the industry, but have yet to materialise at scale in the countries where it matters most.
Veronica Bates Kassatly, an independent analyst and former World Bank economist, says that even if a brand cuts its raw materials footprint in half, that will only have a 5 per cent impact on the lifetime total of greenhouse gas emissions — hardly the drastic emissions cuts the planet needs and that brands have promised. "To tell us that that's what we need to look at is quite simply wrong. It's not substantiated by the data. The big ticket item is the manufacturing."
For the most part, the clean energy transition is not something that requires technological innovation or futuristic ideas — much of it is almost exclusively dependent on funding.
Growth of "circular services" — but not circularity
Circularity might hold the crown as 2022's biggest buzzword, with a lot of the conversation centred on resale — even Zara and Shein are now in the game — but while it's touted as a sustainability move, there's little indication it's being deployed for that purpose. Reports from both Thredup and The RealReal found that customers are increasingly treating resale like fast fashion — craving constant newness and buying more than they need — while brands are adding it to existing business models, not looking for it to replace sales of new products. Another Tomorrow, with its own resale launch in May, is a rare exception.
"I've seen a lot of companies this year say: 'We want a circular business model' — but they don't want to do the full value chain of circularity. There's no plan for taking it back, no plan for repair, for reuse," says Phillips.
While brands are, in fact, dabbling increasingly in repair services as well as rental, they show little intent, as with resale, for those offerings to displace the need for new production and, more importantly, they offer it in a very limited capacity. What is still sorely lacking is a plan for when products are not easily repaired — a true end-of-life strategy. Brands and repair companies repair the products that can recoup enough value to justify the time and expense involved in the repair itself. For products that are too damaged to be repaired in a cost-effective manner, and for lower-value products regardless of the extent of the damage, landfill is still their most likely destination.
That is far from what a circular economy would require, and that's not an accident, says Nicole Bassett, co-founder of The Renewal Workshop, which restores or reworks unsellable apparel to make new products and was acquired by logistics company Bleckmann this year.
"Brands, when push comes to shove, are doing everything in their power to protect their existing linear business models. I see how quickly brands rushed to protect their own assets when Covid hit, and then continued business as usual when the supply chains struggled," she says. "In my opinion, brands don't have the skills to do anything different than they do now."
The growth in take-back programmes, similarly, has raised concerns that brands are more concerned about the appearance of reducing waste — and in the process, shifting it elsewhere — but not actually eliminating it.
Meanwhile, the industry as a whole remains focused on newness and star appeal — with no better example than fashion's runaway moment of the year, the Coperni spray-on dress, which came with its own implications for the environment. With a few notable exceptions, such as Chloé, the industry appears largely ignorant of its potential to influence culture and shape society with sustainability as a priority.
In the long run, measuring progress is complicated. There's little doubt the industry scored some wins this year. The question is more about how, or whether, it will leverage those wins moving forward.
"It's hard for me to view progress linearly. Sometimes, taking steps back can also propel us forward in other areas," says Sustainable Brooklyn's McGuire.