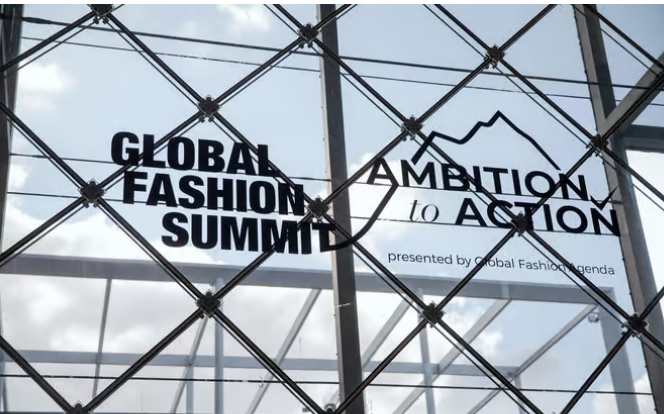 The event brought together some of the world's largest fashion conglomerates, including PVH and VF Corp, luxury groups LVMH and Kering, sportswear giants Nike and Puma, and smaller innovative textile start-ups such as Circulose.
The summit, launched in 2009 by the Global Fashion Agenda (GFA), aims to tackle some of the industry's most pressing social and environmental sustainability issues. This year, the focus was on new laws and regulations to crack down on bad practice in supply chains.
On the first day of the event, which took place from 27 to 28 June in the vast Concert Hall in the Danish capital, Federica Marchionni, CEO of the Global Fashion Summit, expressed her optimism in a gloomy context marked by an increase in environmental disasters on a global scale, such as forest fires and flash floods.
"We have an opportunity to reimagine and innovate the entire value chain to reverse our current trajectory, from sustainable sourcing and manufacturing practices to ethical labour standards and conscious consumerism," she said.
Announcements and launches
As well as encouraging much-needed conversations about the industry's many damaging practices, the summit also served as a launch pad for various tools and frameworks designed to guide the fashion industry towards sustainability.
For example, the United Nations Environment Programme (UNEP) and UN Climate Change launched The Sustainable Fashion Communication Playbook, while Global Fashion Agenda (GFA) launched the Global Textiles Policy Forum, a platform to help companies and governments align themselves with the industry's sustainability path and global policy frameworks.
Brands also took advantage of the event to announce new sustainable initiatives, targets and products. Footwear and clothing brand Allbirds, for example, unveiled what it claims to be a "net zero carbon shoe", as well as a toolkit for competitors to learn from its innovation.
The idea of sharing ideas and innovations was one of the most common themes at the Global Fashion Summit 2023, as pressure grows from consumers, investors and policymakers to do more for the environment.
Industry collaboration is key
"Face-to-face meetings are essential for building relationships and mobilising people around key issues," Eva von Alvensleben, executive director and secretary general of the Fashion Pact, told FashionUnited.
Launched at the G7 summit in France in 2019, the Fashion Pact is a voluntary initiative in which brands and textile industry players commit to three key environmental goals: halting global warming, restoring biodiversity and protecting the oceans.
Ms Alvensleben stressed the need for alliances and collective action, recognising the complexity of the challenges facing the sector. She added that there is no other way forward than collective action on the ground at sector level.
The idea of taking concrete, tangible action – rather than making more empty promises or setting vague targets – was widely debated both on and off the Global Fashion Summit stage. And it must be done quickly.
The timeframe is shrinking
"Our sector has made progress in recent years, but this collective work needs to be accelerated to align with the global target of 1.5 degrees CO2 by 2050," said Marchionni, CEO of the Global Fashion Summit. We still have the opportunity to reach this target, she added, while stressing that "the timeframe is shrinking fast". This is a decisive decade in the history of humanity".
Nicolaj Reffstrup, founder of the Danish brand Ganni, shared a similar sentiment. "I'd like to see less talk and more action," he said, referring to the speed at which the industry is moving towards more sustainable practices.
Ganni was one of a number of companies showcasing innovative new materials at the summit. The brand teamed up with Californian start-up Rubi to unveil a "carbon-neutral cellulosic textile", which it claims is made directly from carbon emissions using an "entirely enzymatic process".
Nicolaj Reffstrup stressed the importance of forums such as the Global Fashion Summit "as platforms that bring together high-level decision-makers and try to encourage them to take tangible and appropriate decisions".
Regulation – an essential game-changer
It is becoming increasingly clear that it is not enough to rely on the good intentions of brands to clean up the fashion industry. Stricter laws and regulations will be essential to bring about real change, and this imperative was a key topic at the Global Fashion Summit, summed up succinctly by this year's theme, 'Ambition to Action'.
Signs of real progress in the regulatory landscape are beginning to emerge, offering a glimmer of hope for real change in a sector long plagued by bad practice hidden behind glitzy marketing campaigns and repaired – when exposed – by excuses from PR professionals and bland promises of rectification.
This month, the European Parliament voted in favour of a bill to ensure that large companies crack down on suppliers who fail to comply with certain rules on social and environmental practices. More than a dozen pieces of legislation are currently being drafted to improve the textile sector, in critical areas such as greenwashing and closed-loop recycling.
Brands need investment to stay in the race
Speaking about the EU's strategy for sustainable and circular textiles at the summit, Environment Commissioner Virginijus Sinkevičius said: "Textiles are global, so we have to take full responsibility for them. For too long, the challenges have been 'out of sight, out of mind', but doing nothing is no longer an option."
Of course, the advent of regulation on such a scale will pose considerable challenges for businesses, requiring substantial investment in areas such as improving data collection across their supply chains.
"There is a huge data gap across the entire value chain in this sector," said James Schaffer, Chief Strategy Officer of the Worldly Data Platform. "We need new tools, a new way of thinking. We need to measure the right things."
Worldly, formerly known as the Higg Index, changed its name earlier this year after the Norwegian Consumer Authority said its product-focused tool did not provide a sufficient basis for environmental marketing claims. Parent company SAC has since published updates to its index.
In recent years, sustainability and greenwashing are increasingly seen as going hand in hand. After all, as Environment Commissioner Sinkevičius has said, "green sells". However, the 2023 edition of the Global Fashion Summit once again underlined that the era of superficial sustainability claims and unethical practices may be coming to an end, as policies will force companies to clean up their act.
Eva von Alvensleben, from Fashion Pact, stressed the need for joint approaches and collaborative thinking throughout the value chain. "This means that we need to include all stakeholders in the conversations, from suppliers and manufacturers to retailers and brands," she said.
Read more – Fashion United