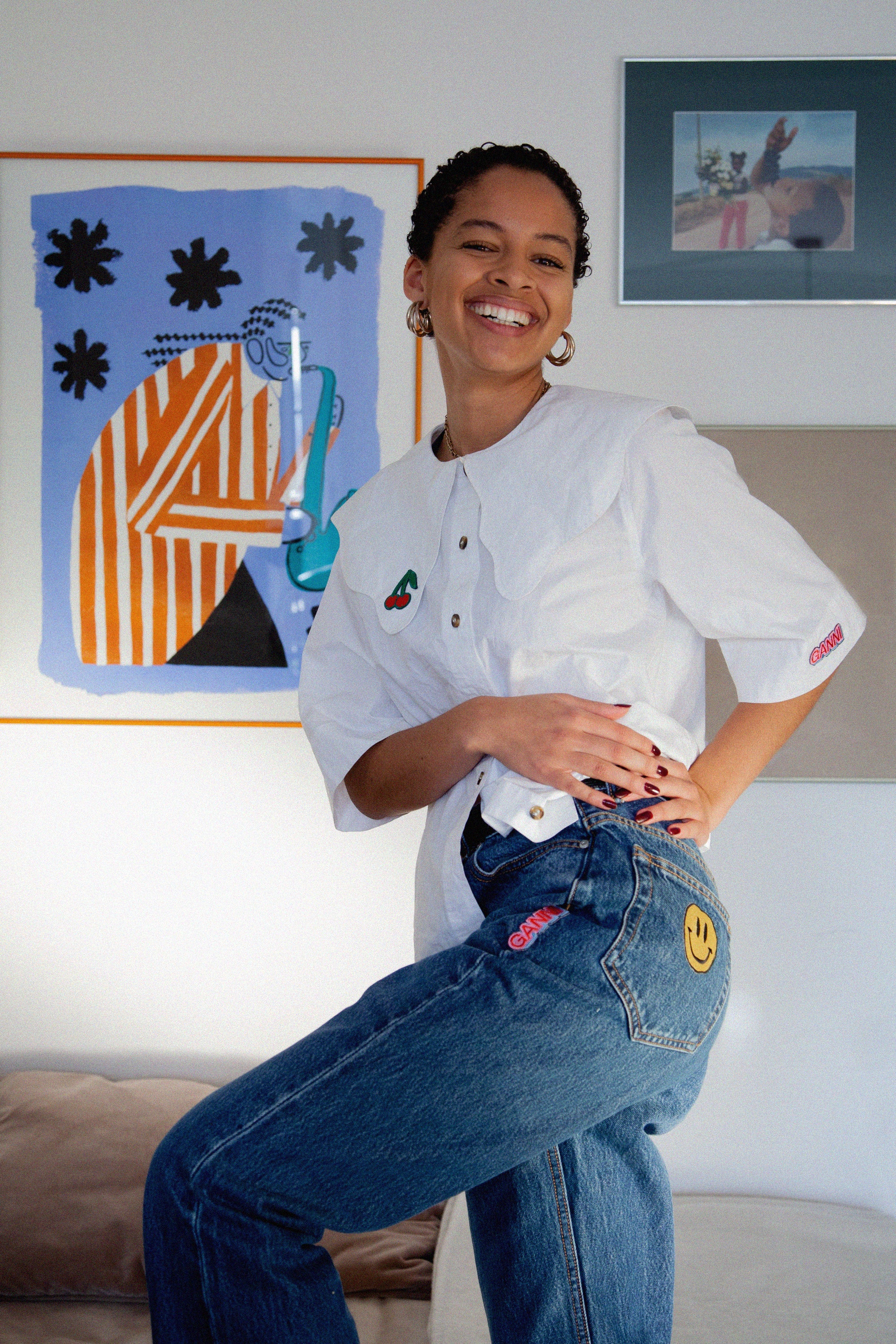 That's now beginning to change, with Ganni announcing that it's partnering with on-demand repair service Sojo in order to provide aftercare to its customers. "Prolonging the life of a garment through repairs and alterations reduces the need for buying new, while also increasing its value on the secondhand market," Andrea Baldo, CEO of Ganni, tells Vogue. "We need to understand responsibility in a circular context that goes beyond the point of sale and the partnership with Sojo is an opportunity to help reduce a significant amount of environmental impact."
Launching with a pilot in London (which will soon expand to the rest of the UK), customers will be able to book free tailoring and repair services for all their Ganni items via the Scandi brand's website. Sojo will then pick up your item, take it to a local seamstress or tailor, and then deliver it back to your door once the alterations have been made. "Ease is so important when it comes to making [repairs and alterations] mainstream," Josephine Philips, founder and CEO of Sojo, says.
From an environmental perspective, the service can help reduce the emissions produced by online returns, as all pick-ups and repairs are done via bicycle couriers. "You can go from your email, which says 'How was your delivery? If it doesn't fit, you can get it tailored' and then click a button and [request the service] through the site," Philips explains.
"Online shopping has a huge environmental cost attached to it due to the amount of returns that are made, the majority because of issues with fit," Baldo adds. "In the UK alone, approximately 55 per cent of women's closets remain unworn."
Perhaps more importantly, the partnership between Ganni and Sojo will also reduce the impact of your clothes themselves – with a study by waste charity WRAP finding that extending a garment's life by just nine months can reduce its carbon, waste and water footprints by between 20 to 30 per cent.
Ganni isn't the only brand that's put a spotlight on repairs, with the likes of Farfetch, Manolo Blahnik and Nicholas Kirkwood recently announcing partnerships with luxury repair and restoration experts The Restory. "The awareness [about] the impact repair has is becoming greater," Emily Rea, the company's co-founder and head of marketing and business development, explains. "I think the expectation from the consumer for brands to support post-purchase services is [also growing]."