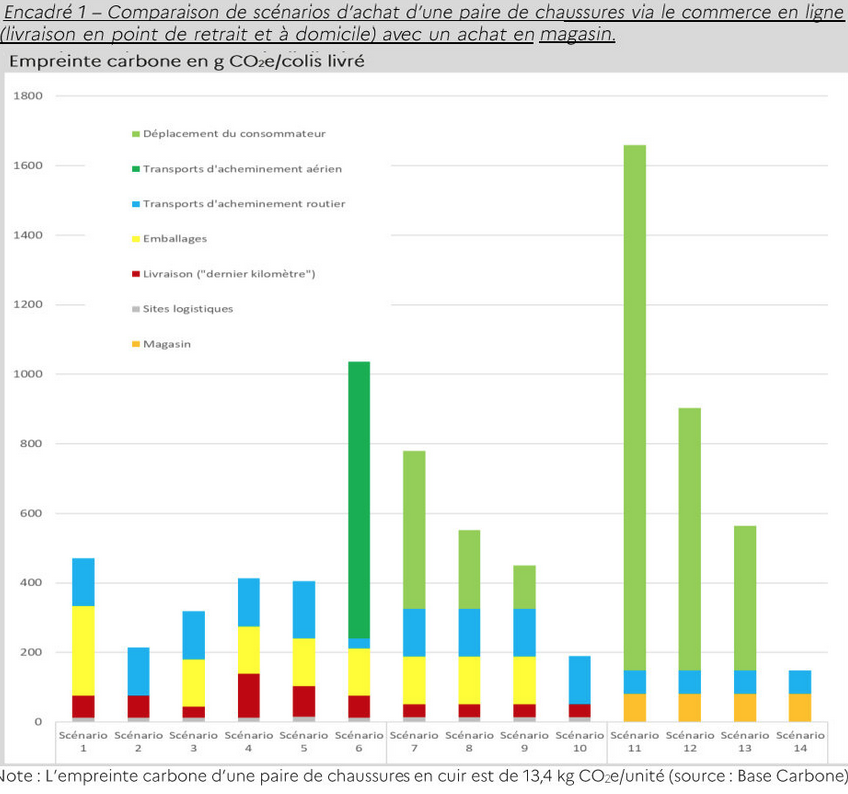 The Agency has specifically looked at the case of e-commerce, which now represents 14% of retail trade. For clothing, this share has even risen to 21% in 2021, a year in which it was the most consumed category online (60% of e-buyers), followed closely by footwear (45%) and hygiene-beauty (43%). Ademe is mainly interested in the emissions caused by the one billion e-commerce parcels delivered per year, which would release one million tonnes of CO2.
Although the study (which can be consulted here) is not necessarily intended as a comparison between commerce and e-commerce, it is nevertheless comparative. Fourteen scenarios are studied, between home delivery, delivery in a relay point and purchase in a shop (see graph below). The scenario with the highest carbon footprint (1,600 grams of CO2 per parcel/product) is that of a consumer making a specific journey (excluding public transport or cycling) to collect a single product from a shop.
On the other hand, on the e-commerce side, the worst case scenario is limited to 1,050 grams, in the case of a product transported by air. This has become a preferred practice of the major Chinese portals in particular, and has also accelerated with the 2020/2021 sea freight crises.
At the other end of the spectrum, the best case scenario for e-commerce would be home delivery without over-packaging, or collection of a parcel from a relay via a bicycle journey. However, these two scenarios are slightly more carbon intensive than in-store shopping combined with a bicycle trip.
"No indisputable environmental advantage
However, Ademe is very cautious about the report's conclusions: "To date, it has not been demonstrated that online shopping has a systematic and indisputable environmental advantage over in-store shopping," says Marc Cottignies, technical coordinator of the study at Ademe. "Similarly, among the delivery options, there is no evidence of a systematic and indisputable environmental advantage of delivery at a collection point compared to home delivery, nor of 'standard' delivery compared to rapid or express delivery.
With a diplomatic approach that shows its desire to remain neutral between retailers and e-retailers, Ademe makes a series of recommendations aimed at improving the situation of online sales. The most obvious of these concern the adjustment of packaging, which it estimates to be 50% empty, or the elimination of over-packaging "when the supplier's packaging allows it".
Consumer displacement would also be a big lever. "One third of parcel withdrawals by consumers are made by car as part of a specific journey: a vehicle weighing one tonne is thus moved to transport a parcel weighing around 1 kg," summarises Ademe, which calls for the encouragement of withdrawals via public transport, or for withdrawals to be combined with other trips. Better networking of relays, the fight against returns by supervising the conditions (and making the offer more reliable), and limiting failed deliveries via new services are all proposed.
The delivery offer should also be optimised, as the proposed delivery times do not give the customer reliable information on the greenest option, according to Ademe. Platforms are called upon to suggest grouping several orders into a single delivery, or even to modulate the delivery cost according to the environmental performance of the chosen mode of transport. Other suggestions include limiting the use of air transport, adopting alternative fuels or engines, or using "active transport" (walking, cycling, cargo bikes, etc.).
The green battle of the shops
In 2020, the online sales federation (Fevad) noted the growing expectations of cyber shoppers in terms of environmental responsibility. The following year, the body published an Oliver Wyman study comparing the carbon impact of online and physical commerce. The study concluded that physical commerce generates 2.3 times more emissions than online sales.
The study also prompted the National Council of Shopping Centres (CNCC) to publish an EY & Associés study the following October. This study calculated that, beyond four products purchased, the impact of a visit to a shopping centre in the immediate vicinity is less harmful than if these purchases were made online. However, nine products need to be purchased to reproduce this situation in the case of a more distant peripheral shopping centre.
A "green war" whose deceptive aspect must be taken into account, particularly in the world of clothing: while two thirds of online sales are made by pure-players (players operating solely online), the rest are made by physical trade distributors playing on both channels. Furthermore, all sectors combined, online sales by retailers have increased by 35% between 2019 and 2022, while those of pure-players have fallen by 9%.
Read more: Fashion Network