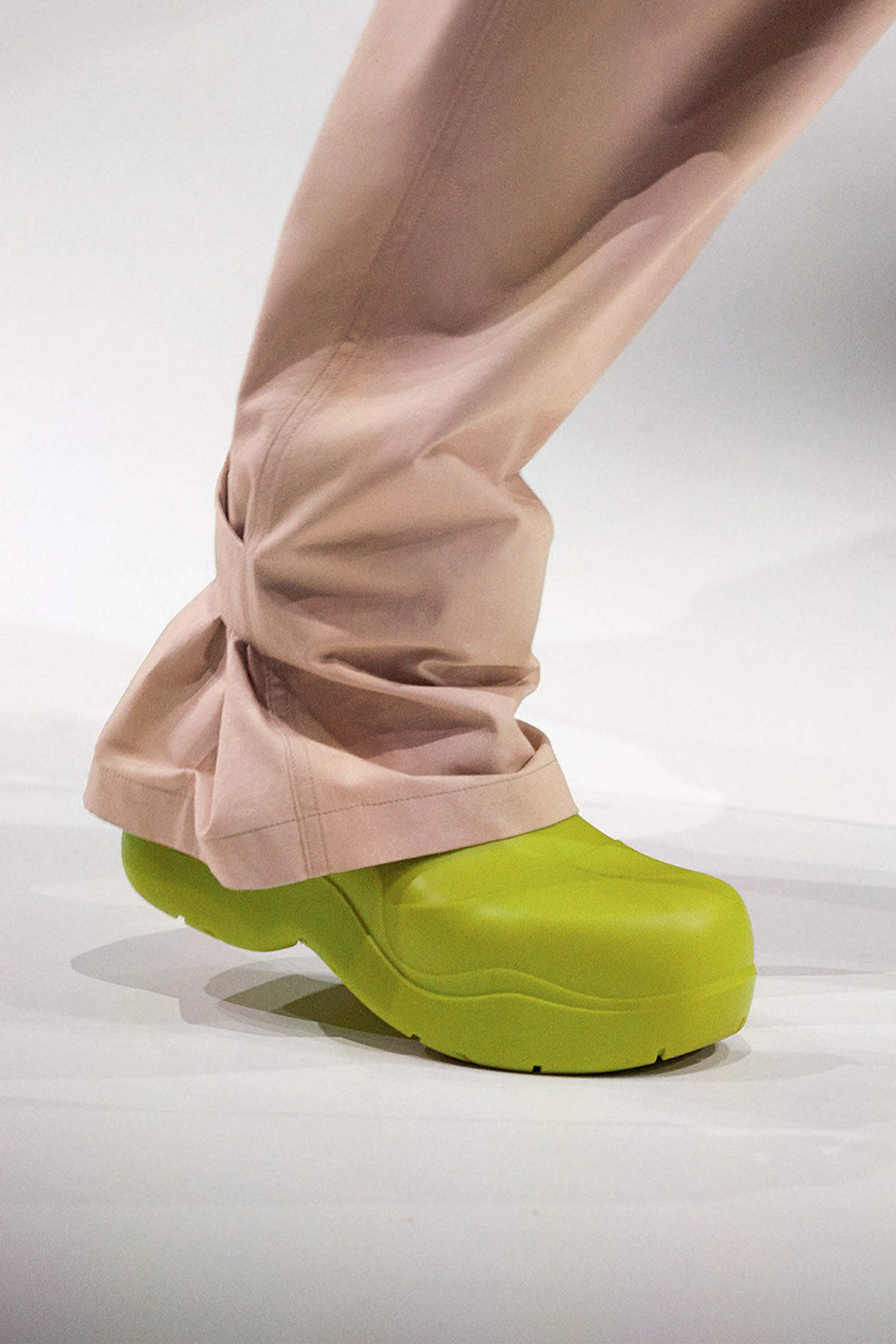 Rubber shoes are having a moment. The simple unisex waterproof footwear, which evolved from the "ugly shoe" trend and continues to resonate thanks to the popularity of gorpcore, has high customer demand and great margins, according to luxury retailers. But producing the shoes sustainably isn't straightforward.
Bottega Veneta first presented the Puddle boot, its interpretation of the classic rain boot, on the Autumn/Winter 2020 runway with a sleek aesthetic, one-piece mould and signature bulky toe, catching the eye of buyers worldwide. Stores are now struggling to keep them in stock because of the swift sell-throughs.
The brand says the boot is its first piece available in biodegradable polymer and is planning a new iteration for AW21 using a regenerated version of thermoplastic polyurethane for the soles of its other boots, an innovative material. But it's not a slam dunk: scientists say brands should focus on compostability instead of making biodegradability or recyclability claims that are hard to verify. A Bottega Veneta spokesperson says the polymer used in its Puddle Boots decomposes "under specific conditions" in a waste treatment plant according to standards test methods. They did not provide further details on its recyclability.
Rubber footwear is benefiting from the gorpcore trend, which gets its name from "good ol' raisins and peanuts", a term for trail mix often used by hikers. It refers to outdoorsy gear like fleeces and bright puffers being worn in the city, an aesthetic that predated the pandemic. Stylists and influencers also have begun to tout the shoes, showing them off as practical and cool. But keeping up with consumer expectations for sustainability means there is still work to be done, experts say.
Being biodegradable might sound good, but often brands add a chemical additive, such as an oxidation catalyst or an anaerobic bacteria catalyst to the rubber, to make it "more bioavailable" to anaerobic bacteria that helps break it down, he explains.
Sustainably harvested natural rubber can be considered a partial sustainability win, because the material was harvested in a way that doesn't harm the environment, Mulvihill says. "But it doesn't tell you anything about what will happen to the rubber shoe after someone is done wearing it. Just because it's a sustainability win at one point in the lifecycle doesn't mean you've solved all the problems." Brands should focus on compostability instead of biodegradability, because claims around what to do with an item at the end of life and whether it's been tested in relevant conditions can be measured and verified.
Challenges also occur within the supply chain: very few brands have 100 per cent capacity of the tier-two or three levels in their supply chain, and the lower down the chain, the tougher it is for a brand to have much influence, says Frazier. However, brands shouldn't have to go through it alone. Brands with limited options to scale sustainably should look to collaborate with other companies, who have the power to achieve this at scale through bigger supply chains, says Edited's retail analyst Katharine Carter.