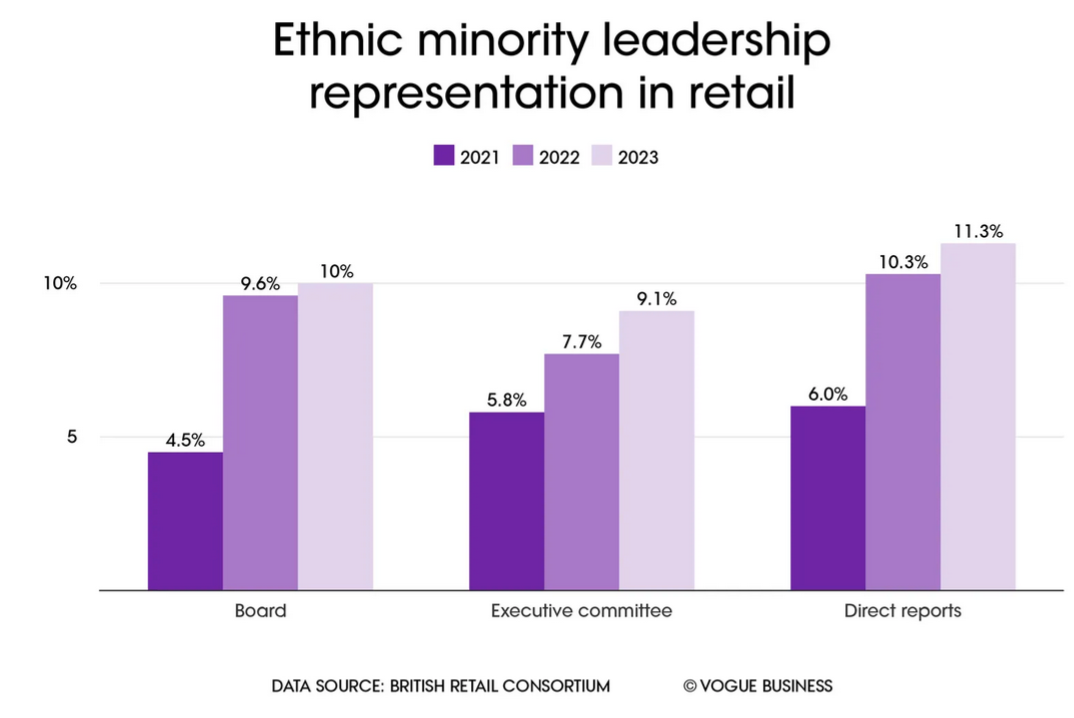 British retailers are setting diversity and inclusion strategies, but impact is limited, according to a new report by the British Retail Consortium (BRC) and executive search and leadership advisory firm The MBS Group.
The report finds that 93 per cent of retailers have implemented a strategy to improve D&I, compared with 76 per cent in 2021 when it started collecting the data, but 66 per cent have no specific targets in place to track progress. While ethnic diversity at board level has increased to 10 per cent, up from 4.5 per cent in 2021, nearly 30 per cent of retail boardrooms remain all white. Similarly, the number of women at board level has grown by 5 per cent since 2021 to reach 37.8 per cent, but this is still below the FTSE 250 benchmark of 40 per cent (by the end of 2025). While 80 per cent of retailers now have a focus on disability within their D&I strategy, up from 50 per cent in 2021, just 17 per cent have at least one disabled leader in their company.
"I'm so encouraged to see so many retailers gearing up their D&I activity and the breadth it covers across all diversity characteristics, but the progress we've made so far hasn't sufficiently shifted the dial," says Helen Dickinson, CEO of the BRC. "Until every individual — no matter their background — feels they can reach their true potential in the workplace, we are failing. It's time to double down on assessing the impact of activities. We need to continually assess if what we're doing is working, and if it's not, what else can be done."
The main barriers to progress in D&I, according to the report, are a lack of data and insufficient resources. The BRC is calling for retailers to shift their approach from setting lofty targets to assessing impact. Setting a clear strategy is an important first step, but tangible outcomes must come next. The sentiment echoes similar criticisms in sustainability, where experts have doubts about the impact of brands' targets. To move the dial on D&I, the BRC suggests that companies invest in employee resource groups, training, action plans and data research, as well as appointing dedicated D&I leaders.
The report, which is the BRC's third annual D&I progress tracker, evaluates gender, ethnicity, disability, sexual orientation, social mobility and age diversity. The research was gathered qualitatively and quantitatively, combining data research about leadership diversity from 200 retail businesses by The MBS Group, workforce diversity research from 48 of the BRC's D&I charter signatories (comprising a workforce of over 1.2 million — almost 40 per cent of the total UK workforce), and an assessment of employee inclusion from the Retail Trust's Better You tool, which surveys 2,000 retail employees. Over 5,000 businesses across sectors within retail are part of the BRC, and 75 signatories of the BRC's D&I charter, including fashion and beauty companies such as Burberry, Harvey Nichols, L'Occitane, Lacoste, Feelunique, Radley, Uniqlo, Superdry, All Saints and Jigsaw.
Read more – Vogue Business