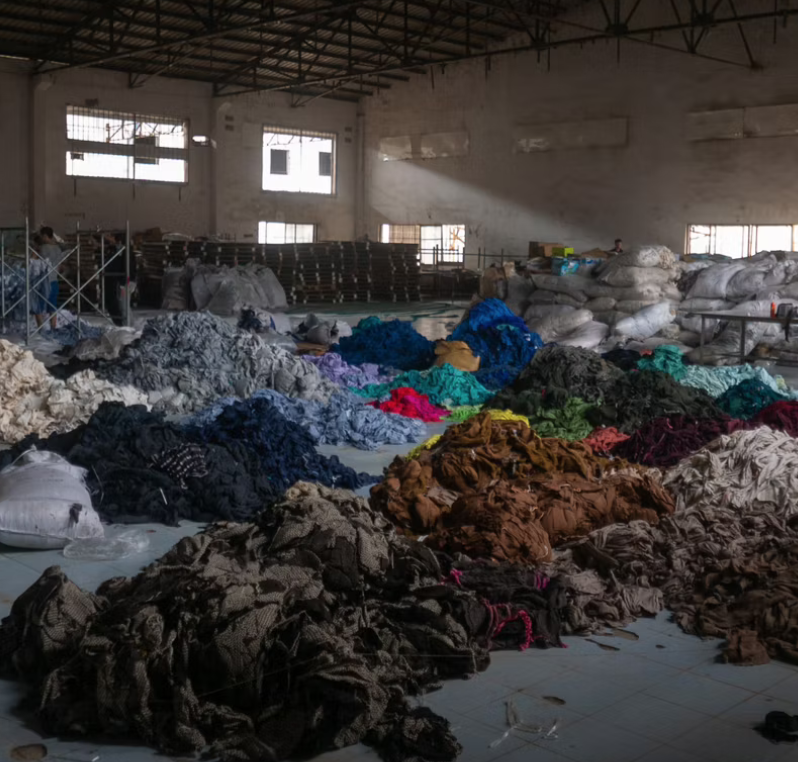 Some 30 brands signed the Fashion Industry Charter for Climate Action at COP24 in Katowice, Poland, in 2018, committing to reduce their emissions by 30 percent by 2030 and to become carbon neutral by 2050.
In November 2021, they set a new, more ambitious target to halve their emissions by the end of the decade. More than 100 companies have now signed up to the charter, including fashion giants such as Sweden's H&M and Spain's Inditex, owner of Zara, and sports brands like Adidas and Nike. The goal of zero net emissions by 2050 is a major challenge for these companies with their long supply chains, including suppliers and manufacturers scattered around the world.
"Are we there yet? Of course not. Are we on the right track? I would say 'maybe'," admitted Stefan Seidel, Head of Sustainability at Puma, during a panel discussion at COP27 in Sharm el-Sheikh. The sector was responsible for 4 percent of global greenhouse gas emissions in 2018, equivalent to the total emissions of the UK, France and Germany, according to consultancy McKinsey. Around 90 percent of the fashion industry's emissions are produced by suppliers, according to the non-profit Global Fashion Agenda.
A "leap of faith
Converting all production chains and imposing climate standards on raw material suppliers and garment factories is a huge task. "We have more than 800 suppliers," says Leyla Ertur, head of sustainability at H&M.
"Even we are not big enough to change all the supply chains, collaboration is essential," says Marie-Claire Daveu, head of sustainability at the Kering group, which includes luxury brands such as Gucci and Yves Saint-Laurent. Ali Nouira, an Egyptian manufacturer, told COP27 about the difficulties suppliers face, for example in a region like his where certification bodies do not exist.
"When we manufacture, we have to have all the certifications, the carbon footprint in particular, and for a small brand coming from Egypt it is extremely difficult and expensive," he explained. "We produce for other brands, in Europe and elsewhere. We are under pressure to have the certifications and also to lower our prices so that they can continue to make profits," he added. The vice-president of the Tal Apparel textile group, Delman Lee, said that his company, which is based in Hong Kong, had been committed to the decarbonization process for about ten years.
But the group has subsidiaries in Vietnam and Ethiopia, and different regulations in different countries are obstacles. Going down the road to zero carbon is "a leap of faith", he said: "You commit to something without knowing how you're going to get there.
Low-interest rates
Attitudes have already changed in developed countries, says Nicholas Mazzei, head of sustainability at Zalando, a major online retailer. For example, he says, "some major banks are offering a lower interest rate to those who commit to a net zero emissions target". "At the end of the day, if you make that transformation, the interest rates are so low that the costs are virtually zero," he says.
But for suppliers, the road to transition is still long. "We need more renewables than the big companies," says Catherine Chiu, vice president of sustainability at another Hong Kong company, Crystal International Group. "Even if we installed solar panels on all 20 of our factories, that would only account for 17 percent of the group's consumption," she says. "The private sector is doing its part. But the regulators are moving at their own pace," says Delman Lee (AFP).