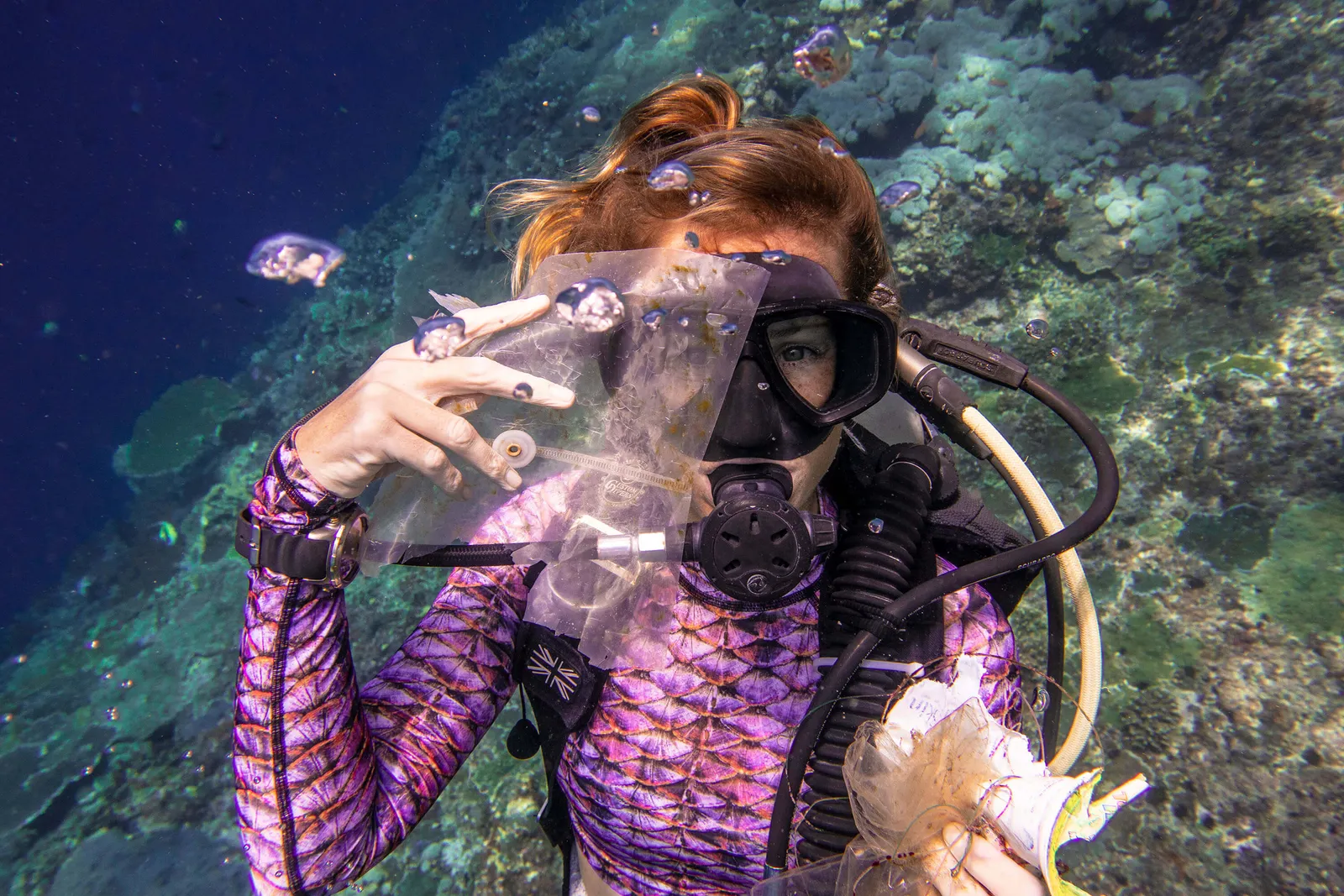 Swimsuits, sneakers, even credit cards: fashion is creating items from recycled plastics by pulling waste from the ocean or coastal areas and giving it a second life in the form of a raw material. However, these efforts aren't the sustainability win brands make them out to be.
"A bathing suit [made] out of recycled plastic doesn't excite me. It's really not going to solve the plastics problem until we reduce the plastics we're making," says Jackie Savitz, chief policy officer at the nonprofit Oceana. "We can't really collect, process and use it fast enough. The real solution is to stop making so much plastic."
Yet, recycled plastics, not eliminating plastic, is where major brands seem to be putting most of their energy. Gap Inc. is increasing its use of recycled polyester — which in today's world is made from plastic, not existing polyester — and addressing "unnecessary and problematic plastics" in its operations. Sportswear giants including Adidas rely on recycled plastic as a key part of their sustainable materials portfolios. And luxury brands such as Prada and a host of swimwear brands use Econyl, a nylon made from discarded fishing nets.
In honour of World Oceans Day last week, these brands and others promoted products made from plastic waste and engaged in campaigns focused on ocean health — Adidas, for example, hosted beach clean-ups; Prada supported the digitisation of the Milazzo Sea Museum; and Gap launched a line of credit cards made with a recycled plastic core.
Facing growing public pressure to improve their environmental footprint, brands have turned to recycled plastic or ocean waste — in the form of recycled polyester or through branded materials or partnerships such as Econyl and Parley for the Oceans — to meet their "sustainable materials" goals and reduce waste and carbon footprints. Experts are unequivocal: recycled plastic is better than virgin plastic and any effort that reduces or removes plastics from the oceans is almost inevitably a positive move.
The catch is that, too often, recycling is tacked onto companies' existing operations — carried out alongside an increase in total plastic consumption, rather than as part of a wholesale shift away from it. That's where the potential for recycled plastic to deliver any real environmental benefit falls short, says Savitz.
"We like to use the bathtub analogy: when your bathtub is overflowing, you don't just run for the mop. You first turn off the faucet," she says. "If the industry can use less plastic fibre in its products, that's really the best thing they can do."
If that starts to happen, it would mark a turning point and she could see a role for recycled plastic in solving the plastic pollution problem plaguing the world's waterways — but only then. "If the commitment being made is to reduce the total amount of plastics used, and then also to use a fraction of recycled plastic, then maybe that sounds like a good thing. Once you have turned off the faucet, there's nothing wrong with getting the mop."