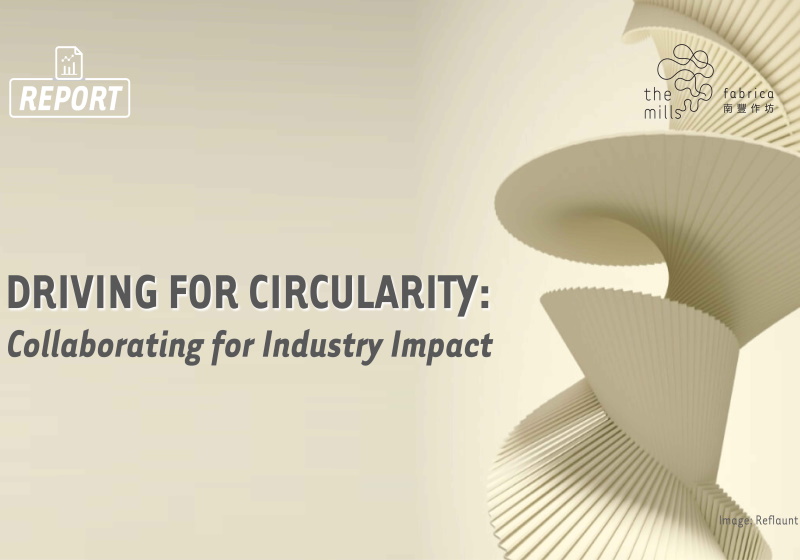 "Circular economy is emerging as the theme of our times. It refers to decoupling growth from the consumption of finite resources – minimising waste and maximising the value of materials used," says the report's executive summary.
"This report looks at circular economy in the context of the apparel industry. There is increasing momentum in achieving circularity in the apparel industry with brands adopting innovative solutions and favourable initiatives in place.
"However, barriers still exist. With reference to collaboration examples and case studies around the globe, we argue that it is important for the industry to collaborate together in order to drive for circularity. While Europe is leading the charge in this space, the same shall apply to Asia and our home city of Hong Kong."
The playbook is divided into three sections: The State of Circular Fashion, Key Challenges in Pursuing Circular Models, and Collaborating for Impact.
The first section looks at the current state of circular fashion and examines circular practices such as regenerative agriculture, recycling and retail-as-a-service models.
Section 2 discusses three major challenges in pursuing circular models – financial costs, infrastructure and socio-cultural acceptance. It highlights the importance of concerted efforts from the community in the transition to a circular economy.
The third section highlights the importance of collaborations in scaling innovations. It also looks at sustainability collaborations worldwide, as well as circular projects in Hong Kong.
The report concludes that more apparel brands and retailers are adopting circular innovations in rental, resale and recycling, as well as practising regenerative agriculture.
Challenges include the higher cost of recycled materials, the need for improved collection and recycling infrastructure, the need to create incentives for – and raise awareness of – circularity, and the need for more collaborations and pilots.
Download The Mills Fabrica's report: Driving for Circularity, Collaborating for Industry Impact