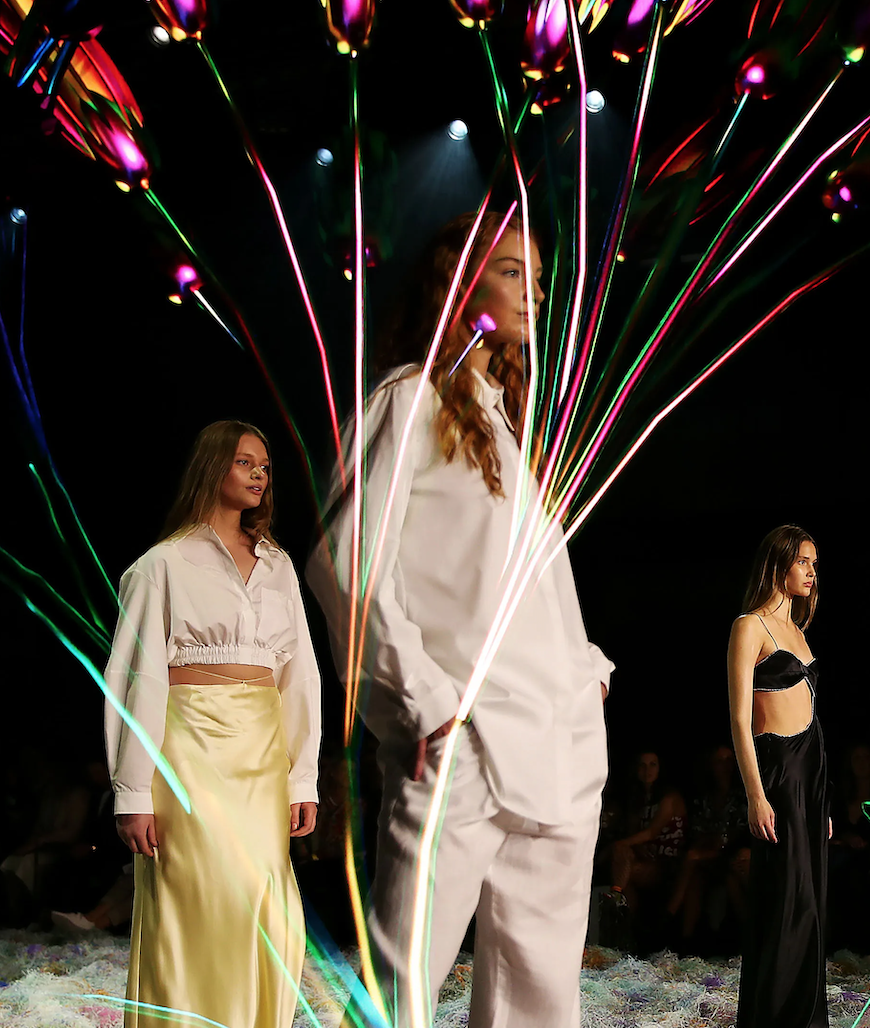 The fashion industry is returning with growing confidence to the physical show format. While innovation in the digital sphere is likely to continue during the upcoming fashion weeks, brands are recognising the enduring power of the tactile, in-person experience.
NFTs and the metaverse remain hot topics, but executions have changed considerably since the February shows. Expect to see the emergence of new themes including better examples of the potential of augmented reality (AR), as well as phygital projects and initiatives such as token-gating. As brands expand further into Web3, they will increasingly want to bridge channels, from digital assets to physical experiences, to immersive experiences (such as metaverse and AR), says Pierre-Nicolas Hurstel, CEO of Paris-based blockchain platform Arianee.
Designers and brands often prefer to keep quiet about planned tech additions. In part, they prefer to maintain an element of surprise; more practically, they can polish last-minute plans, with the likes of AR and POAPs (proof of attendance protocols) perceived as extras. While brands are still experimenting with mixing the digital with the physical, the allure of the physical runway is likely to be the key theme this season.
That may explain why major luxury fashion names have not (to date) announced metaverse or Web3 plans. In New York, the tech-focused conversations will be scattered across the city. Digital Fashion Week New York is offering extended reality showrooms with experiences including virtual try-on, avatar creation, NFT drops and a physical runway show created by phygital designers. Meanwhile, the Walker Hotel is staging an "AR takeover" and NFT galleries; and independent fashion event series The Nolcha Shows is hosting a two-day event dedicated to Web3. In London, an immersive digital fashion event called Picnic will focus the spotlight on digital natives. And in Paris, designer Victor Weinsanto plans a digital collection in collaboration with a K-Pop group that will launch with a physical party.
Both physical and digital events
In the aftermath of the Covid lockdowns, brands have faced difficult choices between staging a physical, in-person event or opting for a digital format. For some early adopters (and those with the budgets), the solution is to explore a bit of both.
That doesn't simply mean live streaming videos. Tommy Hilfiger, who returns to New York on 11 September, is promising an all-out phygital experience, replete with a live event broadcast simultaneously in its Roblox world, called Tommy Play. "[New York] is where fashion, art, music and entertainment was all coming together when I first started out in the industry," Hilfiger says in a release. "Today, it is still this approach that inspires me to engage with the cutting-edge communities building new creative experiences."
Tommy Hilfiger's see-now-buy-now offer is expanding into the metaverse. Roblox avatars will wear Autumn/Winter 2022 pieces, shoppable in real time from both the physical runway and on Roblox. Superplastic virtual celebrities Janky, Guggimon and Dayzee will walk the Roblox runway, wearing outfits from a recent Tommy Hilfiger collaboration with Richard Quinn.
It's a novel approach to the ongoing democratisation of fashion show access — a theme that has found its strongest support in New York among the four major fashion weeks. "New York Fashion Week has the most iconic events, and most people would like to go, but given the situation in the world and people not being able to travel, that enables them to be part of this," says Kaspar Tiri, co-founder of avatar creation tech provider Ready Player Me, with whom Tommy Hilfiger just partnered on a "parallel Tommy Hilfiger" project to dress avatars in digital pieces.
Ready Player Me is currently used by more than 4,000 games and apps, and recently raised $56 million in funding, reflecting how the avatar industry is maturing. "Brands are an important part when we think of avatars, and they define how we identify ourselves," Tiri says. "Billions of people are spending time in virtual environments every day, and lots of brands are trying to figure out how to combine physical and digital."
Puma also returns to New York Fashion Week with an evening event on 13 September that promises "interactive" components for a global audience, further establishing Puma in the Web3 space.