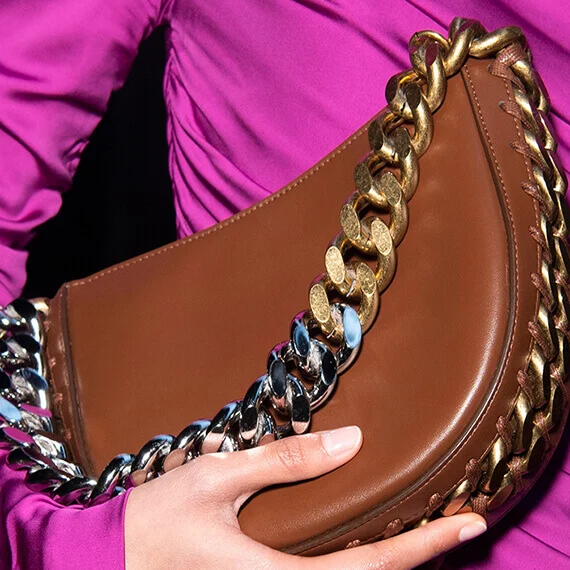 As the demand for ethical fashion continues to grow, brands are offering a burgeoning variety of clothing and items made from more eco-friendly materials and for which no animals have been abused, mutilated, skinned alive or killed. PETA's 2022 Vegan Fashion Award recognizes innovative and forward-thinking companies and designers who have made great strides for animals in the past 12 months.
Luxury's Biggest Moment: Kering pulls the plug on fur
As the first fashion house to extend its fur-free policy to all of its brands, French luxury group Kering sets the standard for others in the industry to follow and proves once again that fur is in a downward spiral from which it will not recover.
The price of progress: GANNI goes leatherless
The fashion industry realizes that the production of animal leather is cruel and harmful to the environment, and GANNI is leading the way by turning to vegan materials, such as grape leather, made from the waste products of wine production.
The best time for rabbits: Valentino, Armani and Dolce & Gabbana ban angora
Angora, which is made by plucking hair from fully conscious rabbits, is no longer in fashion. The latest proof is the implementation of bans on the cruelly produced material by luxury giants Valentino, Armani and Dolce & Gabbana.
The best collaboration: the "Happy Pineapple" collection by Nike and Pineapple Anam
Iconic sportswear brand Nike partnered with textile innovation company Pineapple Anam on a collection of vegan sneakers using Piñatex, a leather made from pineapple leaf fibers. The stylish, ecofriendly line features vegan versions of classic Nike designs, made without having to steal an animal's skin.
The Innovation Award: Gucci's Demetra
If even Gucci is going vegan, we can be sure that animal-free fashion is the future. The luxury brand has created Demetra, its own vegan leather made from 77 percent plant-based raw materials. This new textile will be used to create beautiful Gucci accessories for which no one was killed.
The best vegan bag: the "Frayme Mylo" by Stella McCartney
Mushroom leather is the trendy vegan material of the moment, and as often happens, it's Stella McCartney who opened the ball. The designer's animal-friendly Frayme bag is made from Mylo, a mycelium leather created by textile solutions company Bolt Threads.
Discover all the winners on Peta France