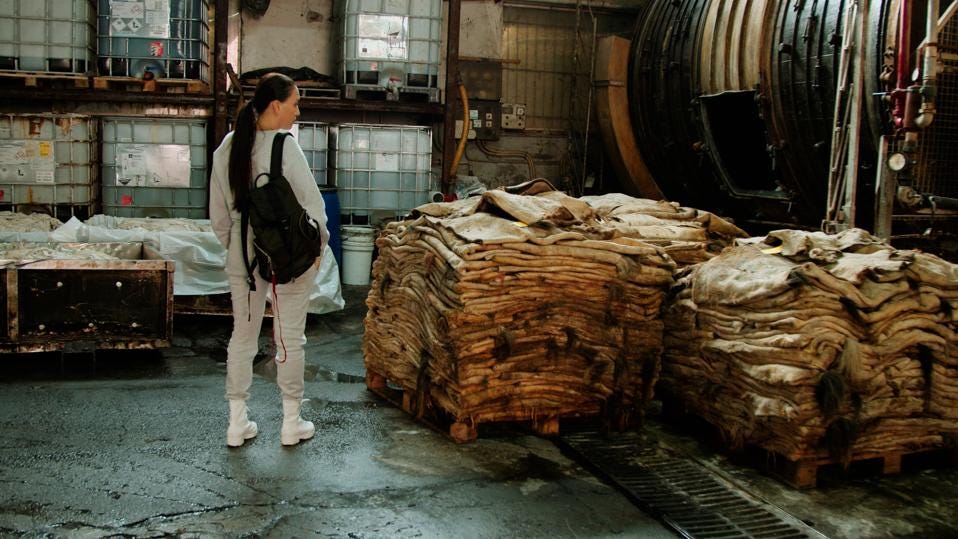 Cappelli visits tanneries in India, speaks with migrant workers in Italy, explores deforestation in the Brazilian Amazon, tours fur wholesale markets in China and breaks into a farm in Australia with activists to rescue an orphaned lamb.
This documentary is about far more than just animal rights though. Cappelli taps into the current conversation around sustainability and presents an argument that the social and environmental impact of animal-based materials has not been accurately portrayed. Expert voices featured in the documentary include vegan activist Ed Winters, sustainability advocates Samata Pattinson, Dana Thomas and Bandana Tewari and representatives from professional bodies Fur Europe and Australia Wool Innovation.
Slay came because I think there is a conversation on track when it comes to sustainability and what we're doing to the planet, and to people in the supply chain, but when it comes to animals, I felt that there was a blind spot. Not just animals themselves, but the impact that it has on the planet and the people who either work in the supply chain or who live in areas that are affected by these industries. I felt like it was an opportunity to start this conversation and get people who really care about sustainability and social justice to also take in the ethical treatment of animals into the equation.
You specifically focused on fur, leather and wool. Why did you choose those three?
I think these are the three big ones if I look at my own closet and if I look around me. We ran investigations in seven countries, we checked human rights issues, environmental rights issues, animal rights issues, it's already quite a big scope! Maybe in the future there will be some opportunities to dive deeper into some of the topics that couldn't be in the film like ostrich feather, down, cashmere, alpaca or silk.
You worked with Keegan Kuhn on this particular project. Do you hope that the documentary might be a Cowspiracy for the fashion world?
What I really liked about Cowspiracy is Keegan did an excellent job of creating that conversation with a very limited budget. For me, that was the inspiration. I would say that in the case of Slay, it's more about engaging with fashion professionals and sustainable fashion and ethical fashion activist and seeing how we can work together. This is why my partner on this is Emma Håkansson from Collective Fashion Justice. I think that she's doing an excellent job in incorporating everyone, not leaving anyone out of the conversation, not putting one in front of the other. The hope is to really accelerate the adoption of better practices and materials.
I always made this with the audience in mind and my audience actually was, I would say, me 10 years ago. Someone who, on a daily basis, doesn't really think or care about this thing, but out of pure ignorance. I think that there are a lot of people out there, whether they work in fashion or not, that actually would care more if they had access to this information. A big focus is to break out of these echo chambers.
➔ Read the full interview on Forbes