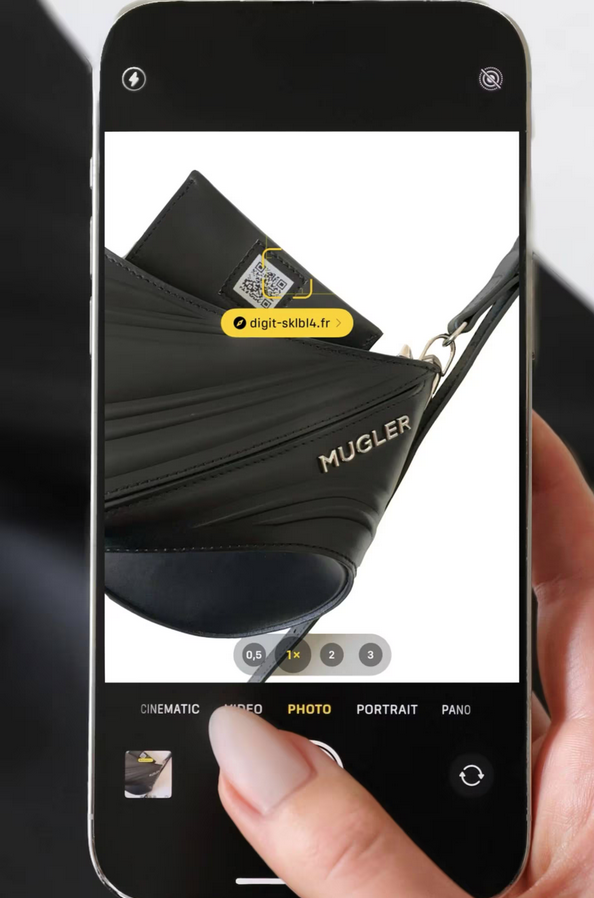 Mugler's bags are getting a digital update. On Tuesday, the French luxury brand announced its Spiral Curve 01 and 02 handbags will come equipped with their own digital product passports, or DPPs. Buyers can scan a QR tag inside and enter a code located within the bag to access a unique online profile giving them information about the life of the bag, such as details on its composition and manufacture; a digital twin of the physical product; and access to exclusive offers and services, like early entry to private sales.
The motivation is two-fold. Mugler sees the DPPs as a way to add value for customers making a long-term investment in a pricey handbag. But it's also getting ready for a major new set of EU regulations coming down the pipeline. The European Commission is gearing up to require fashion and select other categories of goods to give each item its own DPP as early as 2026 as part of a broader effort to push greater sustainability and transparency in industries operating in Europe.
"For us, it's trying to take what will be eventually a government constraint and turn it into an opportunity," said Adrian Corsin, Mugler's managing director.
Over the past few years, fashion companies had already begun to explore the potential value in giving digital IDs to their physical goods, viewing them as a way to let customers authenticate products, transfer ownership and access an array of services like resale and repair. The impending EU rules have accelerated those efforts and created a sense of urgency as brands start thinking about how to make sure they're in compliance.
The technology providers helping brands create and manage their DPPs are eagerly working to satisfy the demand. The Aura Blockchain Consortium, an alliance of luxury companies including LVMH, Prada, Cartier and OTB, has already created blockchain-based IDs for more than 20 million products and is seeing "huge traction of brands right now asking for a DPP," said Romain Carrere, the group's new chief executive and general secretary. Arianee, another blockchain-based platform and the provider of Mugler's DPPs, has created more than 1.6 million DPPs, with 10 brand partners — all watchmakers — on track to have 100 percent of their new products covered by early 2024, said Pierre Nicolas Hurstel, Arianee's co-founder and CEO. EON, a cloud-based platform used by Coach, Chloé and Mulberry, has seen a "dramatic" uptick in inquiries, according to Natasha Franck, founder and CEO.
"The legislation that's passing in Europe, I believe, is going to be a huge accelerator," said Sarah Willersdorf, Boston Consulting Group's global head of luxury. "But because many US businesses have either manufacturing or distribution in Europe, I believe it's going to have a broader impact."
The question now is how these efforts will continue to scale, and whether consumers — not just regulators — will make use of these digital tools.
Business and Compliance
Exactly what the EU rules will entail remains to be determined as the final details are still being worked out. But according to the European Commission, the DPPs should help shoppers and relevant businesses make informed decisions when buying items, make it easier to repair or recycle the item and improve transparency around its environmental impact. The DPP needs to be easily accessed by scanning a "data carrier" of some sort, which should also allow authorities to "better perform checks and controls." At the moment, final approval of the rules is expected in 2024, and they would come into force in 2026 or 2027.
Brands working on DPPs have generally begun with small implementations as they work out how to extend them more widely. Dior enabled Aura's DPPs on its B33 sneakers, while Loro Piana and Prada used them for limited collections — a capsule of high-end merino wool garments and a collection of jewellery made from recycled gold, respectively.
"There are many brands that today are testing the DPP, because it takes time for brands to do the production side," said Aura's Carrere. "For example, if you put an NFC chip in the product, you are changing the production process, so it takes time."
Carrere, who recently succeeded Daniela Ott, is tasked with driving a new phase of growth for Aura. More than 40 brands are already members of the group, and several more will be announced within the next six months, Carrere said. His strategy to attract new Aura members and get brands to introduce DPPs is to have each one start with a use case that it can scale if it chooses.
"[It] touches almost every factor of our industry, from purchasing to supply chain to IT to legal," said Mugler's Corsin. "That interdisciplinary element of this project did make it completely unique."
Mugler first started thinking about creating DPPs two years ago, during the frenzy around NFTs and web3, Corsin said. (The blockchain-based IDs are technically NFTs.) But it didn't want to jump in with something gimmicky or too abstract for users. It took time to create an experience it believed added value and was simple enough for anyone to use. In the past year, it has been working "intensely" to get its DPPs ready, according to Corsin. Bags were a natural starting point, since they're a long-term investment for customers, and Mugler plans to keep rolling them out to more products.
Given the scope of what brands are trying to do, the impending EU regulations aren't so far off, even if the start date is ultimately pushed back, as some expect. Companies may need to make technology investments, rethink processes and get a large number of people trained and aligned on creating DPPs for any products that might be affected. Many of EON's brand clients have a three-year roadmap for going from instituting digital IDs on an initial collection of products to having their whole assortment covered, Franck said.
Brands are at least able to start by introducing basic digital identities and then upgrade them as they're able. Prada said in a statement that it plans to leverage Aura's DPPs for future collections and is working on an advanced version that will feature EU-mandated information, added functionalities and an enhanced customer experience.
But all this work takes time, which is running low.
"For any of my clients and brands I'm speaking with, most of them have a plan in place," Willersdorf said. "If you're only starting to think about it now, it's going to be a sprint to the finish line."
Will Shoppers Care?
Though the hard-luxury space won't be affected in the first phases of the EU's new rules, it's actually where brands are making the greatest strides in implementing DPPs. Hurstel of Arianee noted that, among high-end watch brands such as Breitling, IWC Schaffhausen and Panerai, DPPs are becoming the norm.
These products arguably make the most sense as candidates for digital identities because of their high costs and longevity. They can have multiple owners in their lifetimes, so there's clear value in giving shoppers a digital means to authenticate them and view their full history. It's less clear whether consumers will care as much about that information for a $15 sweatshirt from a fast-fashion chain.
"For the most part, customers are not asking specifically for DPPs," Willersdorf said. "But they are wanting more standardisation."
By that she means something like the way produce may be certified as "organic," allowing average consumers — and not just those strongly committed to sustainability — to shop in a more discerning manner. In the EU's vision, DPPs could help.
The push to encode more product information digitally has support outside the EU as well. Last year, the American Apparel & Footwear Association, a large US trade group, wrote a letter to the US Congress asking for legislation that would allow brands to swap their physical labels for digital ones.
Carrere noted that there's already a subset of customers who are tech-savvy and will eagerly scan products. The rest will probably need education. Brands, meanwhile, are learning what works best themselves. In posts online about DPP deployments like Dior's and Coach's, commenters have seized on what they see as shortcomings, such as a difficult user experience or inadequate information.
These may be some of the growing pains that come with new technologies. But if nothing else, it indicates that people are starting to make use of these digital profiles.
"It's happening," Hurstel said. "It's not sci-fi. This is now."
Read more – BOF