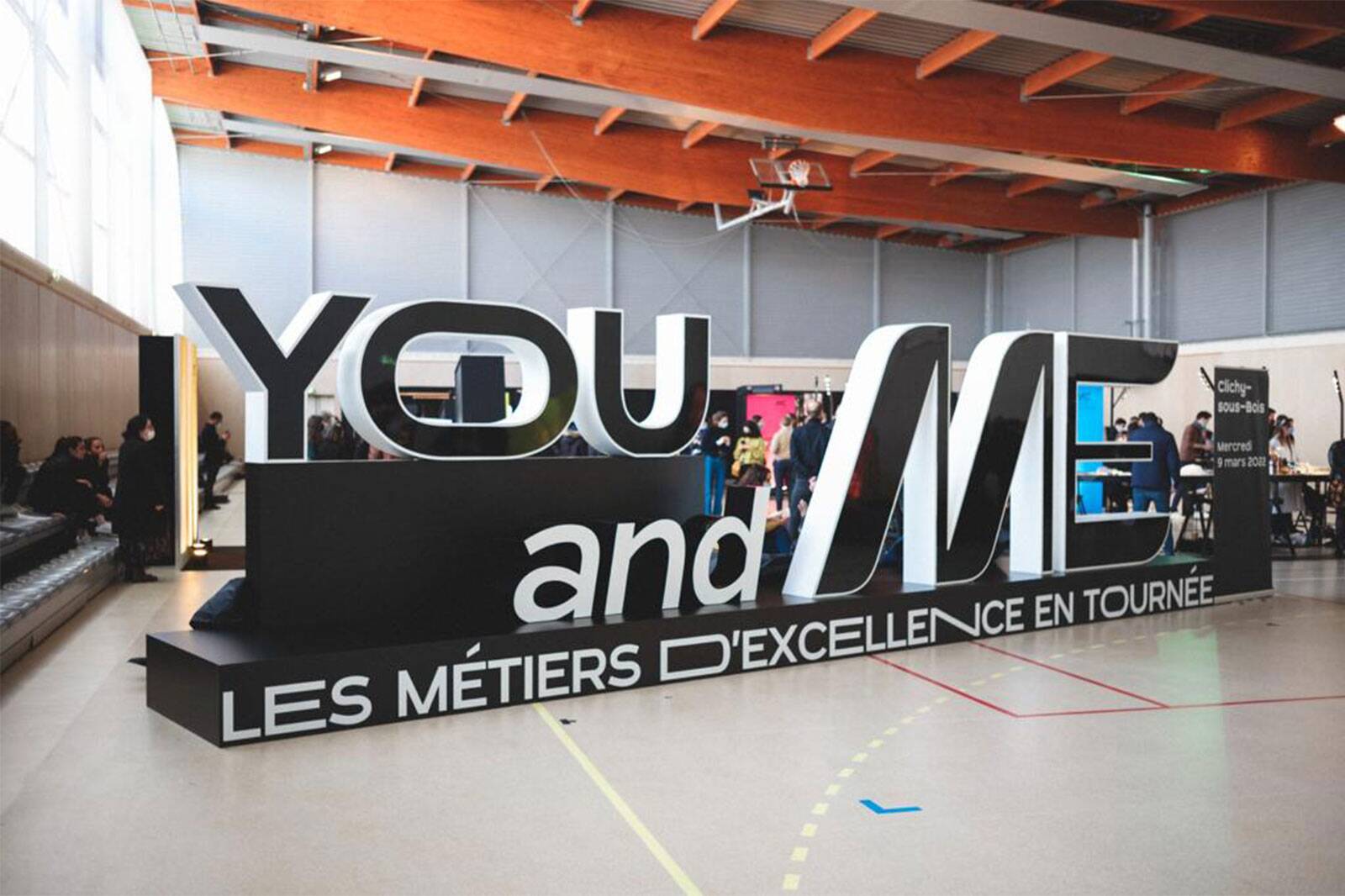 Organized annually since 2015, the Métiers d'Excellence recruiting initiative enables a broad public to learn about career opportunities in creative, craft and customer experience professions that center on exceptional skills, thanks to a vast range of training and work/study programs or internships, as well as job offers in over 30 varied fields such as stylist, couturier, leather goods artisan and sales associate.
Dubbed "You and Me", this eighth edition is sponsored by former NBA and international basketball star Tony Parker. With a dual live and online format, the traveling event kicks off a recruiting campaign that will run until the end of April and aims to fill more than 1,200 positions (600 apprenticeships and internships, plus 600 permanent or fixed-term contracts) available at LVMH Maisons in France, to help drive their continued growth.
The "You and ME" campaign debuts today in Clichy-sous-Bois, a longstanding partner of the Métiers d'Excellence LVMH, with Tony Parker in attendance. The tour then continues to cities in and around LVMH employment catchment areas:  Reims on March 18, Valence on March 23, Orléans on April 1 in partnership with the Cosmetic Valley, and finally Paris on April 6.
"We have a record 1,200 offers available this year, making it more important than ever to reach out and engage with our future talents across France. 'You and ME' is designed for direct and local contacts, illustrating the desire of the LVMH Group and our Métiers d'Excellence to effectively support young people and reskilling candidates by helping them learn about opportunities in professions that are actively recruiting and which are essential to our shared cultural heritage. We are thrilled to have support from Tony Parker, with whom we share the values of excellence, passing on skills and passion," says Chantal Gaemperle, LVMH Executive Vice President Human Resources and Synergies.
"I'm delighted to be supporting LVMH and its Institut des Métiers d'Excellence as sponsor of the 'You and ME' Tour. Education, of course, as well as access to excellence, recognition of savoir-faire and passing on skills are all values that inspire me each day. I launched my first Tony Parker Adéquat Academy in 2019 in Lyon, and the second is set to open in Saint-Ouen just after the Paris 2024 Olympic Games. Like the LVMH IME, these schools are all about passion and provide real-world laboratories to define new ways to support young people and help them pursue their life plans," comments Tony Parker, founder of the Tony Parker Adéquat Academy.
The agenda for the events includes a presentation of the Métiers d'Excellence and training programs offered by the Institut des Métiers d'Excellence LVMH (IME) and its partner schools, live demonstrations by tutors and apprentices, plus coaching sessions (résumé writing and preparing for job interviews) with Human Resources teams from LVMH Maisons.
Read the full press release on LVMH