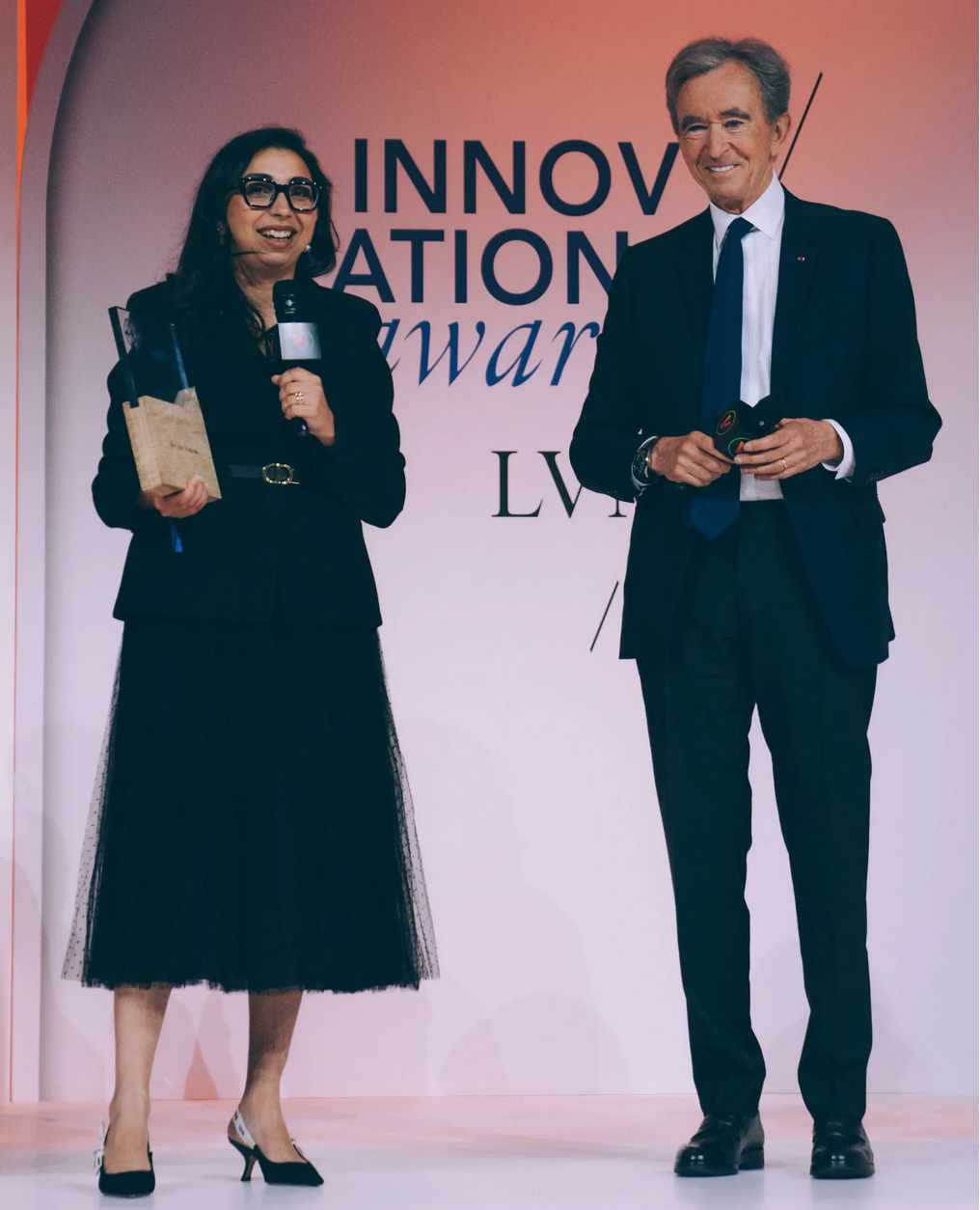 LVMH has awarded its 2023 Innovation Award to repair platform Save Your Wardrobe (SYW), a London-based startup that connects store representatives with tailors, cobblers and restorers to fix clothing, shoes, jewellery and bags.
"Save Your Wardrobe perfectly illustrates our ambition in creative circularity, a pillar of our environmental roadmap, Life 360," Bernard Arnault, chairman and CEO of LVMH said in a statement on Thursday. "I am convinced that their solution will very quickly resonate with the aspirations of our maisons and the expectations of our customers."
Founded in 2017 by Tunisian entrepreneur Hasna Kourda, SYW wants to help brands ensure that "the experience post purchase is as outstanding as the purchasing experience", she says. SYW can be integrated in store, online or with brands' existing CRM. The platform is able to onboard in-house service providers or leverage its network of clothing care specialists. It currently works with an ecosystem of artisans in Germany, UK, France and the US (with the plan to expand to the Middle East, South Korea and Japan).
The startup will be onboarded at La Maison des Startups LVMH, the group's business acceleration program, within Paris incubator Station F from September for a year.
"We are going to increase our repair capabilities; we need it," says LVMH's chief information officer Franck Le Moal, adding that it's a challenge for fast-growing fashion houses to find enough professionals in sewing, shoe repairs and similar artisans to fix items to keep up with the demand. Having vetted partners will help maintain the life of goods and keep them in customers' closets longer. "It's not secondhand, it's durability," he says. (LVMH has largely stayed away from the secondhand business model, with the exception of Rimowa which has a new programme called 'Re-crafted', allowing customers to bring their Rimowa aluminium suitcases to selected stores and receive a gift voucher for a new one. The pre-owned suitcases are refurbished and come with a two-year warranty.)
SYW already works with Zalando and Hugo Boss and has started conversations with LVMH's Louis Vuitton and Celine.
The LVMH Innovation Prize, now in its seventh edition, recognises the technology companies shaping the future of the luxury and fashion industries and "creates a conduit for creating and accelerating collaborations between LVMH maisons and promising startups". Last year's winner, wait-and-try luxury delivery service Toshi today works with seven brands in the group, including Tiffany, Louis Vuitton and Dior.
SYW won in the omnichannel and retail category, as well as scooping the overall prize. More than 1,300 startups applied for the award, up from 950 last year. In the other categories, winning startups included Chatlabs (data and artificial intelligence special mention), Neobrain (employee experience and D&I), Vidmob (image and media for brand desirability), Absolute Labs (immersive digital experiences), LivingPackets (operations excellence) and Woola (sustainability and greentech).
Presenting the awards during the Vivatech conference in Paris on Thursday morning, Arnault said: "The success of a company like LVMH, which was a startup some years ago and which we try to still manage as a startup, is due in part to the family spirit." He toured LVMH's conference booth, called 'Dream Box', with his eldest son Antoine Arnault, who is LVMH's head of image, communication and environment as well as CEO of Berluti, chairman of Loro Piana and vice chairman of Christian Dior SE. They checked out innovations by LVMH houses including Rimowa, Louis Vuitton, Tiffany, Bulgari, Christian Dior and Ruinart. Louis Vuitton notably presented the "digital show experience" using Epic Games's Unreal Engine 5 to build a six-minute immersive experience around the men's fashion show staged on 19 January 2023, allowing users to discover the seven rooms that composed the set.
Read more – Vogue Business