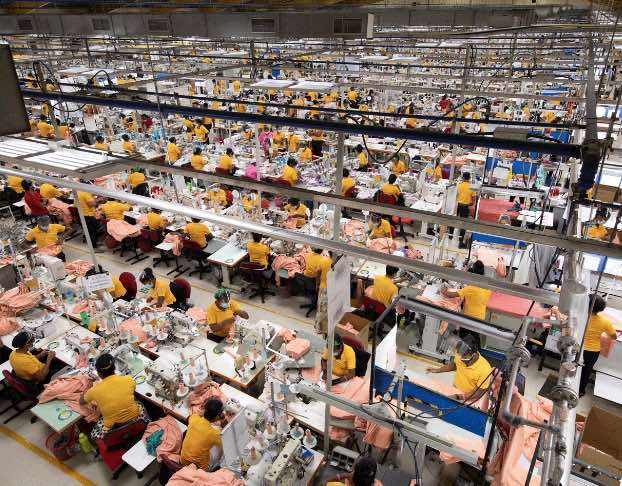 Against a backdrop of global logistical disruptions, political and economic instability, and weakening market conditions, the past few years have been turbulent for fashion suppliers.
Many have pivoted to new business models or sourcing bases as they seek greater agility to be able to respond to supply chain shocks — but challenges continue as some brands and retailers, faced with a stock overhang, have reduced orders. Looking ahead to 2023, lower order volumes will continue to be an issue in the near term, say suppliers. However, as the energy crisis continues in Europe and inflation fluctuates globally, sharply rising costs are the biggest concern.
Suren Fernando, CEO of south Asia's largest apparel manufacturer MAS Holdings, which supplies global brands including Victoria's Secret, Calvin Klein and Tommy Hilfiger, says the pandemic years have shown the dangers of a supply chain breakdown. "No one could have foreseen this disruption, but now we know the risks we face, and our key lesson has been to build our business in such a way that we can manage this risk effectively," he says.
There are opportunities to build a better, more resilient fashion supply chain in 2023. Suppliers are prioritising vertical integration, strengthening relationships with brands and diversifying their supply chains to navigate the choppy waters.
Inflation uncertainty
Fashion suppliers are particularly worried about hyperinflation, or rapid and excessive price increases in local markets.
Suppliers already operate on tight margins, so higher costs are difficult to absorb. "My biggest challenge for 2023 is uncertainty over inflation," says James Barden, owner of Rextrek Group Limited, which supplies a range of premium brands in the UK and US, manufacturing from China, Vietnam and Portugal. "It's the one thing I'm truly scared of, because it could ruin us all. If everybody wants more money then I'm going to have to put up my prices, and all my customers are going to have to accept it. Will they?"
Samuele Shalloufeh is founder and CEO of Italian-based sourcing agency Benario Consulting, which works with suppliers and manufacturers on behalf of large global luxury brands based in Italy, Europe and the US. He predicts that the rising cost of raw materials and energy are likely to push the firm's overall costs up by 5-7 per cent in 2023 — and he believes there is no choice but to pass this on to clients.
"We are going into 2023 with expenses increasing for everything," Shalloufeh says. "Prices that were agreed at the start of a project six months ago, for example, are being increased due to the rise in overall costs, such as electricity."
Rising costs could be further exacerbated by the fall in order volumes. "The political and economic turbulence taking place globally makes 2023 a tough year to predict," says Fernando of MAS Holdings. "One challenge we do see is softening market conditions due to [brands and retailers] having large amounts of stock on their hands, which leads to less order volumes coming in. This is likely to continue in the first half of 2023."
With the threat of rising costs and inflation, suppliers say closer partnerships, better understanding and greater communication with brands will be more crucial than ever. Better communication means brands will have more understanding about why prices are where they are. "We're closer now to all of our customers than we've ever been," says Rextrek's Barden. "And we've been working with some of them for 20 years."  However, he warns that if prices continue to escalate further in 2023, there may be a tipping point when brands begin to push back.
In this challenging climate, Miles Lethbridge, UK logistics leader at PWC, says it's vital that brands support their suppliers, to preserve a strong and diverse sourcing base. "In many cases, brands need their suppliers to help innovate their own supply chains to help drive cost [efficiencies]," he points out.
Diana Kakkar, founder and CEO of London-based luxury womenswear manufacturer Maes London, which supplies British luxury fashion brands such as Christopher Kane, JW Anderson and Halpern says "collaborative communication" and planning ahead are key. She forecasts that costs will rise across the board in 2023, and as a result there will be a "marginal increase" in Maes London's sampling rate.
Expanding the production map
The pandemic highlighted the dangers of overreliance on one region or country for supply. For many companies, the long and laborious process of supply chain diversification will continue to be a priority in 2023.
"What we are focused on for the next year is to strengthen our agility and resilience through vertical integration, nearshoring and exploring more on-demand manufacturing," says MAS Holdings's Fernando. MAS will do this by building manufacturing capabilities outside of its core base of Sri Lanka; for example, by leveraging opportunities in Indonesia, Vietnam, Bangladesh, India, Jordan, Kenya and Haiti.
One advisor to some of the largest Asian fashion suppliers, who asks to speak anonymously, predicts more global companies will move sourcing out of China due to the country's "silent trade war" with the US over cotton imports in the wake of the Xinjiang ban. "Virtually all the major brands have had stock stopped and checked by customs going into the US. What we're seeing, with the very smart Asian suppliers, they are now fully vertical outside of China. We're seeing big investments in Australia for growing cotton and in spinning and weaving in Vietnam, for example," he says.
"The UFLPA [Uyghur Forced Labour Prevention Act, which was made law by President Biden in December 2021] is certainly impacting the movement of imports into the US and continues to provide challenges for brands and retailers," says Marc Lewkowitz, president and CEO of Supima, which represents American Pima cotton growers across America, supplying brands such as Hugo Boss, Michael Kors and Ralph Lauren. "This is in addition to the continued trade tariffs between China and the US. The industry is likely assuming that these matters will persist through the year ahead."
Vertical integration
Vertical integration, a feature of recent years in the luxury industry, has accelerated in 2022 as pressure to find savings and improve accountability have increased. "Some of the luxury goods companies have been upstream integrated already, like Hermès for example. Other players, such as Kering and Prada, are increasing their level of upstream integration, and the percentage of volumes they produce directly," says Luca Solca, senior analyst for luxury at consultancy Bernstein.
Much of the activity has been focused in Italy, where many luxury fashion brands look to for its high-quality craftsmanship. In recent months, for example, Golden Goose has acquired its largest supplier, Italian Fashion Team; and Fendi took a majority stake in Italian knitwear company Maglificio Matisse.
Part of the challenge, however, is that many specialist suppliers in Italy are small and cannot fulfil every brand requirement. In 2020, former Bulgari and LVMH exec Francesco Trapani and a consortium of investors set up Italian supply chain platform Gruppo Florence to try to address this. Gruppo Florence represents — and in many cases, invests in — Italian luxury fashion manufacturers selling to over 60 international luxury brands based in France, Italy, the UK and US.
The big luxury brands are cooperating with an extremely fragmented supply chain," explains Attila Kiss, CEO of Gruppo Florence. "Hundreds and hundreds of very small family-owned companies [are] not able to efficiently face those challenges and create the sophisticated services requested by the managers of these brands." By investing in these suppliers, Gruppo Florence is "preserving or even improving the main peculiarities of the small size Italian companies, like creativity, reactivity, flexibility. We are assisting in the renaissance of the Italian supply chain, in the interest of the brands themselves," he says.
In 2023, Kiss expects to see further concentration of M&A activities and integration. This, he says, will improve services and allow greater investment into research, technical innovation and digitalisation.
Vertical integration also allows brands greater visibility of their supply chains, points out Barden. "Compliance is crucial. It's very important to have all the certificates, otherwise no customers will want to work with you anymore. For example, with a sweater, you need to be able to show where the farm is, where the sheep are, are they being looked after correctly. It is complete knowledge of where everything is from within that supply chain and complete knowledge that suppliers are on top of everything. This is why we're seeing brands and retailers buying up parts of their supply chain."
Better business
Producing more, and faster, used to be the way to add value to the bottom line — but not anymore. As consumers wake up to the impact of overproduction on the planet and people in the supply chain, investing in resilience, building agility and being purpose-driven will all be key strategies for success in 2023 and beyond.
"Sustainability has always been top of our agenda and over the past two years we have seen almost all our strategic customers making this a priority," says Fernando of MAS Holdings.
Read more on Vogue Business