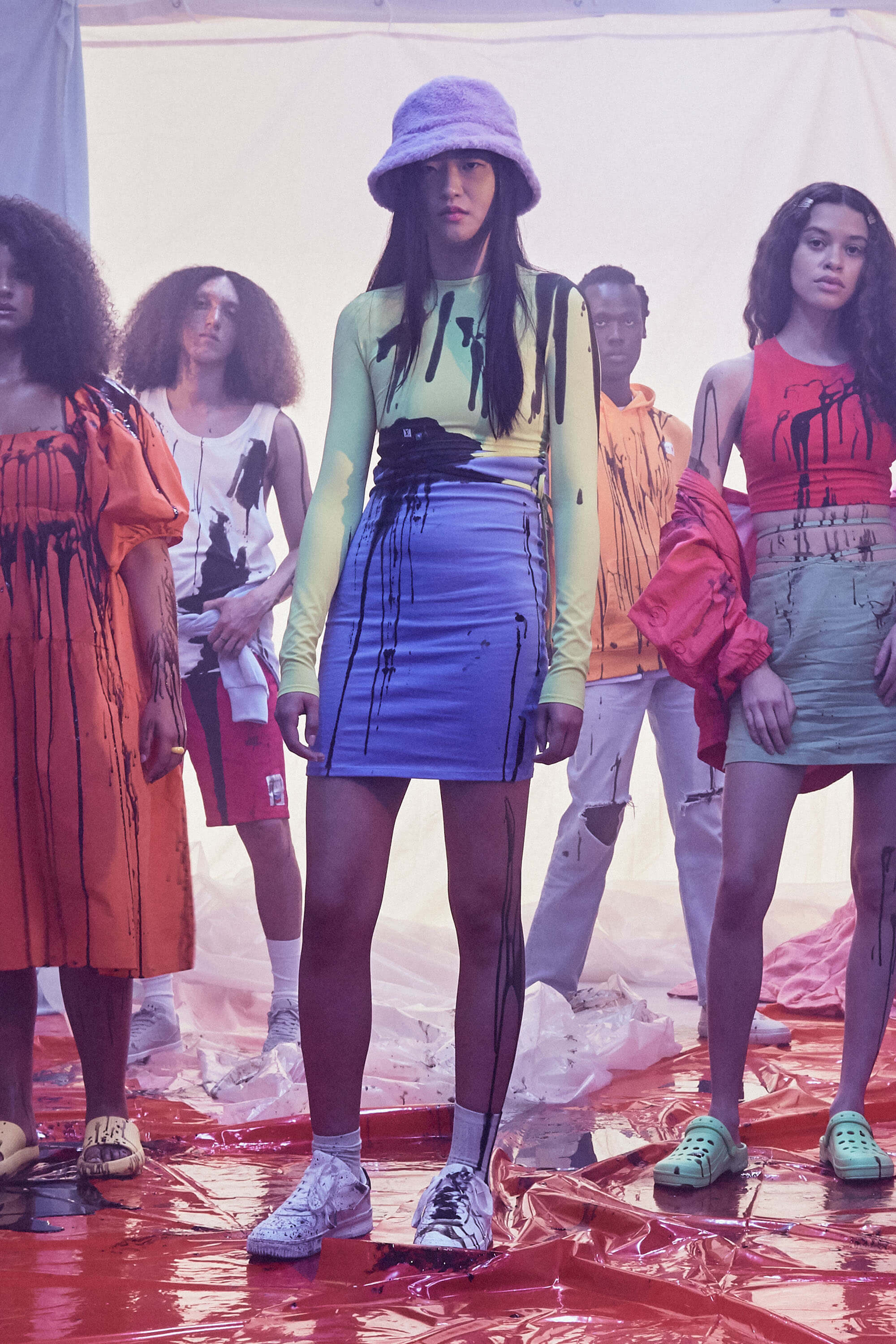 Fashion remains heavily dependent on plastic to make clothing, according to a report released last week by the nonprofit Changing Markets Foundation. As customers and policymakers begin to more closely scrutinise plastic's effect on the planet, synthetics could prove to be the industry's next major liability and hurdle.
In the report, called Synthetics Anonymous, Changing Markets Foundation argues that brands lack the commitment to shift away from synthetic fibres like polyester and nylon, undermining their stated concerns about sustainability. Synthetic fibres depend on fossil fuel production, and they shed microplastic fibres into the environment; these microplastics have turned up everywhere researchers have looked, with major effects on aquatic life and human health.
Concerns around the use of synthetic fibres also extend to their recycled versions, which have become more common for brands positioning them as sustainable. Experts say that these fibres have about the same impacts on the environment as virgin synthetics.
Attention on fashion's use of plastics is increasing. A separate nonprofit, A Plastic Planet, last week launched Plastic Free Fashion, a campaign to draw attention to fashion's role in the world's "plastic crisis" and help guide the industry toward plastic-free solutions. The group also announced a call, with the support of UK policymakers and other campaigners, for a mandatory labelling system that would notify customers when garments are made with synthetic fibres.
"For years, the fashion industry's impact on plastic pollution has gone under the radar," said Sian Sutherland, A Plastic Planet co-founder, in a statement, referencing the use of fossil fuels and plastic microfibre pollution. "Shoppers deserve to know the impact their clothes are having on the planet."
While brands are pledging increasingly ambitious commitments to reduce their environmental impacts, from organic sourcing to climate positivity, they are overlooking plastic, say experts. Synthetic fibres, in addition to releasing microplastics into the environment and often using toxic chemicals in their production, rely on continued oil and natural gas extraction at a time when researchers say that the world needs to move away from all fossil fuels. Recycled polyester has become popular as a more sustainable choice, which critics say exacerbates the problem because it enshrines the continued role of synthetics in fashion's future and enables the industry to otherwise continue operating business as usual.
There's significant debate over what the best long-term solutions are for the synthetic clothing that already exists and what the ideal mix of materials should be moving forward. Brands counter that synthetics are necessary for apparel performance. But experts say synthetics pose problems for the planet that the industry cannot solve, especially if it doesn't acknowledge their existence, pervasiveness and severity first.
"They're not willing to change their dirty habits, so they're trying to greenwash their way out of this crisis," says Urska Trunk, campaign manager at the Changing Markets Foundation. "This reliance on synthetic fibres basically perpetuates the industry's dependence on fossil fuel extraction — and that's in the midst of the climate crisis. This will inevitably worsen because no brand has made a clear commitment to phase out their reliance on fossil fuel-based fashion."
Read the full article on Vogue Business