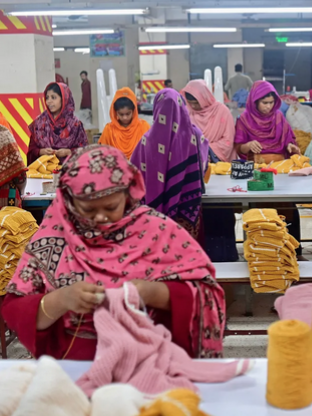 Investors in Europe are calling for brands to take more ownership over their supplier relationships and purchasing practices — which are often overlooked but hugely influential in how factories operate — to make for a more equitable industry. It's the latest call from within for fashion to take better care of its workers throughout the supply chain.
The Platform Living Wage Financials (PLWF), an alliance of 20 financial institutions with over €6.9 trillion of assets under management and advice, issued a public statement last week urging brands to "review how they do or do not enable suppliers" to meet worker safety standards. Released to commemorate the tenth anniversary of the collapse of Rana Plaza, the letter also called on companies to make such safety standards mandatory by signing the International Accord, the binding agreement between nearly 200 brands and global trade unions meant to ensure factory safety and improve working conditions in the garment industry. It drilled down to one key question: are companies "adhering to responsible purchasing practices, paying fair prices and committing to long-term business relationships with suppliers"?
In calling for the fashion industry to change its purchasing practices, the letter is also a recognition that the entire approach to investing needs to change, says Johanna K Schmidt, sustainability researcher, impact and economics at Triodos Bank, one of the institutions that conceived of the idea for the PLWF in 2016 (before it was officially launched in 2018). With a focus on the garment and footwear sectors as well as agrifood and food retail, the coalition aims to encourage, support and monitor investee companies to enable living wages and promote social and economic resilience in their supply chains.
Worker safety standards, and the mechanisms that brands deploy to ensure those standards are upheld — and what actions brands take if they are not — are not something typically scrutinised by investors when choosing where to place their funds, meaning that companies not doing due diligence to ensure suppliers are paying decent wages or meeting environmental standards are receiving financial backing without any pressure to change their ways.
"The typical investment equation doesn't include the impact on communities or the environment. It focuses on risk and return only," says Schmidt, who is also one of three management committee members of the PLWF.
Most investor engagement with the companies they invest in regarding responsible practices has focused largely on transparency — do they have certain policies in place, for example — and on short-term investments, neither of which go far enough because they don't address the root causes of problems. What the PLWF is trying to do — and what advocates and organisations such as the Better Buying Institute have long been working toward — is to force a more fundamental rethink of how global supply chains are set up and how investors calculate their asset valuation.
The letter doesn't go so far as to require specific actions or commitments from companies, making it unclear what, if any, change will come as a result. However, it is undoubtedly a move in the right direction, supply chain experts say, as it's significant for an investor group to be so vocal on this subject at all. It could serve as a wakeup call for brands not wanting to risk financial support.
"It's interesting PLWF has done this. Better Buying has been highlighting for a while now how investors could be real agents of change, by asking the companies they're looking to invest in the right kinds of questions," says Lindsay Wright, senior communications manager at the Better Buying Institute. "The impact will be seen in terms of the 'how' brands and retailers review how their purchasing practices are impacting suppliers."
It will be important for investors to point companies to the right tools — that provide independent data allowing comparison of companies' actual purchasing practices, rather than self-reported data, for instance — and to define what counts as "acceptable evidence", says Marsha Dickson, president and co-founder of the Better Buying Institute.
In the letter, PLWF says that brands need to implement human rights due diligence and establish requirements for suppliers, but also to realise the "role, responsibility and power they have in the setting of global justice". Requiring suppliers to maintain certain standards, or implement certain sustainability measures, requires significant investment on their part, meaning that investors are not neutral parties in determining whether fashion successfully adopts the equitable and sustainable practices it has been promising. Suppliers often lack the means to cover those needs themselves, a problem exacerbated by the fact that most brands are not only unwilling to pay premiums to help defray the costs, but are also actively paying lower prices over time, according to the Better Buying Institute's research.
If the PLWF letter has the intended effect, it will help investors to replace their risk-return lens with an impact-risk-return lens, says Triodos's Schmidt. "We need to look beyond the numbers and bring back human judgement and common sense."
Read more Vogue Business