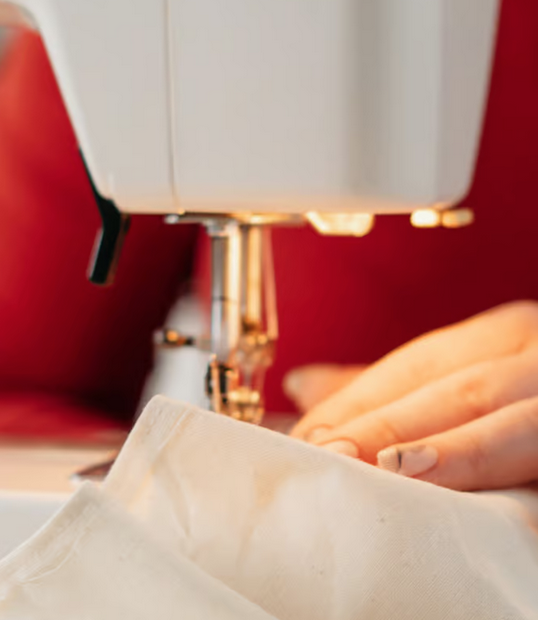 Bypassing "a predatory economy that cares neither for the planet nor for people (…) is possible, it's not a utopia", said Anne Hidalgo at the inauguration, hailing "a peaceful, gentle revolution". The factory is located in the south of Paris, in the 13th arrondissement, on rue Jean-Baptiste Berlier.
Six occupants share its 1,150 cubic metres, on the second floor of a glass building designed by Dominique Perrault: the entrepreneurs' association Fashion Green Hub, the work-integration associations Hawa, Espero and Trevo, the Whole dyeing workshop and the Coco&Rico design and garment workshop.
These organisations are working towards more responsible fashion by recovering unsold goods, production offcuts and end-of-stock items. They produce Made in France products, provide training in the social economy and take on people who have been excluded from the labour market.
According to the City of Paris, by 2030, the Parisian circular economy will create 3,000 jobs and avoid or recycle 20,000 tonnes of textile waste a year. "Luxury brands are very interested. They tell us, 'We have warehouses full of dormant stock and we don't know what to do with it'," says Lucas Thivolet Conde Salazar, from Fashion Green Hub Grand Paris.
Paris City Council has paid €2.5 million in subsidies to the RIVP (Paris City Council's property company), which has helped to keep rents down at the factory.
The factory is "central, accessible and bathed in light", enthuses Thomas Ebélé, President of Fashion Green Hub Grand Paris, who praises "a site at the heart of the textile industry's heritage", where the Bièvre used to flow, supplying dyers and tanneries.
"Pushing back the boundaries
Coworking spaces, a photo studio, design and tailoring workshops… A hushed atmosphere reigns in the factory, barely disturbed by the sound of fabrics brushing against each other and the discreet rhythm of the sewing machines that are activated from time to time.
"You see lots of machines and very few workers on them", says Gabriel Defrocourt, co-founder of Coco&Rico, a design and garment workshop for a number of brands, from Marine Serre to Paul & Joe, using organic, recycled materials produced in France. Unlike global production, everything is made on site, requiring a lot of equipment and operated by "experienced mechanics", explains his partner Cléa Polar.
Further on, three seamstresses are busy working on a Terre de Sienne-coloured fabric. This is an "all linen" collection, sewn with "100 per cent cotton" thread, without the use of haberdashery: "You can forget your skirt on the beach", and it is compostable, assures Lucie Mestre, founder of the L'Unique Façon design office, which is supporting the Imajine brand in its development.
"When I started (a Master's degree in fashion design, editor's note), we didn't deal with these concepts," explains Stacy Venient, a 23-year-old work-study student who previously "didn't think at all" about the environmental issues involved in fashion. "But now it's become obvious: for my collection, I'm going to take extra care," she promises.
At the factory, it was also the "social aspect" that appealed to Maya Takeuchi, workshop manager at Hawa, which employs women in difficulty: "We're a small workshop, but we're in the process of pushing back the boundaries of inequality between men and women".
Under her guidance, Annette Ntsama makes a large denim shopping bag. "Life took the 43-year-old mother-of-one from Italy to France, from the hotel business to dressmaking, but Annette is now certain: "This is exactly what I was looking for," she says with a beaming smile.
Her workshop manager Béatrice Megale finds it "very gratifying" to work for Hawa, thanks to the "feedback" she gets from the women the association supports, and, glancing round, suddenly says: "They're happy". (AFP)
To read – Fashion United