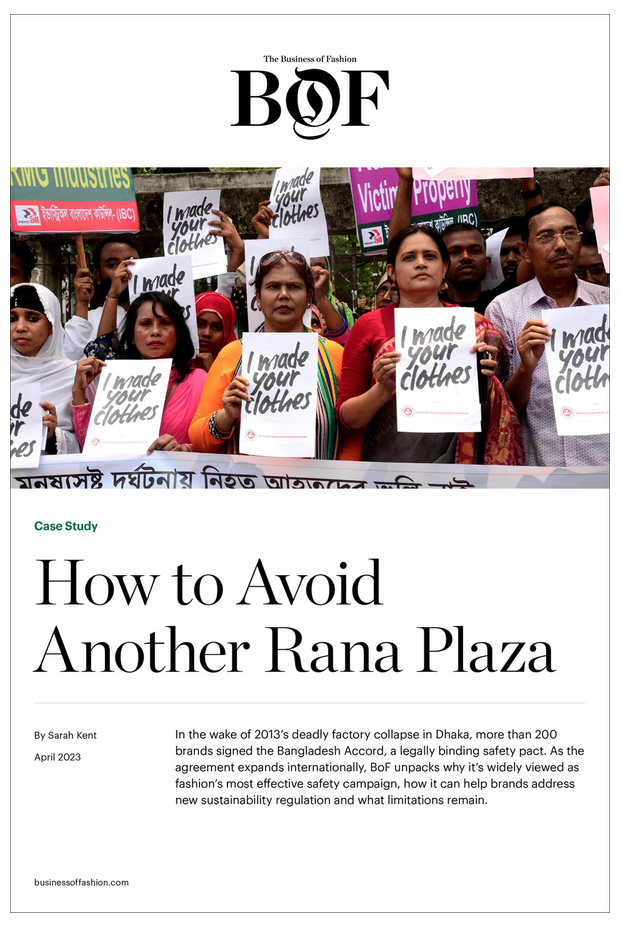 A decade ago, the fashion industry was rocked by one of the worst industrial disasters on record, when Rana Plaza, a factory complex in an industrial suburb of Dhaka, Bangladesh, collapsed.
The eight-storey building held five garment manufacturers, later linked by labour groups to brands including Walmart, Zara-owner Inditex and Mango. (Inditex said it stopped sourcing from the building in 2011 after its audit programme identified issues.)
More than 1,000 people lost their lives in the disaster and thousands more were injured, drawing global attention to critical safety failings in major brands' supply chains.
It changed the industry.
In the aftermath of the disaster, more than 200 brands signed onto a legally binding agreement with trade unions to investigate and address dangerous factory conditions in Bangladesh.
The Accord on Fire and Building Safety in Bangladesh, or the Bangladesh Accord, stood out in a number of ways:
It established accountability in an industry that to this day remains largely self regulated.
It required independent inspections, instead of brand- or factory-backed monitoring programmes.
It was transparent, publishing inspection results and progress on a quarterly basis.
It ensured collective action, pooling brands' buying power and giving labour advocates a seat at the table in driving change.
It required brands to make financial commitments to support improvements.
To be sure, the Accord had critics. For some brands, the binding agreement created too much legal risk and required ceding too much control over their supply chains. Its remit was limited and progress was slower than many labour advocates would have liked. Manufacturers said brands' promises of financial support ultimately didn't amount to much, and the internationally driven initiative took on an awkward semi-regulatory role.
Nonetheless, a decade on, the Accord is widely viewed as the most effective safety campaign in the history of the modern garment industry.
"It absolutely reset the table completely for safety and health in Bangladesh," said Michael Bride, senior vice president for corporate responsibility and global affairs at Tommy Hilfiger-owner PVH.
Singular Progress
But while the Bangladesh Accord transformed safety levels in the factories it covered, labour standards across the industry have otherwise lagged.
More than 60 people died and nearly 600 were injured working in apparel and textile factories around the world in 2022, according to an incident tracker compiled by labour advocacy group Clean Clothes Campaign. Meanwhile, the pandemic has ushered in a new era of worsening risk for other forms of labour abuses, including modern slavery and wage theft.
Against this backdrop, brands are under growing pressure from regulators, consumers and investors to safeguard workers' rights in their supply chains. The challenges are complex, often systemic, and since most brands outsource their manufacturing, typically outside their direct control. The Accord's supporters say it offers an effective framework to help monitor and improve conditions.
In 2021, brands and unions reached a deal to extend the reach and remit of the Accord, after handing over its operations in Bangladesh to a separate organisation. Nearly 200 companies have signed the International Accord for Health and Safety in the Textile and Garment Industry, or International Accord, which aims to transplant the model proven in Bangladesh to other countries and issues. In December 2022, it launched into Pakistan, marking its first push into another country.
This case study draws on extensive interviews and recent on-the-ground reporting in Bangladesh to unpack the elements that made the agreement successful and the challenges it continues to confront. Ultimately, the accountability, transparency and collaborative nature of the Accord are what set it apart from the status quo.
It offers important lessons for an industry at a crossroad.
"There are younger folks coming up, who we want to sell our products to, who are much more in tune with social justice," said PVH's Bride, who also serves on the International Accord's steering committee. "That's going to factor into purchasing decisions — maybe not today or tomorrow, but it will. And for those brands that don't factor it in, it will be a death knell."d
Discover the Case study BOF
Read also Vogue Business