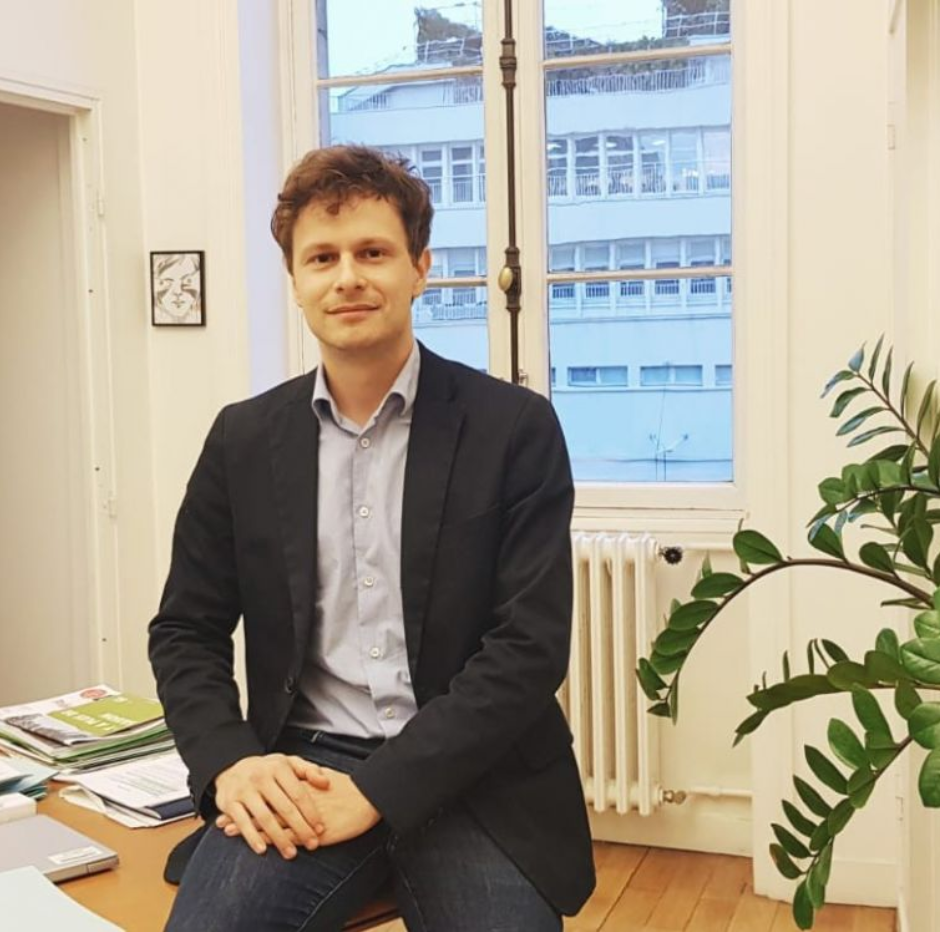 Its pleasant office on the fourth floor of the Town Hall contrasts with the dark ground floor of the 11th which served as the headquarters of the Greens during the municipal campaign. Florentin Letissier, one of the four "ecologists" to be part of the close team of the deputies of the mayor of Paris, Anne Hidalgo, did not however let himself be dismayed by the gold of the imposing building. He appropriated his delegation – the social and solidarity economy, the circular economy, and zero waste – with enthusiasm. "All the players I met, from the big CAC 40 companies to associations and cooperatives, are ready to work together to develop a new economy," he confides enthusiastically.
Structuring the sectors
For this economics teacher, who taught for 10 years in high school and prep school before entering politics, working on SSE combines both the attractions of the field and the networking of an entire ecosystem. "It's concrete, it's real," he stresses. The Mayor has already allocated €4 million to SSE in her recovery plan this summer. "If SSE collapses, tens of thousands of value-added jobs will disappear," Florentin Letissier justifies. "Our goal is that these structures should not close."
The deputy hopes to obtain 7 million euros (compared to 6 million today) to boost the financing of jobs co-financed by the City, which will be directed towards SSE and the circular economy. These sectors today represent 13% of Parisian jobs (10 and 3% respectively). Another success for the deputy: by the end of the Mayor's term of office in 2026, the City will have doubled the number of jobs supported in the SSE, which will represent 12,000 people in 2026.
In the roadmap, he has set himself, and which he unveiled exclusively at Challenges, Florentin Letissier wants to "structure the SSE and circular economy sectors by networking them and work with large companies" in five identified sectors: textiles and fashion; digital, electronics and household appliances; construction; and alternatives to single-use plastics. "I am seeking to establish a dynamic of co-construction and dialogue between economic players and associations," he insists. "It's not me, in my office, who will decide: the players need to create synergies together. My job is to organize it". He hopes to bring SSE players into the city's public procurement markets – which represent 2 billion euros. This is a challenge for this poorly organized sector, which is struggling to change scale.
A deposit system in the 13th
The idea is to establish SSE and solidarity economy companies at the heart of the Parisian fabric, by granting them more commercial space. "We would like to see nearly 30% of private commercial space offered at cost price to SSE and re-employment players," Florentin Letissier hopes.
In concrete terms, networking will be embodied through experiments by neighborhood. For example, to develop an alternative to single-use plastic, the deputy wants to "set up a deposit system in the Deux Rives district, along with the Avenue de France", in the 13th arrondissement. "This is a neighborhood where many businesses are located: we are proposing to local shopkeepers, who sell food, to add a small supplement on their basic price which corresponds to the rental of a package. The consumer would come and return it to the shopkeeper after eating his lunch and get back his rental money. Behind, a member of the left-luggage department would wash the packaging and return it ready for reuse, then return it to the shopkeeper". The second district of this type will be created near the La Villette basin.
Upcycling workshops
On the textile side, the assistant wants to multiply the workshops for making and upcycling (revalorization of second-hand clothes) in Paris, like the workshop "Les gouttes d'Or", in the eponymous district. He hopes to forge partnerships between the cooperatives in the sector and the major fashion houses, as well as the Parisian Paris Good Fashion movement. He also wants to set up a vast resource center, "the hub of re-employment", on the outskirts of Paris, where companies and private individuals would come to drop off and buy furniture.