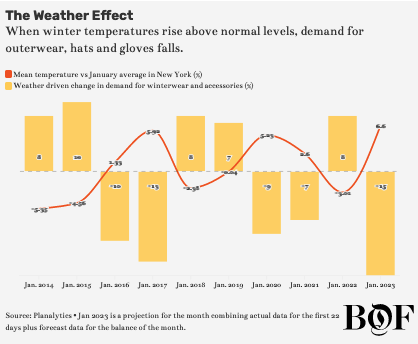 pictures of Alpine ski slopes denuded of snow making headlines. In the US, a Christmas cold snap gave way to an unseasonably warm start to January in many states.
The unusual temperature swings in key western markets are bad news for purveyors of puffy jackets and cosy winter boots. Warmer-than-normal temperatures and a lack of snow in New York this month are expected to drag down demand for outerwear, hats and gloves by 15 percent compared to an average January, according to Planalytics, a company that measures the impact of weather on consumer behaviour.
It's easy to overlook the impact of such weather-induced fluctuations in spending when confronted with the headline challenges currently facing retailers. Big brands' financial reports this month have been dominated by warnings of falling sales as inflation squeezes consumers. Last week, Nordstrom slashed its annual profit forecast, while UK-based Boohoo Group forecast a double-digit decline in revenue. Meanwhile, China's battle with Covid-19 has dampened growth at luxury giants like Richemont and Burberry Group.
But while weather may not be the dominant force shaping the industry's fortunes, it has always had a big impact on how consumers spend. "I have scars from this conversation," said Ken Pucker, a senior lecturer at Tufts Business School and former chief operating officer at Timberland. For the heavy-duty boots brand, whether it snowed in the run-up to Thanksgiving was always a big indicator of how its biggest sale period of the year was likely to go. "Weather does make a big difference," he said.
Now, the way weather impacts quarterly spending patterns is getting more unusual and unpredictable because of the effects of manmade climate change. In contrast to the unseasonable warmth seen in parts of the US and Europe at the start of the month, countries including Korea, Japan and China in northeast Asia are in the grips of a deadly and disruptive cold snap.
Though scientists have not yet analysed the specific ways in which the climate crisis may have influenced this month's unusual temperatures, extreme weather events last year — from Europe's deadly heat waves to flooding in Pakistan — have been directly linked to global heating.
With every fraction of a degree of warming, weather extremes are expected to become more regular and intense, scientists have warned. Last year was the fifth-warmest since records began, according to the EU's Copernicus Climate Change Service. This year could be even hotter.
Read more on BOF