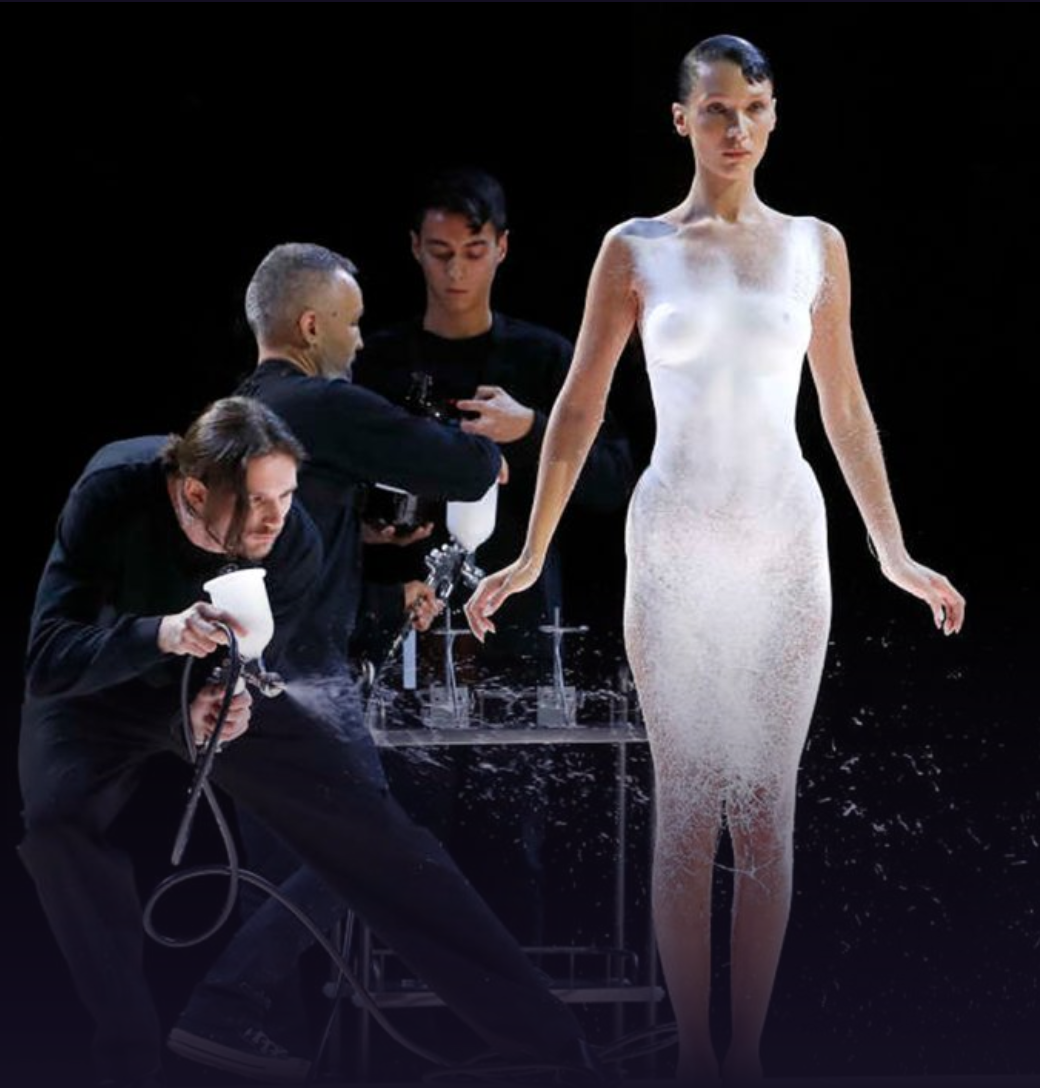 Paris Fashion Week returned this season with a packed schedule and an unprecedented intensity. Sixty-four shows and 42 presentations spanned the official calendar, an uptick from last season, while dinners, parties, afterparties and after-afterparties kept attendees busy outside the shows.
Entertaining runway experiences from the likes of Coperni turned heads, while Kanye West's off-schedule show hit headlines for all the wrong reasons.
"Paris was a tidal wave," says Julie Gilhart, chief development officer and executive board member at Tomorrow London. "We'll have to process all that happened."
Buyers and editors came to Paris in full force, proving once and for all that in-person fashion weeks have come back blazing after pandemic disruption. It was as if little had changed, except for the notable absence of China's buyers and editors as the country continues to deal with travel restrictions.
A string of mega celebrities, including Kylie Jenner, Zendaya, Eva Longoria, Erykah Badu, Cher, Janet Jackson, and Blackpink's Jisoo and Rosé, contributed their firepower throughout the week for better (viral moments and visibility) or worse (car traffic, delayed shows and mobs of fans). Celebrities always show their faces during fashion week, but this season felt like even more of a spectacle than usual. Derek Blasberg, the former head of fashion and beauty at YouTube, tweeted: "Wondering if there's ever been a time when high fashion has ever so closely intertwined itself with pop culture… If your show isn't on Just Jared, did it really happen?"
Celebrity and fashion's clash came to a head on Monday when Kanye West, now Ye, sent shirts that read "White Lives Matter" down the runway at his surprise off-schedule YZYS9 show. The moment has come to dominate the fashion discourse, as critics have been forced to reckon with the dangerous implications of someone with a platform as big as West's taking a slogan associated with the far right and using Paris Fashion Week to promote it, stunt or not.
"Depending on your viewpoint, the shirts are either dumb, flippant, or dangerous," columnist Raven Smith wrote for Vogue. "For me, they're empowering right-wing ideology, further enabling its airtime when we should be stamping it out."
Fashion as entertainment
Elsewhere during fashion week, big moments that translate online can be a net positive for sales, says Gilhart. "A big noticeable change this season is the importance of a show having elements of surprise and entertainment. One could feel that the runway is now entertainment. It is what drives engagement online and hence creates brand awareness, which can turn into product sales."
She points to Coperni's viral moment (Coperni is backed by Tomorrow London). For its finale, the brand worked with Fabrican, a fabric technology company, to spray a dress onto Bella Hadid. Their Instagram account went from 315,000 followers to 552,000 following the show, and it garnered $26.3 million in media impact value, according to tech and data analytics provider Launchmetrics, using an algorithm designed to measure the impact of marketing strategies across print, online and social media. That's level with the recent Beyoncé album, Renaissance
That emphasis on entertainment may have come at the expense of fashion putting sustainability forward throughout the week. It got little face time or lip service despite many major fashion brands having established sustainability plans. Last season in March, a majority of the houses were already using the eco conception tool conceived by the French Fédération (FHCM) with PWC, and the number of houses using it has grown this season, according to FHCM. Balenciaga said each of the show materials was directed towards a specific recycling or reuse channel. For example, the mud sourced from a peat bog located in France will be entirely recovered by the supplier, the Florentaise horticultural company, which will be able to reuse it for landscaping purposes or local horticultural projects.
Gilhart says Stella McCartney made the point to say 87 per cent of her collection was sustainable, while Balmain creative director Olivier Rousteing spoke about climate change and sustainability in his show notes and backstage. But it was hard to hear over the rest of the noise. "I feel the conversation in fashion of how we create fashion and having less impact on the planet was not as strong this season," says Gilhart.
Diversity reality check
Like sustainable messaging, diversity on the runway seemed to fade into the background. "This season in Paris, I was disappointed," says casting director William Lhoest. "Most of the brands use one or two curvy models, and some even didn't use any. If you look at the models on this season's circuit, they are very thin. It's a shame not to keep progressing on that front. It's one step forward and two steps back. If you look at body size, height and age on the runway, there's still a lot of work to be done. The young designers are aware of it, so we'll go in the right direction, but it will take time."
One such designer is Ester Manas, who designs adjustable clothing that fits a wide range of body types and sizes with her partner Balthazar Delepierre. Her show stood out as a high point for diversity, featuring a cast of strong, confident models of all sizes. Lhoest was behind the casting.
"Ester Manas is pushing every season towards a more inclusive representation of body types," says Institut Français de la Mode's Benjamin Simmenauer. "It's addressed by more brands now, but it's still not something that you see in many shows. You see a bit more skin colour diversity. But you do not see so many older models, plus size models or people with disabilities." (AZ Factory stood out as an exception with some mature women walking the runway.)
Web3 and metaverse moments
Where did Web3 technologies and the metaverse fit in during Paris Fashion Week? For the first time, Dior diffused its show in the Meta ZiWU virtual space of the Chinese Internet giant Baidu's metaverse social app Xi Rang. It was live streamed on a billboard inside the metaverse. (It helped the house set a new record: 155.5 million views across 15 platforms, including Xi Rang.)
Apart from Dior, there were only a few Web3 initiatives this season, including at Balmain, Christian Louboutin and Weinsanto, while Ukrainian designers at the Vogue Ukraine showcase also created NFTs. Overall, it didn't feel like the focus, despite plenty of hype surrounding Web3 this year. The focus, instead, was on the celebration of the physical show.
However, as Pascal Morand, Fédération de la Haute Couture et de la Mode executive president, puts it, "the road to virtualisation is underway while completing the physical experience."
Loewe creative director Jonathan Anderson referenced it in his own way, with artisanal looks featuring pixelated squares. "When you are looking at the looks on your phone, the models look like pixelated characters from an old video game. That was smart. It was not a new concept — many people think of the relationship between the virtual world and the real world — but it was perfectly executed, and therefore the idea is very clear and striking," says Simmenauer.
Eyes on emerging talents
Young designer brands were able to stand out at a fashion week dominated by major houses. "Young designers are truly considered now, even by celebrities," says PR guru Lucien Pagès. "It's good to be seen at the show of a young designer. It gives you an edge." Chiara Ferragni, an influencer with 28 million Instagram followers, sat front row at the Ludovic de Saint Sernin show, while Kylie Jenner attended the Coperni show. Weinsanto, Ester Manas and Germanier also had high-profile editors and attendees as guests.
Mytheresa VP of fashion buying Tiffany Hsu called out Chet Lo's "clingy knit looks with curved cut-outs" as a notable moment. "Rui and Ponte are other names that I will keep an eye on," she says. (Rui Zhou, the Shanghai-based Chinese designer behind the genderless fashion brand Rui, won the LVMH Karl Lagerfeld prize in 2021.)
Young designer Benjamin Benmoyal, who was presenting in the French Fédération's Sphere showroom, saw his sales double this season compared to the previous season, notably thanks to an order from Alibaba's Tmall.
Upcycling remains the favourite dimension of young designers," says LVMH group environment development deputy director Alexandre Capelli. He cites Benmoyal, Maitrepierre and Kevin Germanier as examples. "Beyond environmental reasons, there's also the surging cost of fabrics as young designers take the full brunt of inflation." Nona Source, the deadstock platform launched by LVMH, is seeing great demand, he says.
How will the energy — frenetic and at times chaotic — maintain after this notable season? Designers may feel the need to raise the bar again, while supply chain issues could lead to more disruption. Schiaparelli creative director Daniel Roseberry is considering switching to the show format for ready-to-wear next season instead of a presentation. "It's time to do something with live models for sure, but I love that we are doing it our way. People can see the details up close… Because of the couture, people don't yet fully understand ready-to-wear. When we start showing, people will understand how they are different and how they talk to each other."
About the frenzy, he said: "I just want to be on a different frequency. I am not looking at everything else. I just want to keep things extremely pure and exquisite."
"With lots of emerging talent to balance the big brands, it's a healthy season despite the rise in prices due to stress on supply chain costs," Gilhart sums up.
By Laure Guilbault