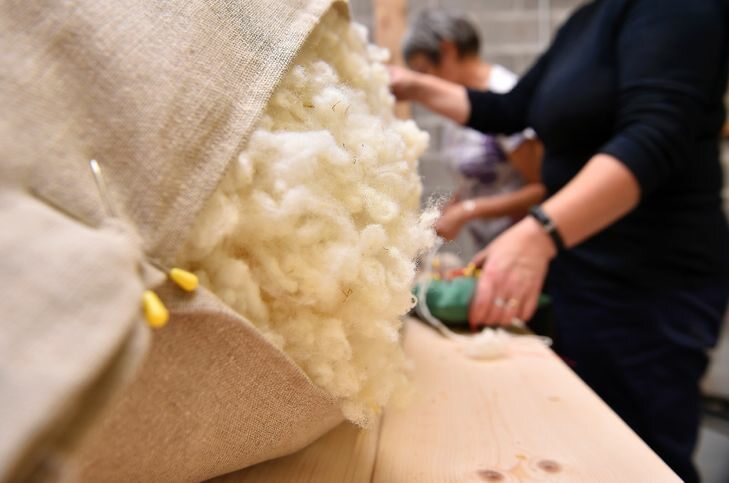 The clothing brand Balzac Paris, a regular on the pages of fashion magazines, is even one of the founding members of the Tricolor collective, initiated three years ago, which seeks to promote this ultra ecological material.
"The French wool is exported at a loss to Asia, then it comes back in the form of sweaters: it is a nonsense. We want to help provide opportunities," says Marie-Emmanuelle Demoures, head of French wool projects at Balzac Paris, a company of 55 people. […]
Is this a fashion statement or a reasoned approach? On paper, the logic is clear: there are seven million sheep in France, which farmers must shear at least once a year. "That gives 14,000 tons of sheared wool in France," summarizes Pascal Gautrand, Tricolor's general manager.
So why not use it for ready-to-wear clothing, but also for making mattresses or quilts? However, competing with synthetic fibers, French wool must also face competition from rivals like Australia and New Zealand.
Crossroads
As a result, French wool has been devalued "and its selling price does not cover the cost of shearing," deplores Pascal Gautrand. Wool such as merino wool is sold for "a few euros per kilo, the least used do not find a purchase offer in farms", according to the Ministry of Agriculture. Added to this are tensions on the international market. "For the past five years, the international wool industry has been in a state of depression. 70% of wool purchases were made by China. But China has withdrawn from the market, which has weighed on prices," says Henri Arnaud, one of the largest wool traders in France.
But times are changing and the health crisis has revived interest in local consumption.
"The pandemic accelerated things," says Julien Bianchi, general manager of TBS. "We became interested in this material, which is now a waste product, and we found a beautiful story to tell.
The challenges are great, because the industry has become unravelled over the years. There is almost no more industrial site of wool washing in France. There is hardly any more industrial combing either, this stage of transformation of the raw wool into ribbons of wool.
Cédric Auplat took over Peignage Dumortier in Tourcoing three years ago. The company will invest 3.6 million euros over the next few years to develop, including 1.2 million from the State as part of the recovery plan. "There is a real change in mentality, but we need our own tools," he says, not to be dependent on foreign washing companies.
French wool also has its faults. Renowned for its springiness, which makes it ideal for beds, it is less so for its softness. "For our customers, it is important to have a sweater that stings as little as possible," says Marie-Emmanuelle Demoures.
The industry is therefore trying to organize itself with research on wool sorting and, upstream, the selection of the most suitable sheep species. "We must be careful not to sell a concept. We need an affordable price with a product that will appeal to the general public," warns Julien Bianchi.