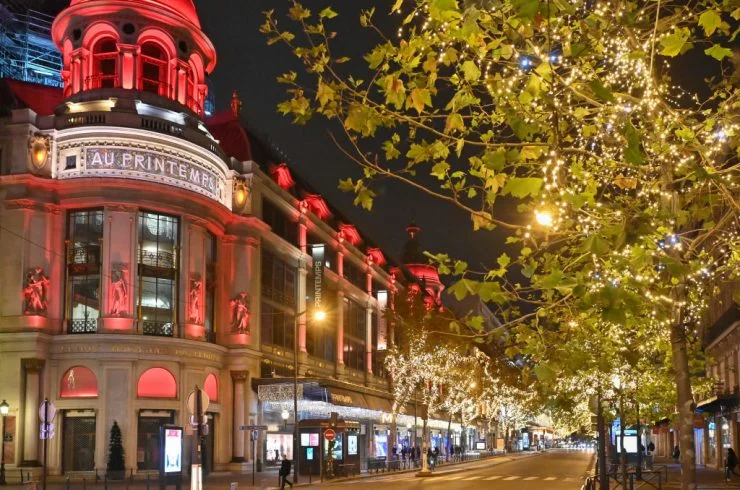 In France, buying second-hand is second nature. "Vintage fashion and conscious shopping have always been part of French culture," says Alix Morabito, head of women's, children's and lingerie collections at Galeries Lafayette, citing the plethora of thrift stores and flea markets in Paris. This impulse stems from both "an economic advantage and the appeal of the past," she adds.
While B-Corp certified Vestiaire Collective continues to innovate with a new state-of-the-art sustainability headquarters in central Paris, luxury department stores Printemps and Galeries Lafayette are evolving their own circular fashion strategies.
Circular fashion: Galeries Lafayette bets on second hand
The (Re)Store space on the third floor of Galeries Lafayette, inaugurated last year, is dedicated to second hand and responsible fashion. This space offers a wide selection of unique pieces, in partnership with key players in second-hand and responsible design such as Monogram, Personal Seller and Patine.
Beyond the interest for the planet, such an approach makes good business sense. According to a 2021 report by the Boston Consulting Group and the Ellen MacArthur Foundation, resale, rental, repair and reuse will potentially represent 23% of the global fashion market by 2030.
As for the (Re)Store concept, the Galeries Lafayette group plans to deploy it in its provincial stores with the aim of having five (Re)Store spaces by 2023. The target cities will be Nice and Nantes, chosen for their thriving social and sustainable economy.
This week, Galeries Lafayette launched an ephemeral boutique in partnership with OMAJ, an online second-hand fashion start-up based in Paris. Co-founded by Marine Daul Mernier and Paul Charon, former management consultants at McKinsey and Bain, this full-service start-up focuses on simplicity and a low-impact business model. OMAJ's careful selection is a guarantee of quality," explains Paul Charon, "because the team checks each product before putting it on the site.
The (Re)Store space is also home to the brand Les Récupérables, which creates upcycled clothing and accessories from vintage linens and dormant stock collected from French textile manufacturers. Other second-hand brands include Studio Rosalie and Tête d'Orange.
➔ Read the full article (in French) on Forbes