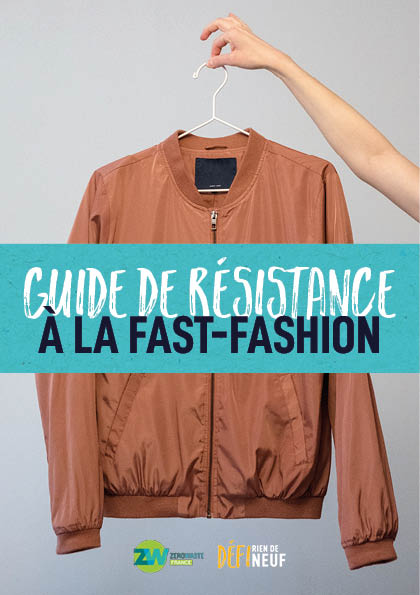 "Many sectors have made progress in recent years: food, hygiene, beauty, and even energy. It's far from perfect but there are things that are emerging. For fashion, there is still a long way to go," says Juliette Franquet, director of Zero Waste France, on the occasion of the publication of the Guide de Résistance à la Fashion Fashion".
"You might know Zero Waste for its work on plastics, deposits, bio-waste… But we also wanted to link environmental and social issues. And fashion is a key sector where one can easily oppose an ecological argument to a social argument", continues the leader of the NGO. This is why the association, which has been campaigning since 1997 for the reduction of waste and wastage, is launching its new campaign "Fast-fashion: it's time to slow down".
Supporting citizens
The guide, an extension of the "Nothing New" challenge launched by Zero Waste France in 2018 to invite citizens to buy as few new items as possible throughout the year, gathers "advice to become aware of what we have, to know ourselves better, to take time before buying, to make our clothes last and in fine to buy less," details the communication manager. "Clothing is often the first emblematic object for which people try to find solutions," adds Marine Foulon. "Without having a naive or guilt-ridden approach, we want to show that there are solutions. This first phase of the campaign serves to make citizens aware and to accompany them in their first steps", adds Juliette Franquet.
#AuFilDuTemps
In addition to the guide, Zero Waste also launched on November 8 the campaign of resistance to fast fashion, including conferences, sewing workshops, second-hand market between individuals, screening of the documentary "Made in Bangladesh". The association also invites citizens to share a memory, with a photo, on social networks with the hashtag #AuFilDuTemps, telling the story of a garment. "The idea is to play on the "emotional durability": "we all have a piece of clothing that we love – that we wore during a first interview, that our grandmother gave us… – and that we make last. Why not extend this care and emotional aspect to our entire closet?" questions Marine Foulon.
Read the whole article on AEF Info