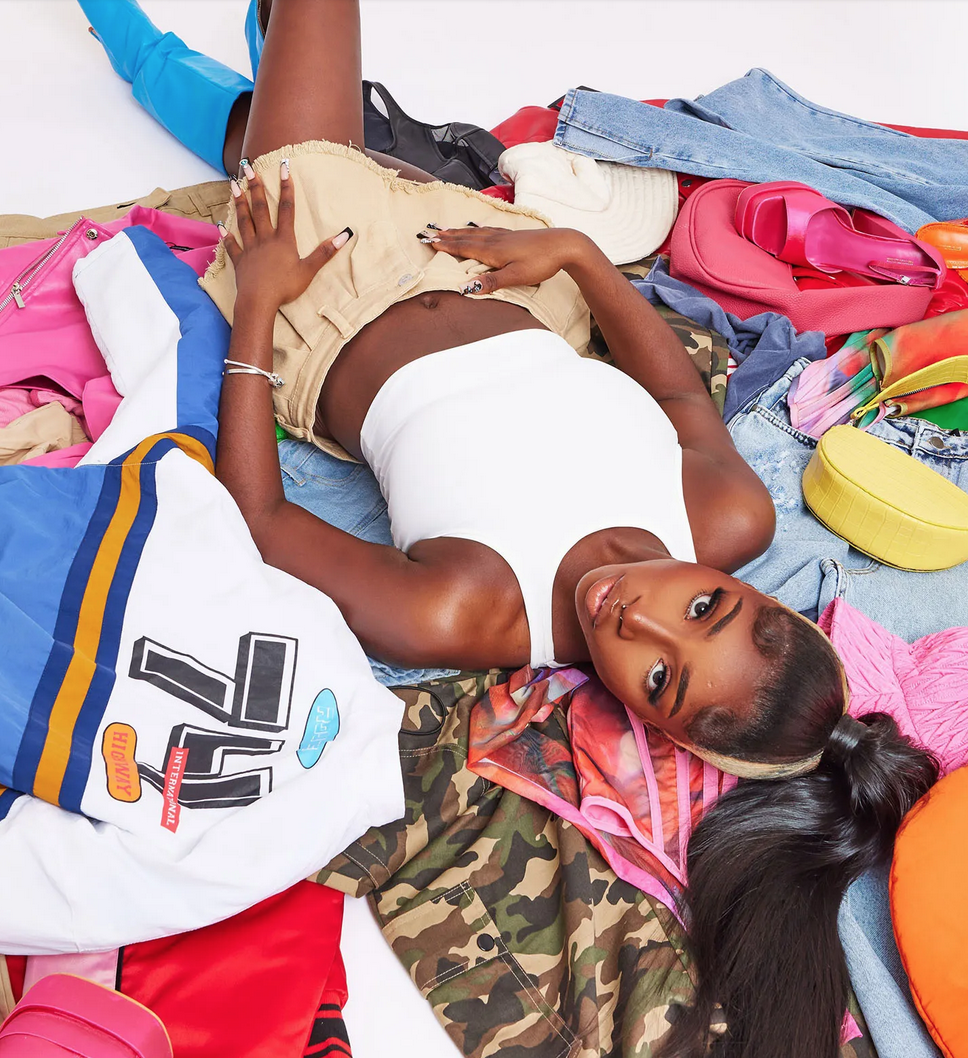 In the last three months, fast fashion brands Pretty Little Thing (PLT), Shein, and Zara have launched resale platforms in an attempt to tap into the circular economy. While resale as part of a circular business model can be a sustainable alternative to buying new, experts are not convinced fast fashion is up to the task.
One of the key tensions is how companies communicate resale to consumers and messaging is mixed. Zara says Zara Pre-Owned, a peer-to-peer platform that launches on 3 November in the UK, is a way for consumers to make "more sustainable decisions" and for the company to move towards a "more sustainable model". It says it won't be using the platform to promote new products to customers, and that repairs and donation options will also be available. PLT, meanwhile, says it hopes to educate its customers to make "better choices" and make resale "more attractive" via its Marketplace app, which has been downloaded more than 200,000 times since launching in August, but says it "has not and will not be making any sustainable claims". Shein said it doesn't expect to make a profit from Shein Exchange, which launched earlier this month, and "wants to provide a destination for Shein customers to become active participants in circularity and find new closets for their pre-loved products".
"When you lead people to believe that a product can be recycled or have a second life — as is the case of these resale platforms — people end up consuming the primary good even more because it is seen as a purchase with no consequences," says Maxine Bédat, author and the director of the nonprofit New Standard Institute.
Part of Shein's motivation in launching resale is to attempt to take control of secondhand transactions. A company statement issued at the time of launch in October said: "leadership acknowledges that resale threatens to cannibalize the sale of new items." Secondhand sites do have the potential to cannibalize new product purchases, which is why resale is considered a sustainable shopping choice: secondhand fashion marketplace Depop says nine out of 10 purchases made on its app prevent the purchase of a brand-new item elsewhere.
The resale market is now worth an estimated $100-120 billion, three times more than in 2019, according to the latest resale report from Vestiaire Collective and Boston Consulting Group (BCG). The sector is expected to grow a further 127 per cent by 2026, per the 2022 Thredup Resale Report. As mainstream consumers have become more comfortable with secondhand fashion, and the stigma around resale has started to shift into aspiration, many brands and retailers have launched integrated resale platforms, from Isabel Marant and Balenciaga to Selfridges and Net-a-Porter. The idea is to build loyalty among sustainability-minded consumers, offer lower-priced options for new customer acquisition, and continue profiting from products long after they leave the shopfloor.
Resale has been held up as an easy win for sustainability, but recent findings challenge the assumption that all resale is good. The latest report from The RealReal showed consumers using it as a replacement for fast fashion: buying and selling secondhand at high speeds, and switching the source without reducing the amount of items they churn through. Fast fashion brands entering the market has raised further concerns among sustainability experts, who say brands shouldn't use resale to make sustainability claims unless they are also working towards a degrowth model, which requires reducing output and new consumption.
"If they're launching a resale platform without reducing their overall output, that's a red flag," says model and sustainable fashion influencer Brett Staniland, who regularly takes to social media to challenge brand claims.
It might be better, but don't say it's sustainable
Maria Chenoweth, CEO of charity shop chain and textile waste charity Traid, has been working in charity retail for upwards of 30 years, and says the quality of clothing entering the secondhand market has deteriorated significantly in that time, largely due to the advent of fast fashion. She says "ultra fast fashion" has exaggerated the problem. "There is so much disposable clothing now, which is designed to be worn once or twice," Chenoweth says. "If these brands really believed in resale, they would improve the quality of their clothing. Otherwise, it's just greenwashing."
In response to greenwashing criticisms, Zara did not comment directly but said it aims to extend the life of garments through repair and donations as well as resale. PLT said in a statement that it's a misconception that customers shop the site every week, stating that on average, customers purchase 4.6 items a year. "The entire fashion industry, not just fast fashion, has an impact on the environment. Fast fashion is an easy target and inaccurate figures are often thrown around with ease," PLT said. Shein said the Exchange platform promotes the environmental benefits of purchasing pre-owned clothing over new items.
Legislation around sustainable fashion, meanwhile, is gaining pace, and a series of investigations by international watchdogs have made greenwashing a primary concern. In June, the Norwegian Consumer Authority called out the Higg Index — the industry's leading sustainability assessment tool — for providing misleading data to fashion brands. Then, the UK's Competition and Markets Authority (CMA) called out Boohoo, Asos and Asda for potential greenwashing. Resale platforms are at risk too. "Businesses must ensure any claims they make about the environmental benefits of resale are clear, genuine, and backed up by evidence," says Cecilia Parker Aranha, director of consumer protection at the CMA. "Our investigation into the fashion sector is ongoing. If we suspect that a business has broken the law by misleading customers over its green credentials, we will take action."
Added to that is the EU strategy for sustainable and circular textiles, introduced in April, which proposed a series of measures to regulate fashion between now and 2030, covering not only production and consumption but also the destruction of products. This could be a significant part of fast fashion's motivation for introducing resale, says Professor Susan Scafidi, founder and director of the Fashion Law Institute at New York's Fordham Law School. In response to this, Shein and PLT said that the resale launches were motivated by consumer demand. Zara declined to comment on whether the legislation had played a part.