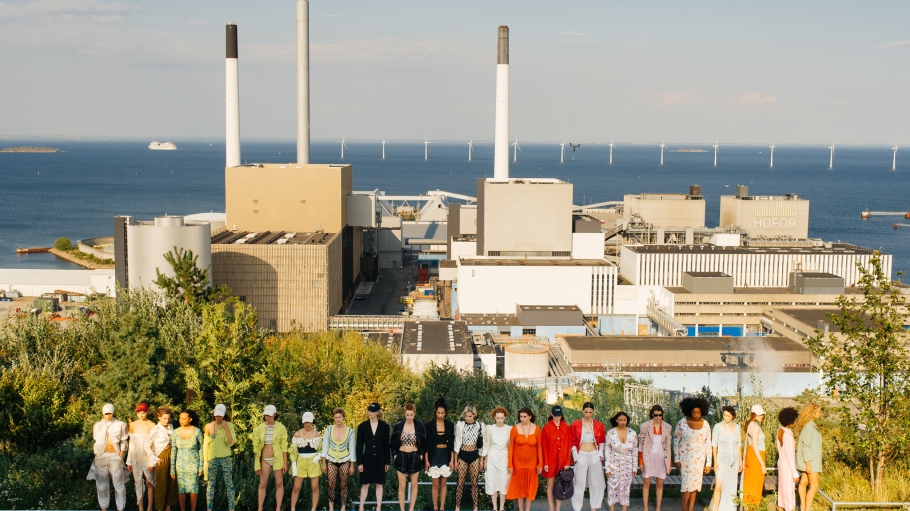 For fashion businesses, this means an opportunity to put themselves in front of global leaders and lobby for government support that will advance their efforts to become circular or achieve net zero emissions. Alternatively, for those fast-fashion businesses that continue to rely on cheap labor and polluting production practices, this might also be the time they are called out — and in the long term, taxed for their murky supply chains.
With the world watching so closely at COP26, there's also an opportunity to educate audiences about the climate emergency and individual business' efforts to reduce their environmental footprints.
"Finding a digestible way to communicate the vastness of the issue at hand is the biggest challenge. But fashion can perform a crucial part in trying to get the message across. [ …] " said Edzard van der Wyck, chief executive officer of the sustainable knitwear label Sheep Inc.
Part of this collective communications effort by fashion firms has included everything from a giant art installation mounted in central London to raise awareness — it's shaped like the Loch Ness monster and made of recycled jeans — to virtual exhibitions and online events such as Fashion Open Studio, which is showcasing the work of sustainable designers from countries such as Bangladesh, India, Indonesia, Nepal and South Africa.
"Fashion professionals face the opportunity to leverage communication around the COP and educate their customers about their climate efforts, the materials they use and their impact on the environment and people but also share knowledge in a broader sense," said Cecilie Thorsmark, CEO of Copenhagen Fashion Week and a longtime sustainability advocate in fashion.
But communications aside, what the industry really needs is recognition first and foremost — followed by legislation.
"The fashion industry is an interesting sector as it is an all-encompassing industry — you talk agriculture, you talk fashion, for example. You talk deforestation of the Amazon, you talk fashion. So it would be wonderful if finally fashion was considered on the political agenda once and for all," said Livia Firth, whose sustainability consultancy firm Eco-Age co-signed an open letter demanding world leaders' attention. The letter — which was also signed by Fashion Roundtable, Fashion Revolution and the Center for Sustainable Fashion — was a reminder that "if fashion was a nation state, it would rank as the seventh largest economy."
Despite its size and impact, the fashion sector is "one of the least legislated of all," according to Firth, who points to the urgency for better government regulation. Some of the points made in the letter Firth co-signed include "collective action to achieve net zero emissions by no later than 2050"; holding businesses accountable for their supply chains; supporting educational initiatives around making and repairing clothing, and supporting circular business models.
Globalizing the European Union's green deal and circularity plan would be a good place to start, while looking at the links of climate change and social injustice is also crucial. […]
Her thoughts were echoed by other sustainability advocates in the industry, who are looking to COP26 to introduce solid legislation and financial penalties for those profiting from overproduction and cheap labor.
"We need decisive action that shows a clear plan to improve one of the most polluting industries. The conference needs to result in legislation that gets enforced immediately, with severe penalties for those who don't comply. There cannot be any more excuses or vague roadmaps that promise targets with no clear plan on how to get there. The time for talk and endless debate is over," said van der Wyck, adding that sustainable businesses are the ones having to pay a heavy premium for ethical production. "In the meantime, those that make cheap disposable clothing at a huge environmental cost can continue to perform business as usual. The bottom line is that there needs to be huge financial penalties levied against those who continue to damage the planet." […]
On Nov. 8, the U.N. Fashion Industry Charter for Climate Action will host an event where brands will offer updates on their targets to reduce carbon emissions, first introduced at COP24 in 2018.
Read the full article on WWD