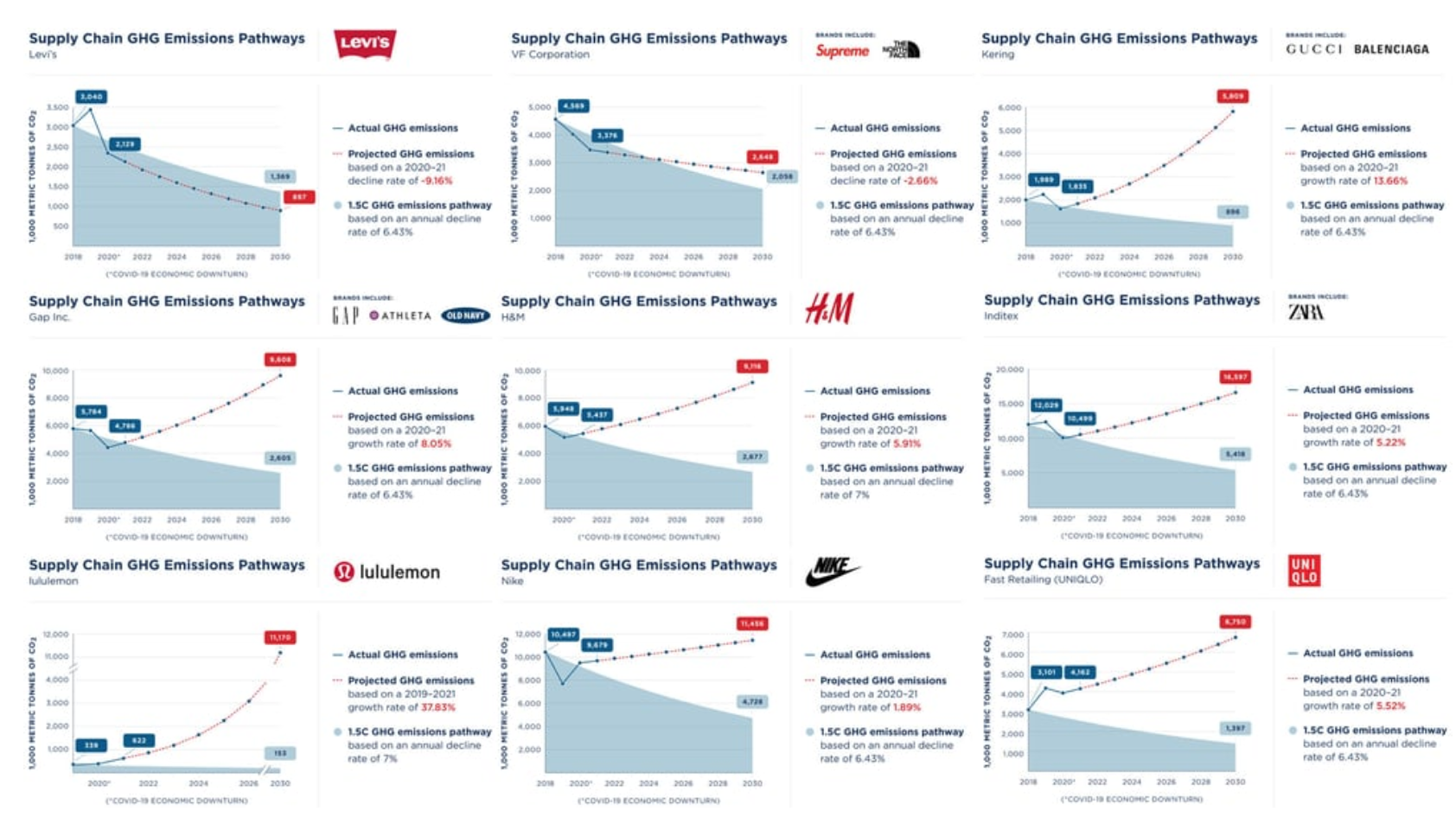 The analysis covers American Eagle Outfitters, Fast Retailing, Gap, H&M, Inditex, Kering, Lululemon, Levi Strauss & Co, Nike, and VF Corp. These groups have the specificity of exceeding 4 billion dollars in annual turnover and have signed the UN Fashion Charter which aims to limit global warming to 1.5°C.
In this report, the data from this charter is methodologically compared with the environmental and CDP (Carbon Disclosure Project) reports published by the groups*. From the evolution of emissions between 2020 and 2021, a projection of future increases is drawn, in the event that the environmental commitments of these brands are not applied.
This illustrative and militant exercise shows that only Levi Strauss and VF Corp have shown a downward trend in emissions since production returned to normal. Furthermore, only Levi Strauss & Co is said to be on track to meet the target of a 55% reduction in CO2 emissions. VF Corp (Supreme, The North Face, Timberland, Vans) is said to be on a downward curve, but on this trajectory, it will nevertheless exceed the target set for 2030.
Only these two groups, out of the ten observed, do not show an upward trend in CO2 emissions in 2021. At the other end of the scale, Nike and Inditex reported 10 million tonnes of CO2 emissions from their supply chains. This would be equivalent to the emissions of two million cars, according to the report.
"Commit to 100% renewable energy
While Fast Retailing, Gap Inc., and H&M Group also show an acceleration in emissions, the report points to increases at American Eagle (+14.61%), Kering (+13.66%), and especially Lululemon (+62.97%). For Stand.earth, this increase illustrates Lululemon's inability to decouple growth and pollution, but above all shows an increasingly polluting sourcing strategy.
"While all ten brands assessed have set or achieved 100% renewable energy targets for their shops and warehouses, only Kering and H&M have so far shown the leadership to extend this commitment to their supply chains," says Stand.earth. "Eliminating fossil fuels is key to decarbonizing brands' supply chains and reducing the largest source of their emissions – brands must commit to using 100% renewable energy in their supply chains as well as in their own operations.
The report is available on the Stand.earth portal. Its reference, the Emission Gap Report published by the UN in October 2021, is available on the UNEP (United Nations Environment Programme) portal.
*The actual supply chain emissions used in the analysis were obtained from data on purchased goods and services reported by companies in their sustainability or annual reports or in their responses to the CDP (formerly Carbon Disclosure Project)," explains Stand.earth. "Projected emissions have been calculated using the annual percentage change in emissions (i.e. growth rate) reported by companies for the period 2020-2021."