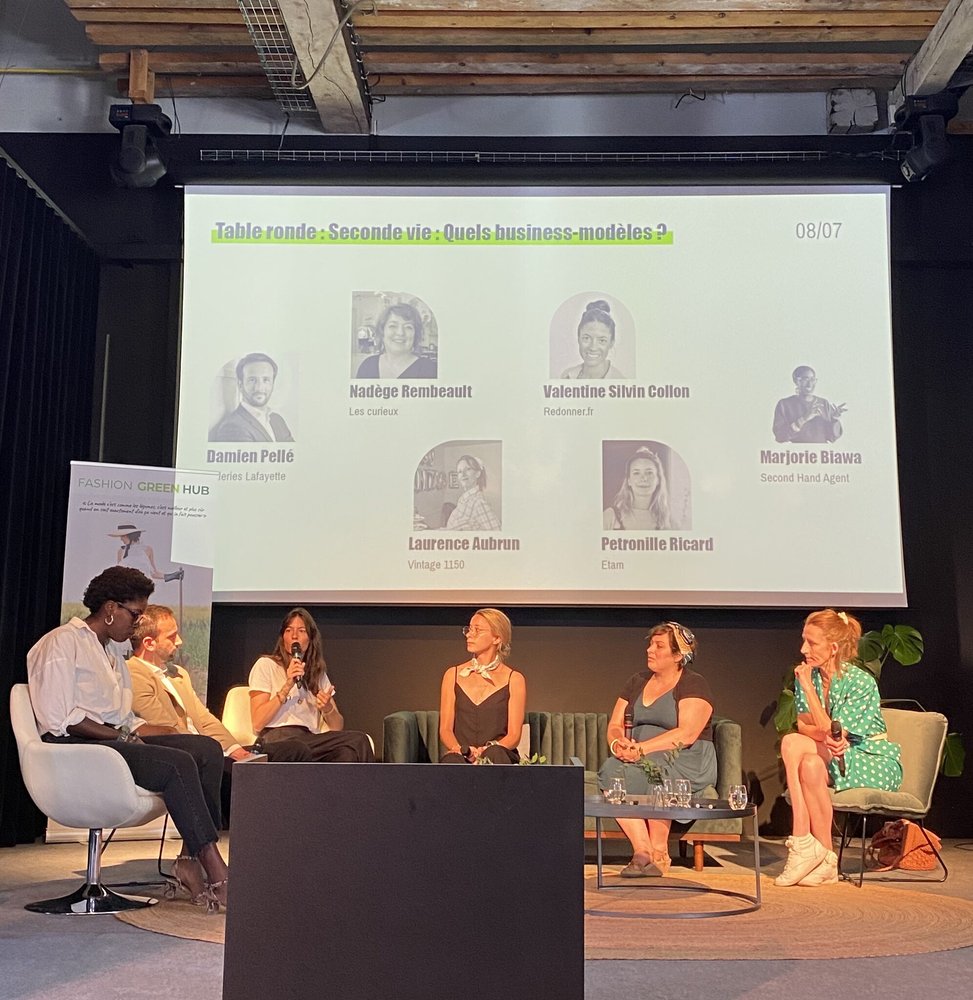 The latter were delighted to be able to meet all together. According to Yann Duboc, who accompanied the brands of the Designers' Village, "the exchanges with the other professionals and the visitors had a positive impact on our thinking about circular fashion. They gave rise to concrete avenues that will enable the textile industry sector to strengthen its commitments."
By 2027, the second-hand market is expected to surpass the fast-fashion market, according to Marjorie Biawa, a circular economy consultant, who moderated the conference on second life and eco-designed fashion. The discussion brought together experts in the sector and provided an update on the impact of over-manufacturing clothing and its destruction.
Around the table were Damien Pellé, director of sustainable development at Galeries Lafayette, Nadège Rembeault, co-founder of the ethical fashion cooperative Les Curieux, Petronille Ricard, sustainable projects manager at Etam, Laurence Aubrun, founder of the vintage boutique 1150 and Valentine Silvin Collon, co-founder of the digital solution Redonner.fr.
For all the speakers, the need to move towards a new economic model starts from the fact that 35% of the clothes bought are lying in closets. Valentine Silvin Collon proposes via her website an incentive solution to collect and revalue consumers' textiles by offering them to drop them off at collection points and benefit in return from discounts at partner brands. "
We looked into the sorting and recycling process and realized that more than 600,000 tons of clothing end up in landfills every year. It is therefore the responsibility of brands and retailers to offer solutions for the recovery of used textiles," she says.
Etam has developed collection points in its stores to collect second-hand bras.  For Damien Pellé, the second hand is "generating traffic in store". Indeed, Galeries Lafayette Haussmann has dedicated an entire floor (on the third floor, a high-traffic area). "The objective of this approach is to deploy the 'restore' concept in all our stores by 2024," he said.
Supporting project leaders
One of the most important topics discussed at the show was the role of third places. During this conference, Annick Jehanne, president and co-founder of Fashion Green Hub, welcomed Richard Préau, co-founder of Nouvelles Grisettes, Pauline Gamore, founder of Textile Lab, Emmanuelle Gaide, co-director in charge of training and animation for Turbine Créative and Camille Marion-Vigne, director of Maison Ma Bille.
➔ Read the full article (in French) on Fashion Network