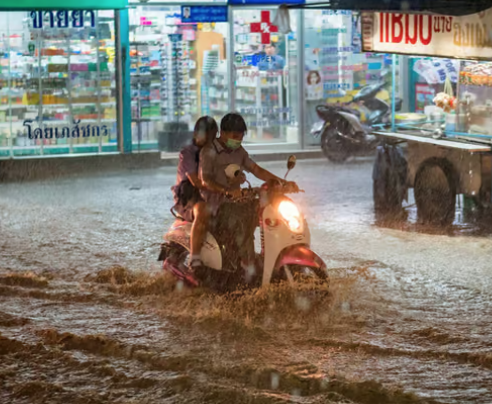 The financial loss could reach $65 billion by 2030. This figure, taken from a study by Cornell University and investment manager Schroders, concerns four of the main clothing-producing countries: Bangladesh, Pakistan, Vietnam and Cambodia. These regions could face a 22% shortfall in export earnings by the end of the decade.
These four Asian countries are industrial powerhouses, together accounting for 18% of global garment exports, around 10,000 garment and footwear factories and more than 10.6 million workers.
These regions are extremely vulnerable to the climate crisis. The study points out that the main clothing and footwear manufacturing centres, including Dhaka, Phnom Penh, Karachi, Lahore, Ho Chi Minh City and Hanoi, are already facing extreme heat and humidity. These cities are also at high risk of flooding.
"The urgent need for action
The researchers arrived at the figure of 65 billion dollars by using coastal and river flooding projections and temperature records to analyse future heat and flooding. This data was then used to predict the industry deficit for 2030 by comparing a 'climate-adapted' scenario with a 'heat and flood' scenario. In addition to the financial loss, a million jobs could also be lost.
"These projections increase considerably for 2050", says the study. They translate into a potential drop of 65% to 70% in export earnings and a reduction of 8 to 9 million new jobs under the "hot weather and flooding" scenario.
Examining the potential impacts on a sample of six global brands in the four countries studied (Bangladesh, Pakistan, Vietnam and Cambodia), the researchers found that productivity will be adversely affected by extreme heat. They also report that Ho Chi Minh in Vietnam has the highest proportion of brand suppliers affected by river flooding. By 2030, there could be around 56 days of interruption caused by flooding in the region.
"This study highlights the urgent need for action," says the summary. The experts stress the importance of clothing companies seeking to establish partnerships with their suppliers and political decision-makers to devise appropriate adaptation strategies that take account of the impact on workers.
"It is time to change the clothing business model so that the external stages of production are no longer absorbed by suppliers and, by extension, their workers", says the second report, entitled Climate resilience and fashion's costs of adaptation.
Read it on Fashion United
Watch the replay of the conference presenting the study
Access to the study on the Cornell University website