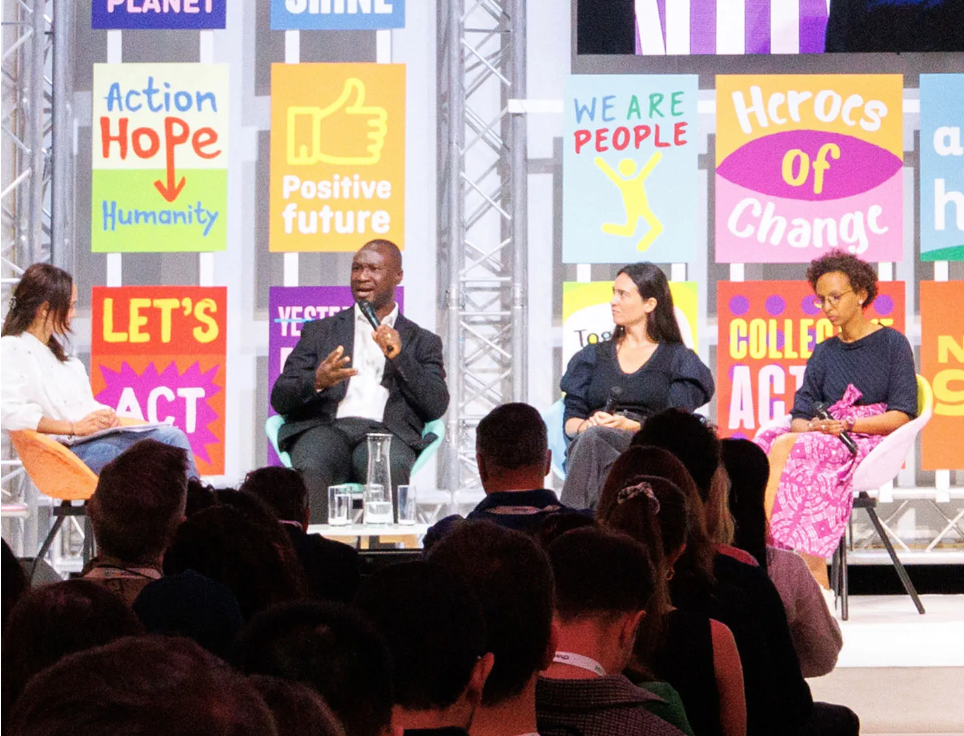 Designers, advocates and local officials from Ghana are calling on European policymakers to propose an extended producer responsibility (EPR) framework that delivers accountability for textile waste globally and not just in their own countries.
"Your streets here are clean because ours are littered with waste," Nutifafa Mensah, owner of Accra-based secondhand shop Upcycled Thrift Ghana, said in a statement released last week by The Or Foundation, a non-profit that researches the secondhand market in Ghana and works with communities to identify and scale solutions for the challenges it creates. A delegation organised by the non-profit has spent the last two weeks meeting with policymakers, industry executives and others in Brussels, Paris and Helsinki to talk about the impacts of fashion's waste problem on communities in the Global South, such as the Kantamanto market in Accra, and to demand that those communities are included in developing — and benefiting from — the solutions intended to solve it.
The EU is expected to release "harmonised" EPR rules for textiles this summer, as well as economic incentives for making products more sustainable. Along with other measures, including tighter controls on greenwashing, Digital Product Passports and efforts to reduce microplastic pollution, the EPR framework is a key component of the larger EU Strategy for Sustainable and Circular Textiles announced in March 2022. It's also where many say global legislation, in general, is headed: France enacted EPR legislation for clothing last year, California legislators introduced a bill in February that would do the same for companies manufacturing or selling into the state, and the concept is taking hold in a number of industries outside of fashion. Advocates have applauded the EU's move, saying it introduces some accountability to an industry that has lacked it almost entirely, and EPR has long been regarded as a necessary tool for managing waste in any industry that produces excessive amounts of it, whether it's food and beverage, electronics or, increasingly, fashion.
However, a proposal that does not explicitly address the needs of communities like those represented by The Or Foundation, experts worry, risks perpetuating and accelerating the unmanageable flow of garment waste from primarily wealthy consumer markets to the Global South. That's untenable for people and the planet, considering clothes are already clogging coastlines in West Africa and accumulating so heavily in the Chilean desert that they can be seen from space.
"The conversation should include everyone, all countries. Everywhere that clothes go to, the [EPR] policies should include them," says Patrick Abesiyine Anyebuno, secondhand solidarity fund coordinator for The Or Foundation and part of the "Kantamanto Delegation", which included 16 Ghanaian citizens, three Americans and one French citizen.
As the fashion industry's production volumes — and the speed at which consumers buy new clothes — have increased, the volumes of clothes reaching the Global South via the global secondhand market have also skyrocketed. The quality of what reaches them, meanwhile, has plummeted, both because fast fashion accounts for a larger percentage of the overall market and because, with the rise of resale, the higher quality items are often picked off before they can reach the export channels.
EU lawmakers hope that by making producers responsible for the waste created by their products, extended producer responsibility can help to decouple waste generation from the growth of the sector.
"As one of the lead negotiators of EU Textile Strategy, I am doing everything I can to put an end to the textile industry being an unregulated Wild West," says MEP Alice Kuhnke. "We have called for harmonised EPR schemes with eco-modulation of fees and want to use the contribution to respect the waste hierarchy, support used textiles management and incentivise lower production volumes. We also need strong waste shipment rules in place and criteria to distinguish between used goods and waste, so that we stop exporting all this clothing that can't even be resold."
The EU's focus areas, based on summaries and other documentation maintained online, include creating an economy for collection, sorting, reuse and preparation for reuse and recycling and establishing incentives for companies to design their products for circularity from the start.
Anyebuno explains that for an EPR policy to be globally accountable, it needs to address two main objectives: it must raise funds that are allocated in accordance with where clothing ends up rather than only where it is collected, and it must incentivise fashion brands to produce fewer clothes overall. "The funds that are collected [should] not stay in the EU alone because the clothes do not stay there alone," he says. "It goes to the Global South and becomes waste to us — and we do not have the financial resources to handle our own waste, let alone the structures to handle someone else's waste."
France, which operates the world's only EPR programme for textiles to date, collects a nominal fee per garment, and most of the funding that's generated has gone to sorting centres within the country. As policymakers look to adopt an EPR scheme at the EU level, the Kantamanto delegation wants to see not only a more appropriate and equitable distribution of funds but also wants the EU to raise the fee so that it can actually cover some of the costs involved in managing waste. The current rate, which they estimate to be an average of one cent per garment, is far too low, they say. "It is not enough to deter brands from producing excessive garments, and it is not enough to accumulate the money that is required to really take care of the waste that is generated by the industry," says Anyebuno.
Dealing with all the waste also eats into the local government's budget, reducing its ability to deal with public issues across the board, says Solomon Noi, director of Accra Metropolitan Assembly's waste management department. The country's tax system falls short to begin with, he adds. "These are the same taxes that are going to fund education, health, agriculture and everything. And you expect us to use these same meagre taxes to be able to manage these discarded products — which is not our waste anyway. It is colonialism. I have no other adjectives to qualify it."
"We have a responsibility"
Pressure is mounting from within Europe as well. "The piles of clothes in the beaches of Accra are a clear indication that the system is broken. For too long the textile industry has been allowed to be unregulated, despite the immense environmental and human cost," says Kuhnke, who met with the Kantamanto delegation at the European Environmental Bureau in Brussels last week. "It is up to us as politicians to listen to the facts and other voices on the ground, and ensure that we have laws in place to put an end to malpractices such as textile dumping, as well as to fast fashion in general, which is creating all this waste."
Future in Our Hands, a Norwegian organisation that promotes "ethical and sustainable consumption", is pushing for ambitious EPR policies in both the EU and Norway (which is not a member of the EU).
"One major issue is — how do we take into account the massive waste dumping on poorer countries? We believe we have a responsibility," says Anja Bakken Riise, executive director and executive secretary of the board. She references figures indicating that the volume of used textiles exported by Norway every year equals about 40 per cent of what the country imports every year — meaning that nearly half of the clothes that Norwegians buy every year end up leaving as waste, which Riise says is evidence that the status quo cannot continue.
The organisation wants to see Norway establish a mechanism requiring companies selling new products "to follow those items all the way until they turn up as garbage, no matter if that's in Norway or Europe or southern Africa. And they have to somehow be a part of financing the cleaning up of the mess that they are creating," explains Riise.
At the EU level, and similar to what The Or Foundation has called for, they are hoping to see funding for waste management activities and programmes "at the receiving end" — distributed potentially through Producer Responsibility Organizations (PROs), which are standard components of EPR programmes meant to organise the logistics, such as waste take-back and recycling, that are involved in complying with the legislation — as well as policies that compel fashion to reduce its overall speed and volumes.
"The European Commission was super ambitious when they launched their textile strategy. They said that they wanted to end fast fashion. It's a hugely ambitious and bold move. But there's very little up until now coming out on a proposal for harmonised EPR, and we know the industry has very strong lobbying power in the EU. So we are worried," says Riise.
Daniel Mawuli Quist, a stylist in Accra who upcycles accessories in Accra and participated in the Kantamanto delegation, looks to the old adage about following the money.
"The money trail is very consistent in the linear economy. It takes into account how the money flows, and right now, the conversation is [about] how much money can flow within the Global North alone," says Quist. "The fashion industry doesn't include the Global South in end-of-life decisions. Policymakers don't take the Global South into account. We are trying to push everyone involved to have the conversation side-by-side, rather than top-down."
Read more – Vogue Business